Product Description
JH-658 is a multi functiona encrusting machine with stamping and forming function together all in one, with small size but more powerful, join all the parameter setting together to one touch screen, easy to operate and maintain
Automatic biscuit cookies filling machine
Demo video: http://youtu.be/DEATyzlfaZ4
Technical Feature
1. Maximum capacity for small products is 135 pieces per minute
The JH-658 has production speeds of up to 1.5 times faster than other competitor's model as it is combine the encrusting, forming and stamping in one machine.


2. Combine the encrusting, forming and stamping function together to save the room and make it more easy to operate and maintain. also can improve the production obviously.

3. With thicken telfron coated food chanel coating, can prevent the food stick inside the food chanel, more effective and easy to clean.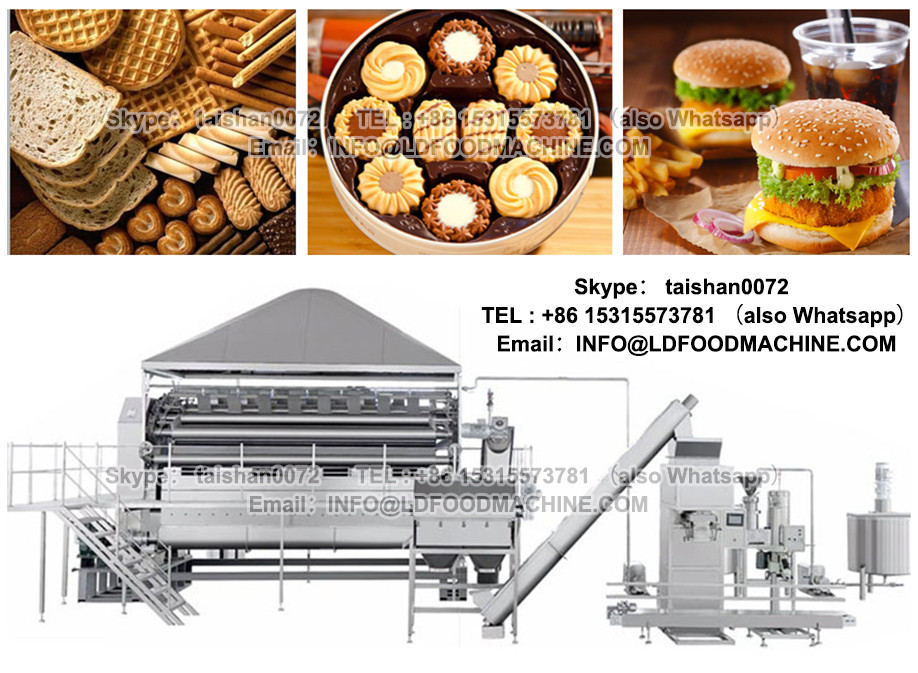 4. Shape is more uniform for stick products
Since you can direct the detailed setting of the shutter from the control panel, you can make adjustment of the machine during production. combain with JH-868 automatic biscuit cookies filling machine patented 9pcs circular forming knife. can assure the encrusted food with equal shape and weight.
5. Use 5pcs USA top brand EMERSON fire frequency converter, Korea LG servo motor and PLC controller to guarantee the machine stable working and more effective production.

6. All detect sensor are made in Japan OMRON brand, The 0.1ms fast detect speed assure the high precision position.
7. More gentle extrusion for materials
Extrusion is much smoother than before. For example, products such as Arancini, individual grain of rice remains intact, or for Chocolate Chip Cookies, the chocolate chips will not be crushed or misshaped.

1) Confectionery Chocolate Chip Cookies
Production JH658 can produce Chocolate Chip Cookies up to 5,800 pcs./h with the weight remaining constant. It produces cookies without crushing the chocolate

2) Prepared Foods Arancini Production

3) Meat with Egg Production
As expected, JH-658 is ideal for meat products. The main body is easily washable and stainless steel parts are available for sanitary purposes.
4) Scotch Egg Production
By using options such as the Solid Feeder, an whole egg can be encrusted into ground meat for products such as Scotch Eggs. Furthermore, solid material can be encrusted with two types of ingredients.

5) Meat Loaf Production
Intermittent encrusting function produces filled bar shaped products. You can get various lengths for products by the wide intermittent range of 0-99 seconds.

6) Fermented Dough Production
Filled Buns Production, JH658 is also great for elastic bread dough. High quality products can be produced using the new agitator that generates less heat.
7) Filled Focaccia Production
Maximum product weight of JH-658 is 300g. A large Filled Focaccia can be produced thanks to it's high performance.
8) Open Top Pizza Production
By using the Open Top Shutter, the surface of the product remains visible. You can produce Open Top Pizzas while maintaining the natural texture of the ingredients.
9) Bread Stick Production
Production of yeast raised bar shaped products, finger foods such as bread sticks, and even pretzels can be easily made.
10) Steamed Chinese Meat Bun Production
Production of Chinese Dim Sum such as Steamed Meat Buns, Small Steamed Buns and Crystal Dumpling can be produced without any difficulty by using the Twist Top Shutter Option.
And More!
1.There is less left over filling.
2.Mounting and dismounting of parts is easier.
3.10% less and 30% lighter parts compared to the former model.
4.Easier washing of parts.
5.Color touch screen control panel for fine tuning of tuning and adjustment.
6.Even better product shape and weight accuracy.
...
Specification:
| | |
| --- | --- |
| Capacity | 20—135pcs/min |
| Product weight range | 20—300g/pcs |
| Crust&filling ratio | 2:8—8:2 |
| Power supply | 110-220V 50-60hz |
| Power consume | 1.5 kw |
| Weight | 340 kg |
| Machine size | 1.76x1x1.3(m) |
| Packing size | 1.0x1.58x1.48m=2.3CBM |
Free parts:
| | |
| --- | --- |
| Motion belt 3meter | 1pcs |
| sealing ring | 1 suit 8pcs |
| fuse | 2pcs |
| Wrench tools | 1suit |
| Maintenace tools | 1suit |
Food that can be produced by JH-868 encrusting machine:
1. Food with two fillings:
Whipped Cream Daifuku ioe, Pasty material such as jam, custard cream and even solids such as chopped chestnuts, bean paste , manju dough or cookie dough, jam and custard cream, Jam-filled creamy ganache...

2. Confectionery food:
Soft Filling cookie, Marguerite Cookie, Filled twist cookie, Bar Shaped cookie, Cafe Latte cookie, Mandelhomchen, Apple Strudel, Apple Pie, Leb Kuchen, Praline Marzipan, Flower Marzipan, Star Shaped Cookie, Christmas Tree cookie, Chocolate Tart, Conversation, Filled Donuts, Fruit Basket, Brownie with filling, Chinese Galette, Filled Biscuit, Amaretto, Rumkugeln, Ganashe Ball, Soft Cake Pie, Filled Churros, Moon cake, Sesame ball, Peach Bun, Ang Guh Kueh, Sesame Tang-Yuan, Maamoul, Rocmia, Thai Moji, Daifuku Mochi, Chocolate Mochi...
3. Bread:
Calzone, Filled Focaccia, Stuffed Pizza, Meat Bun, Piroschki, Bread Stick, Striezel, Germknoedel, Birnenbrot, Mini Stollen, Filled Ring Bread, Cha-shao-bao, Gurry Bun, Boygel, Edinburgh Cake, Pancake, Filled Brioche, Filled Buns, Open top Pizza, Filled Donut, Filled Melon Bun, Concha, Chinese Meat Bun, Pan de Hueve...
4. Prepared products:
Filled Hamburg, Arancini, Filled Gnocchi, Chicken Cordon Bleu, Coxinha, Kubba, Pate, Kartoffelknoedel, Semmelknoedel Filled Quenelle, Knish, Pirogie, Tamales, Empanadas, Pelmeni, Scotch Egg, Pan Fried Beef Bun, Crystal Dumplin, Kuefteta, Cepelinal, Meat Pie, Savory Beans, Gratin Pie, Chickin Kiev...
...
Contact with JH-868 automatic biscuit cookies filling machine
Mr Jill Wang:
Tel: +86 21 JH-868 automatic biscuit cookies filling machine
Mobile: +86 17740808637
Whatsapp: +86 17740808637
JH-868 automatic biscuit cookies filling machine +86 17740808637
Skype: sales9@JH-868 automatic biscuit cookies filling machine.com
Email: sales9@JH-868 automatic biscuit cookies filling machine.com
Please visit www.JH-868 automatic biscuit cookies filling machine.com for more information.
JH-868 automatic biscuit cookies filling machine is now a general-purpose model DL3000-100 single screw, is mainly used for the production of a variety of pasta, fried foods, rice noodles, pasta, pasta and other products, stable output, simple and convenient operation. 3000 is the length of the screw and 100 is the diameter of the screw.
JH-868 automatic biscuit cookies filling machine consists of feeding system, extrusion system, rotary cutting system, heating system, transmission system and control system. The use of advanced screw extrusion technology, the use of high temperature and high pressure material curing and expansion molding, one-time completion. The host adopts variable frequency speed regulation to ensure the stability of the production process. Product color, variety, appearance, natural and realistic, delicate texture, raw materials are widely used of .
Jinan Joysun Machinery Co., Ltd. is a high-tech enterprise integrating science, industry and trade. is dedicated to the development, development, production and sales of expanded snack food equipment, tissue protein equipment, pasta/pimento equipment, pet food equipment and experimental extruders.
Nowadays, Jinan Joysun Machinery Co., Ltd. have customers both in China and abroad.Foreign customers such as Russian,East Europe,Middle East,South America,North America,East Asia,Southeast Asia, Africa,etc.