Product Description
Auto Wafer Biscuit Machine
Wafer Biscuit Machine For 27 Plates
Description:
Brand: KEHUA Brand (famous foodstuff machinery brand in China)

Function: produce the different kinds of wafer automatically.

Capacity: 2.18 tons/per hour.

Manufacture experiences: 15 years.

Baking type: a) Gas (LNG or LPG), b) Electricity (380V/3 phase/50Hz).

Whole shell of line use N304 stainless stell in accordance with health and safety standard.

Electricity and transmission all made by Auto Wafer Biscuit Machine, Mitsubishi.

Bearing brand: SKF Franch/Austria

Motor brand: SEW Germany
After sales service:
Warranty period: one year.

Installation: we will send

our trained specialists to install the machines and train the customer's worker when the equipments are arrived in the client's city.

If the machines have something wrong, we will help you to solve the problem anytime.



Equipment & process of wafer biscuit machine:
Wafer biscuit machine
Production process of wafer biscuit machine:
batter mixing----wafer baking----cooling----cream spreading----book cooling----cutting
Equipments of wafer biscuit machine: 1.batter mixer 2.oven 3.connecting machine 4.vertical type cooler 5.collecting machine 6.cream spreader 7.wafer conveyor 8.wafer cutter 9.cream mixer 10.wafer smashing machine.
The real pictures of waer biscuit machine: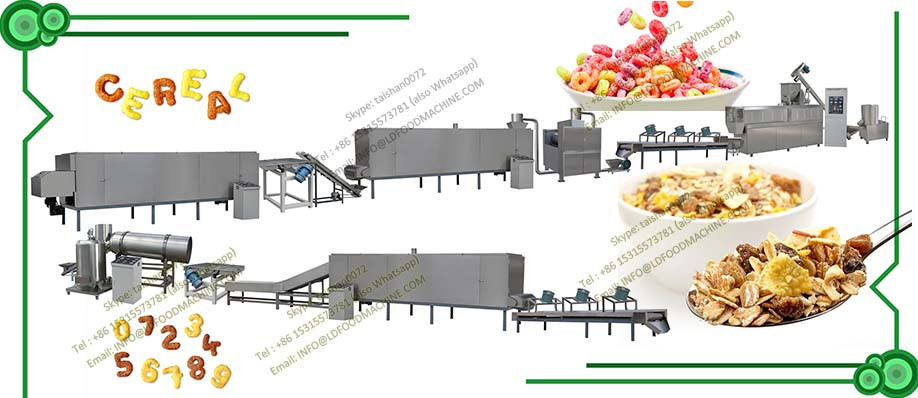 Wafer pictures(by wafer biscuit machine):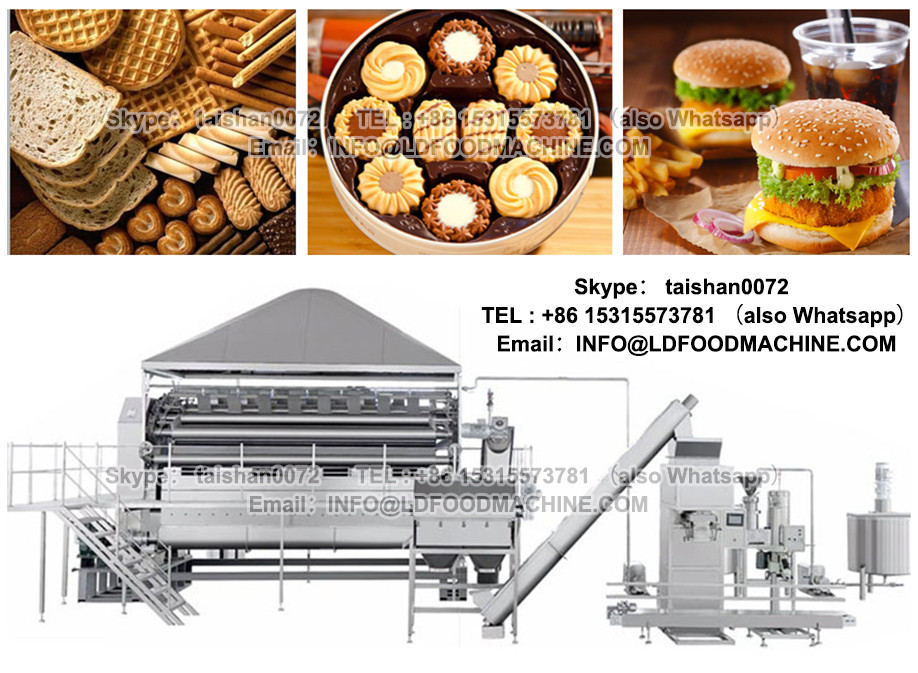 3. Specialty & Using:
Products Distinguishing Feature:
Wafer biscuit machine:
The oven has 27 plates and they made of nodular cast iron, the standard dimension of baking plate is 470*325mm. The power transistor and travelling wheel have the Chinese patent, the line have PID temperature automatic control system and the good affect for wafer sheet.
Batter mixer is made of Stainless Steel. It can mixing 65kg batter with 25kg flour and 40kg water within 5 minutes.
Vertical type wafer cooler is made of Stainless Steel and using the own motor.
The racks of cream spreader are the stainless steel tank, the motor and pneumatic component which both seal in the tank have good waterproof and dustproof. The spreader has the easy clear design.
Wafer cooling tower is made of Stainless Steel, and the part which touch the wafer book are all made of Stainless Steel 304. The cooling fan is outlay and the temperature of cooler's inlet air are 5C. The relative humidity of cooling tower is 55%.
Wafer cutter is mechanically and the maximum speed of cutting wafer book(filled with cream) are 8 books.
Using: Wafer biscuit machine is exclusively used in produce different kind of good wafer.
4. Technical advantage:
(1) In the field of wafer biscuit machine have more than 15 years experiences.
(2) According to HACCP design, the controlling and operating for the important equipment will be more accurately and safely.
(3) Have CE, ISO9001:2000, FM.
(4) Professional design, material selection more scientifically, processing more accurately.
(5) Good quality.
(6) Best service and perfect after sale service.
5. Technical Parameter:

Wafer biscuit machine:
| | | | | | | | |
| --- | --- | --- | --- | --- | --- | --- | --- |
| Name | Dimension(L*W*H) | Weight | Power | LNG consumption | Air compression consumption(per hour) | Rated power | Capacity |
| Wafer biscuit machine for 27 plates | 17.9m*1.8m*2.6m | 13tons | 5.15kw | 14.7kg/h | 36m3 | 30kw | 91kg/h |

[1] Baking oven's length(m)---6m;
[2] The complete line's length(m)---17.9m;
[3] The total weight of wafer line(T)---13T;
[4] Power(kw)---5.15kw;
[5] LNG consumption(m3/h)---21m3/h;
[6] Air compression consumption(m3/h)---36m3/h;
[7] Capacity(kg/h)---91kg/h.
Parameter:
1) The standard size of the baking plate is 470*325mm; Pattern(standard) is 2.5*2.5*0.5mm;
2) The size of wafer sheet is 464*321mm; The effective cutting size of wafer sheet is 456*315mm;
3) Wafer sheet's thickness: 2.5mm---3.2mm;
4) Weight of wafer sheet: 50---60g;
5) Rated power: 30kw;
6) Air compression consumption: 0.9cube/minute;
7) Baking time about 2 minutes;
8) Worker: 4 to 5 people.
Space: machines using 60 square meter
6.Packaging & Container
1. Packaging: iron and waterproof membrane.
2. Container: one 40'HQ.

[Note]: We can make different pattern for the plate according to client's demands.
Jinan Joysun Machinery Co., Ltd. is a high-tech enterprise integrating science, industry and trade. It is committed to the development of Auto Wafer Biscuit Machine expanded snack food equipment, tissue protein equipment, pasta/macaroni equipment, corn flakes production line, pet food equipment and experimental extruders, etc. Development, production and sales.
Auto Wafer Biscuit Machine's screw has a taper, so there are unequal gaps between the sleeve and the material. When the screw rotates, the material will be pushed forward, resulting in shear deformation and internal friction, so that the mechanical energy becomes thermal energy and variable performance. Auto Wafer Biscuit Machine can produce a variety of pasta products, now can produce rice flour, hollow powder and other product technology has matured.