Product Description

SAMPLE PRODUCT PRODUCED BY THIS MACHINE

PROCESSING FLOW OF BISCUIT PRODUCTION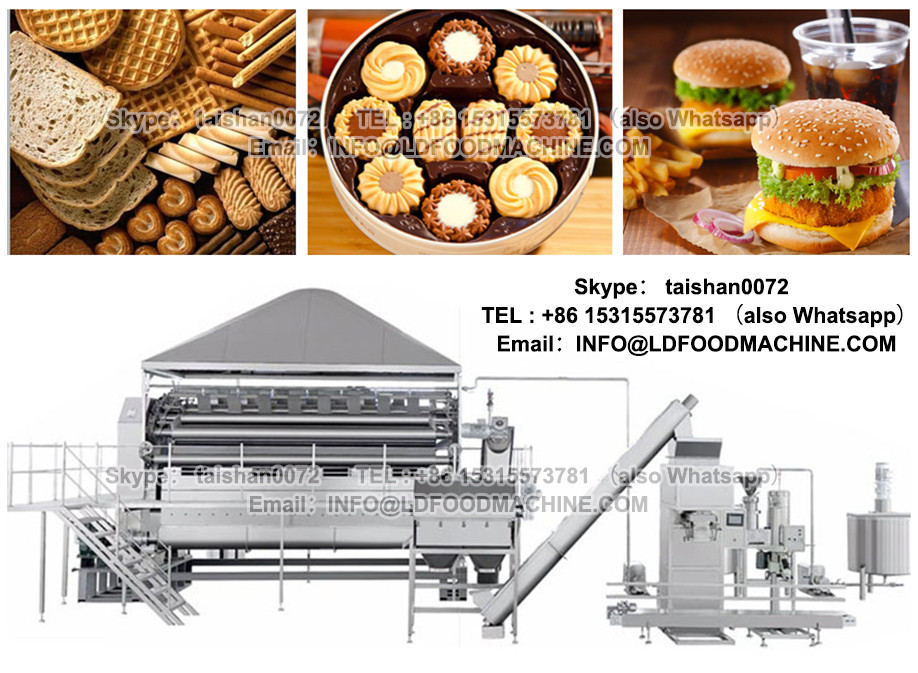 Product Description
commercial biscuit machinery




This machine is automatic biscuit production line. There is electric oven and gas oven for choice. We can offer turnkey project from mixing to packing.
Product Detail
| | |
| --- | --- |
| material | stainless steel 304 |
| capacity | 100kg per hour to 1000kg per hour |
| fuel | electricity or gas |
| Product Keywords | biscuit machinery |
Quality assurance:
Machine Brief Introduction:
Biscuit production line, mainly for the production of soft and hard biscuit, from feed to three pressure surface forming sift sugar, transport, waste recycling, cooperate with tunnel baking. Spray cooling all mechanical and electrical integration, automatically, arbitrary adjustable thickness of biscuits, mechanical regulated speed can be fast can slow the infinite adjustment, and with automatic temperature control and a series of advanced equipment. Can be any combination of biscuit technology. These all can reach the ideal effect.The biscuit production line adopts the imported electrical components, frequency control, energy saving, reliable and single control, from spreading.
Note: this equipment can produce interlinear notes cream, jam and so on a variety of flavors of high-quality biscuits.(need to match the cream sandwich machine)
Biscuit prduction process flow:
1. Flour mixer — 2. Roll cut biscuit forming machine — 3.Roll print biscuit forming machine — 4.Tunnel oven — 5.180degree Turning machine — 6.Oil spraying machine — 7.Cooling line — 8.Biscuit stacking machine — 9.Biscuit sandwich machine — 10.Biscuit packing machine

| | | | | | | |
| --- | --- | --- | --- | --- | --- | --- |
| Model | GY-250 | GY400 | GY-600 | GY-800 | GY-1000 | GY-1200 |
| Capacity | 100 | 250 | 500 | 750 | 1000 | 1250 |
| Total Length(mm) | 29600 | 64500 | 85500 | 92500 | 125000 | 125000 |
| Baking Temp.(℃) | 190-240 | 190-240 | 190-240 | 190-240 | 190-240 | 190-240 |
| Electric Power Needed (kw) | 65 | 190 | 300 | 380 | 700 | 830 |
| Gross Weight (kg) | 6000 | 12000 | 20000 | 28000 | 40000 | 45000 |
For more product you may be interested: (Please click below items)
PRODUCT CATEGORIES
baking equipment

biscuit & cookies machine
cake machine
swiss roll machine
bread machine
pan cake machine
soft waffle machine
Packaging & Shipping
PACKAGE:
Standard export carton packing.
DELIVERY TIME:
3-40 days after confirming order,detail delivery date should be decided according to
production season and order quantity.
Company Information
About us
commercial biscuit machinery MACHINERY INDUSTRIAL GROUP
is a group company which is speciallizing in machine design, production and installation. Our head office is in Shanghai, China. It has 6 factories in China. Shanghai commercial biscuit machinery technology Co., Ltd, Shanghai juyuan machinery Co. Ltd, Jiangsu zhangjiagang Jierong machinery Co., Ltd, Jiangsu Jiangyin fengyue machinery Co., Ltd, Zhejiang jouyond machinery Co.,Ltd and 4 subsidiaries.
Our main produce is food machine, medicine machine, chemicals machine. For more details, please visit our website www.sellchinamachine.com YOU ARE WELCOME TO VISIT OUR COMPANY AND FACTORIES.
Our Advantages
OUR ADVANTAGES
As a group company, we have more than 10 factories in China. We have been in machines production more than 20 years. Our machines have been exported to more than 280 countries.
High quality of machine
From the raw material, we just buy the top quality product. For motor, electronic part, we use top quality brand in the world.
1
Low price in our product
For we buy high quantity raw material and spare part, we can get low price from our cooperated suppliers. So it reduce a lot cost.
2
Good after sale service
Before the machine is ship, it will test well. We will send our engineers for installation within 10 days after the goods reach your factory.
3
Warranty
We can offer 2 years warranty for free. Any problem for our machine, we can provide the spare parts for free.
4
Certifications
Contact Us
WAKIN YOND
Tel: 86-021-34796156
commercial biscuit machinery 546577710
commercial biscuit machinery 0086 13661481282
commercial biscuit machinery: 0086 13661481282
Skype: blessingtoyou
Add: No. 1328, Hengnan Road, Pujiang Town, Minhang District
FAQ
Can your factory produce machine according to our drawings or put on our LOGO?
Yes, we can and most of our products can be customized including the Logo on products.
I'm new in our industry, but I'm planning to setup a factory, What can I do?

We can suggest customer the most suitable machine according to your need. We could take you to our customer's factory to learn how they produce. We could customize machines according to your real need.
When could you send the engineers for installation?
We could send our engineer within 10 days after the machines reach your workshop. Our engineers will install machines and train your worker of Operation and maintenance.
Why do you choose us?
Select spare parts with high quality and well-known brands only.We are approved by ISO, CE, GS and etc. One year warranty; perfect after-sales service for spare parts. We accept OEM and put your logo on our machine.

Do you accept L/C?
Yes, we do L/C through One touch service company which belong to commercial biscuit machinery GROUP.
commercial biscuit machinery Completed a series of bread and hamburger productions such as continuous tableting, dough sheet finishing, sheet rolling, pattern making, quantitative cutting, stuffing, and forming an automatic swing plate. The whole process of mass production of bread and hamburgers was realized.
commercial biscuit machinery Features:
commercial biscuit machinery] uses a number of advanced technologies to integrate photoelectric sensing, electromagnetic induction, human-machine interface, microcomputer programming, new materials, and bionic technologies, with a high degree of automation. Materials used and packaging materials, etc.: All materials in contact with the surface are stainless steel, polypropylene, PU, latex, nylon 1010, etc. that meet food-grade safety requirements. is sealed with stainless steel and polycarbonate plates. Can meet the needs of large-scale industrial production, scale production of a machine can produce drawing bread, hamburgers, French bread and so on.
Jinan Joysun Machinery Co., Ltd. is a modern food machinery and equipment manufacturing enterprise integration R&D, manufacturing, sales, and after-sales services.