Product Description
Chocolate Enrobing Spherical Wafer Machine
Spherical Wafer Machine
Introduction:
The spherical wafer machine which is Kehua company's product made in 2009. These machines are able to produce the ball wafer, capacity about 23407 pcs/hour. The spherical wafer machine from Kehua company originates which in China has the fashion design and full automatic. It is successful since 2010 in production, and the feedback most are good and satisfied.
Baking type: Gas(LNG or LPG)
Equipment & Process Of Spherical Wafer Machine:
Production Process: batter mixing----rationing batter----wafer sheet baking----wafer sheet humidifying----cream spreading----ball wafer positioning nut----wafer book stacking----wafer book aligning----book pressing----book cooling----wafer ball punching----wafer ball separating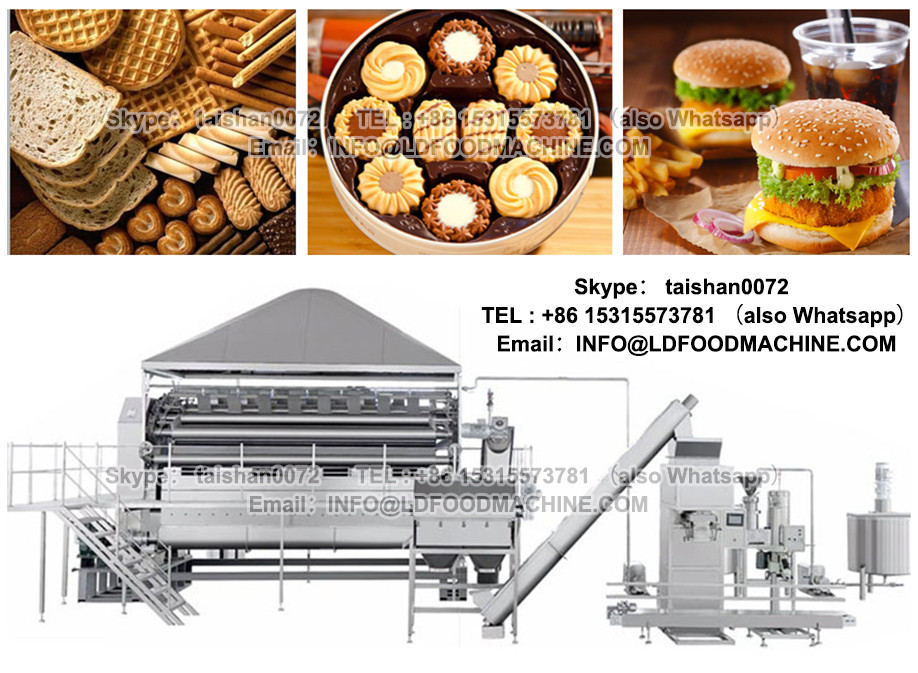 Equipments of spherical wafer machine: 1.batter mixer 2.ball wafer oven 3.connecting machine 4.aging machine 5.arranging machine 6.ball wafer spreader 7.nut-let sprinkling 8.turning and stacking machine 9.trimming machine 10.flat pressing machine 11.wafer cooling tower 12.refrigeration system 13.incline conveyor 14.punching machine 15.conveyor 16.anti-skidding conveyor 17.separating machine




Technical advantage:
(1)In the field of wafer machine have more than 15 years experiences.
(2)According to HACCP design, the controlling and operating for the important equipment will be more accurately and safely.
(3)Have CE, ISO9001:2000, FM.
(4)Professional design, material selection more scientifically, processing more accurately.
(5)Good quality.
(6)Best service and perfect after sale service.

Specialty & Using:
The spherical wafer machine are able to ensure producing the quality goods through a lot of technology.
The casting of spherical templates: Ensure material quality uniformly and durable of baking plate by special casting and carving.
Temperature control: PID automatic controlling. Temperature error of baking oven about ±3ºC.
Bus Control: Let the machines been easy controlled and maintained.
Special cream spreading roller: Special design for thick filling. Make the ball wafer filling more uniformly and avoid spilling.
Rationing nuts: full automatic and the accuracy can be 98%.
Turning and stacking machine using up and down style, so hard to be damaged.
The trimming machine can let the ball wafer book tidiness and clear by the trimming technology.
The flat pressing machine can let the ball wafer book bonding perfectly and not deformation, so that kit the high yield.
The aging machine which using the technology of humidifying and cooling can let the chocolate and wafer bonding perfectly.
The ball wafer punching machine producing the ball perfectly and collecting the scrap automatically. This machine can easy cleaning and ensuring the goods have high quality.
Equipment require:
1. The spherical wafer machine must be supplied in accordance with;(GB16798-1997)
2. The Percent of Pass (clear design, plump wafer, baked even) after the Broken Wafer Collecting Machine is up to 98%;scrap 10% of the dry weight, equipment stability and normal operation three days after acceptance
3. The difference between the coated cream weight of the wafers on the wafer conveyor is ±3%; the qualify rate is up to 98% ,equipment stability and normal operation three days after acceptance.
4. The quality:
There are 96pcs in one baking plate(96pcs*4.5plates/min*60mins*0.98*0.97*0.95=23407pcs/h)
5. The whole Machine line goes smoothly, which makes sure the continuous production, and each separate machine will be inspected according to the ;
6. Thickness of all(except cooling tower)N304 is 1.5mm and the cooling tower's is 1.2mm.;
7. All air switches and contactors are supplied by SCHENEIDER;
8. All relays are supplied by OMRON and SCHENEIDER ;
9. The Baking Oven, Cream Spreading Machine, Wafer Cooling Tower and Wafer Cutting Machine will be supplied with Sound & Light alarm devices;
10. The Cream Spreading Machine will be supplied with Safety Shield;
11. The Wafer Cutting Machine will be supplied with Safety Shield;
12. The Cream Mixer and Smashing Machine will be supplied with Safety Cover;
13. The baking plate is plated hard chrome on surface required by the customer.
Technology of spherical wafer machine:
Special 33 plates wafer baking oven
| | |
| --- | --- |
| | sperical wafer machine |
| length of oven | 6.7m |
| length of spherical wafer machine | 34.5m |
| power | 5.52kw |
| air compression consumption(per hour) | 35m3 |
| electrical heating power | 110kw |
| capacity(wafer sheet) | 54pcs/hour |
| capacity(wafer ball) | 23407pcs/hour |

1)The standard size of the baking plate is 470×325mm;
2)Ball wafer oven: LNG consumption about 25m3/hour; capacity: 9 piece/hour, each piece have 96 pcs wafer ball.
3)Air compression consumption: 0.5m3/minute
4)Baking time: 3.5 minutes
5)Rated power: 40kw
6)Workers: at least 5 person
Space: machines using 150 square meter, workshop at least have 400 square meter
Packaging & Container
Packaging: iron and waterproof membrane
Container: two 40'HQ and one 40'GP


Chocolate Enrobing Spherical Wafer Machine Completed a series of bread and hamburger productions such as continuous tableting, dough sheet finishing, sheet rolling, pattern making, quantitative cutting, stuffing, and forming an automatic swing plate. The whole process of mass production of bread and hamburgers was realized.
Chocolate Enrobing Spherical Wafer Machine Features:
Chocolate Enrobing Spherical Wafer Machine] uses a number of advanced technologies to integrate photoelectric sensing, electromagnetic induction, human-machine interface, microcomputer programming, new materials, and bionic technologies, with a high degree of automation. Materials used and packaging materials, etc.: All materials in contact with the surface are stainless steel, polypropylene, PU, latex, nylon 1010, etc. that meet food-grade safety requirements. is sealed with stainless steel and polycarbonate plates. Can meet the needs of large-scale industrial production, scale production of a machine can produce drawing bread, hamburgers, French bread and so on.
Jinan Joysun Machinery Co., Ltd. is a modern food machinery and equipment manufacturing enterprise integration R&D, manufacturing, sales, and after-sales services.