Product Description
Wafer Biscuit Machine
Name: Professional Automatic Wafer Biscuit Machine KEHUA
Introduction:
Professional automatic wafer biscuit machine which is one of KEHUA company's traditional products used in product different kind of good wafer, and the capacity about 4.62tons/day. This line had been more reliably and mature via innovative improvements on the basis of advanced technology within this 20 years.
Baking type: 1. Gas(LNP or LGP),
2. Electricity(380V/3 phase/50Hz).
The standard configuration of this wafer biscuit machine: batter mixer, oven, wafer connecting machine, vertical type wafer cooler, wafer collecting machine, cream spreader, wafer cooling tower, wafer conveyor, wafer cutter, cream mixer, wafer smashing machine.
Equipment & Process:
Wafer Biscuit Machine

Production Process: batter mixing----wafer baking----cooling----cream spreading----book cooling----cutting
Equipments of wafer biscuit machine: 1.batter mixer 2.oven 3.connecting machine 4.door type cooler 5.collecting machine 6.cream spreader 7. wafer cooling tower 8.refrigeration system 9.wafer conveyor 10.wafer cutter 11.cream mixer 12.wafer smashing machine.
Real pictures of wafer biscuit machine: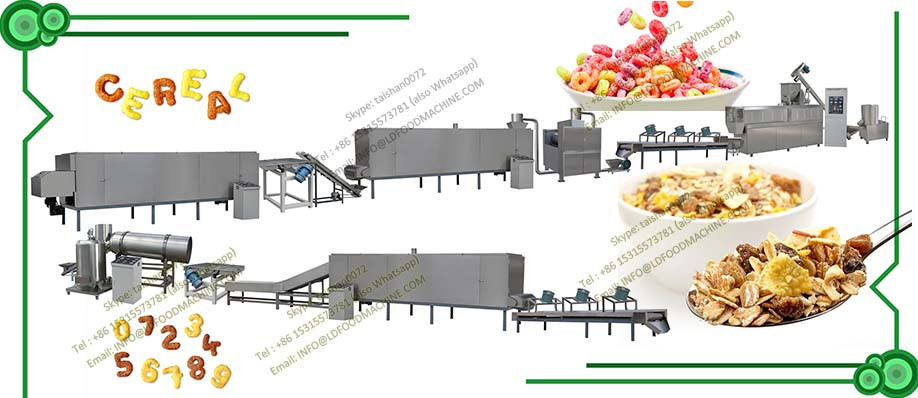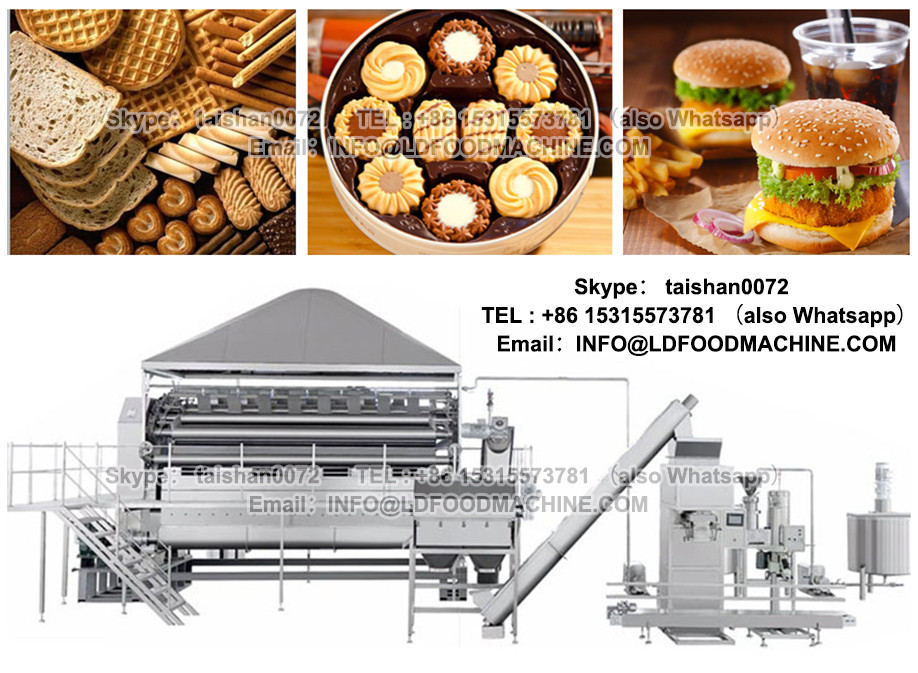 wafer biscuit pctures:


Specialty & Using:
Products Distinguishing Feature:

1. The oven has 51 plates and they made of nodular cast iron, the standard dimension of baking plate is 470*325mm. The power transistor and travelling wheel have the Chinese patent, the line have PID temperature automatic control system and the good affect for wafer sheet.
2. Batter mixer is made of Stainless Steel. It can mixing 65kg batter with 25kg flour and 40kg water within 5 minutes.
3. Door type wafer cooler is made of Stainless Steel and using the own motor.
4. The racks of cream spreader are the stainless steel tank, the motor and pneumatic component which both seal in the tank have good waterproof and dustproof. The spreader has the easy clear design.
5. Wafer cooling tower is made of Stainless Steel, and the part which touch the wafer book are all made of Stainless Steel 304. The cooling fan is outlay and the temperature of cooler's inlet air are 5C. The relative humidity of cooling tower is 55%.
6. Wafer cutter is mechanically and the maximum speed of cutting wafer book(filled with cream) are 8 books.
Using: Wafer biscuit machine is exclusively used in produce different kind of good wafer.
Technical advantage:
(1) In the field of wafer machines have more than 15 years experiences.
(2) According to HACCP design, the controlling and operating for the important equipment will be more accurately and safely.
(3) Have CE, ISO9001:2000, FM.
(4) Professional design, material selection more scientifically, processing more accurately.
(5) Good quality.
(6) Best service and perfect after sale service.
Technical Parameter:

Wafer biscuit machine for 51 plates:
| | | | | | | | |
| --- | --- | --- | --- | --- | --- | --- | --- |
| Name | Baking oven's length | Complete line's length | Weight | Power | LNG consumption(per hour) | Air compression consumption(per hour) | Capacity |
| Wafer biscuit machine for 51 plaes | 10.2m | 26m | 17.5tons | 5.15kw | 35m3 | 54m3 | 192kg/h |

[1] Baking oven's length(m)---10.2m;
[2] The complete line's length(m)---26m;
[3] The total weight of wafer line(T)---17.5T;
[4] Power(kw)---5.15kw;
[5] LNG consumption(m3/h)---35m3/h;
[6] Air compression consumption(m3/h)---54m3/h;
[7] Capacity(kg/h)---192kg/h.
Wafer Biscuit Machine Parameter:
1) The standard size of the baking plate is 470*325mm; Pattern(standard) is 2.5*2.5*0.5mm;
2) The size of wafer sheet is 464*321mm; The effective cutting size of wafer sheet is 456*315mm;
3) Wafer sheet's thickness: 2.5mm---3.2mm;
4) Weight of wafer sheet: 50---60g;
5) Rated power: 30kw;
6) Air compression consumption: 0.9cube/minute;
7) Baking time about 2 minutes;
8) Worker: 4 to 5 people.
Space: machines using 70 square meter
Packaging & Container

Packaging: iron and waterproof membrane.
Container: one 40'HQ and one 40'GP

[Note]: We can make different pattern for the plate according to client's demands.
Wafer Machine/Wafer Biscuit Machine/Wafer Baking Line is the use of rice flour, flour and other kinds of grain flour as raw materials to add some vitamins, trace elements and other high-nutrition ingredients mixed uniformly after extrusion curing and then for nutrition to strengthen the rice, after drying, shape, appearance taste edible method and natural The rice is consistent and supplements the lack of nutrients in natural rice. can also customize special rice with different functions according to different groups of people. Jinan Joysun Machinery Co., Ltd. has single screw rice extruder and twin screw extruder.
can be freely matched according to the requirements! Wafer Machine/Wafer Biscuit Machine/Wafer Baking Line technology is a breakthrough in the recycling of grain using the principle of extrusion. The most important feature of technology is the addition of various nutrients essential to the human body to food, producing a variety of health foods, curative foods and functional foods. The products are easy to eat and easy to use. Digestion and absorption, welcomed by consumers. Artificial rice alias nutrition rice, gold rice.
Jinan Joysun Machinery Co., Ltd. was established in 1993. It is located in Shandong Province with a registered capital of 2 million RMB and covers an area of 9,800 square meters. It is a professional food machinery manufacturing company integrating research and development, professional production, direct sales and after-sales services. We took the lead in awarding and passing the quality standards of commercial products in Shandong Province, and successfully passed ISO9001:2008 international quality management system certification, and exported to the European Union's CE safety certification, BV certification, third-party certification. Now we have successfully obtained the trademark.