Product Description
Top level hot selling rheon wafer biscuit encrusting machine

Description of rheon wafer biscuit encrusting machine:
SY-900A is a multi- functional double filling encrusting machine with stamping and forming function
all in one, with small size but more powerful, join all the parameter setting together to one touch
screen, easy to operate and maintain.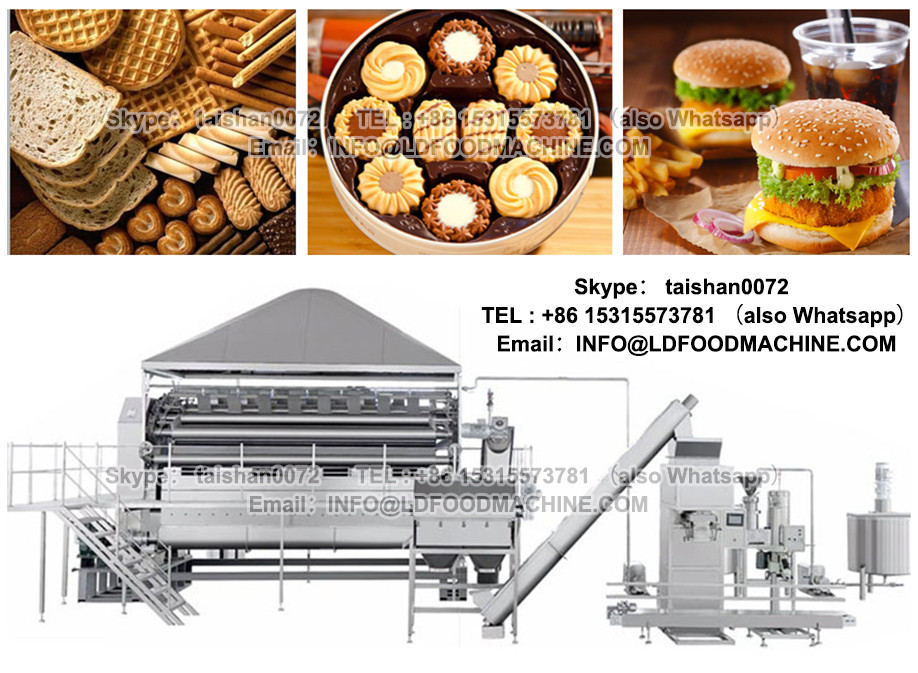 Specification of rheon wafer biscuit encrusting machine:
| | |
| --- | --- |
| Product weight | 10-250g |
| Output capacity | 20~150pcs/min |
| Dimension | 210*140*120cm |
| Voltage | 220V,2P |
| Power | 2 kw |
| Machine weight | 320kg |
| Product shape | Round ,strip,Square ,Ellipse and etc |
| Proportion of the casing and filling | 1:9-10:0 |
| Touching food material of the machine | Food grade special material |
1) Confectionery Chocolate Chip Cookies
Production SY-900A can produce Chocolate Chip Cookies up to 5,800 pcs./h
with the weight remaining constant. It produces cookies without crushing the chocolate

2) Prepared Foods Arancini Production

3) Meat with Egg Production
As expected, SY-900A is ideal for meat products. The main body is easily
washable and stainless steel parts are avail

4)Scotch Egg Production
By using options such as the Solid Feeder, an whole egg can be encrusted
into ground meat for products such as Scotch Eggs. Furthermore, solid
material can be encrusted with two types of ingredients.
5) Meat Loaf Production
Intermittent encrusting function produces filled bar shaped products.
You can get various lengths for products by the wide intermittent range of 0-99 seconds.

6) Fermented Dough Production
Filled Buns Production, SY-900A is also great for elastic bread dough.
High quality products can be produced using the new agitator that generates less heat.

7) Filled Focaccia Production
Maximum product weight of SY-900A is 300g. A large Filled Focaccia
can be produced thanks to it's high perform
8) Open Top Pizza Production
By using the Open Top Shutter, the surface of the product remains visible.
You can produce Open Top Pizzas while maintaining the natural texture of the ingredients.
9) Bread Stick Production
Production of yeast raised bar shaped products, finger foods such as
bread sticks, and even pretzels can be make
10) Steamed Chinese Meat Bun Production
Production of Chinese Dim Sum such as Steamed Meat Buns, Small
Steamed Buns and Crystal Dumpling can be produced without any difficulty
by using the Twist Top Shutter Option.
And More!
1.There is less left in filling.
2.Easier to mount and dismount machine spare parts
3.10% less and 30% lighter parts compared with the normal model.
4.The machine spare parts are easier washing.
5.PLC touched computer board ,filling size and weight are all adjustable.
6.Perfect product shape and weight accuracy.
rheon wafer biscuit encrusting machine
Top level hot selling rheon wafer biscuit encrusting machine is now a general-purpose model DL3000-100 single screw, is mainly used for the production of a variety of pasta, fried foods, rice noodles, pasta, pasta and other products, stable output, simple and convenient operation. 3000 is the length of the screw and 100 is the diameter of the screw.
Top level hot selling rheon wafer biscuit encrusting machine consists of feeding system, extrusion system, rotary cutting system, heating system, transmission system and control system. The use of advanced screw extrusion technology, the use of high temperature and high pressure material curing and expansion molding, one-time completion. The host adopts variable frequency speed regulation to ensure the stability of the production process. Product color, variety, appearance, natural and realistic, delicate texture, raw materials are widely used of .
Jinan Joysun Machinery Co., Ltd. is a high-tech enterprise integrating science, industry and trade. is dedicated to the development, development, production and sales of expanded snack food equipment, tissue protein equipment, pasta/pimento equipment, pet food equipment and experimental extruders.
Nowadays, Jinan Joysun Machinery Co., Ltd. have customers both in China and abroad.Foreign customers such as Russian,East Europe,Middle East,South America,North America,East Asia,Southeast Asia, Africa,etc.