Product Description
Gas fryer
Our factory is mainly produce we stern- style kitchen appliance.
This is one of new style food machines in the market.It is easy to clean,sanitation and convenient to operation and save resource.It is popular and becomes the best of all products in trattoria, snack.
Product Description
Standing Gas fryer

Model:

HY-74

Size:

65X51X88cm

Tank size:

24x31x22cm

Gas class:

LPG, Coal gas, Natural gas

Heat value:

29MJ(27486BTU)

Capacity:

2x12L

Tube Dai.:

12mm

Gas flow:

0.18m3/h

Package size/CBM

83x59x58cm/ 0.23cbm

Net/gross weigth:

26kg/31kg

Color:

Silvery

Materials:

Stainless steel

Package:

Carton + Wood shelf
More parameter
1. Detachable handle, rubber installed at the handle position is used to insulate; the sieve can be buckled on hanging rack to dry residual oil; Maximum food loading for single screen
Burner: circular type×2 adjustable air door
2. Oil pan cover:2
3. Piezoelectric ignition switch valve:2 flame can be adjusted
4. Gas nozzle:2 bore diameter:1.0; equipped with another 2 nozzle(non-tapping, convenient for user to refit at different gas source
5. Vent valve:2; 3/4cun brass ball valve
6. Maximum outline size: 65X51X88cm
7. Split mounting type feet; with adjustable machine feet; Adjustable height range:
8. Heating time: oil temperature 25℃up to 200℃ needs 20min
Details
Real photos of fryer
Products Series
Fryer series
Gas fryer with thermostat : ZG-735
1Tank 1 Basket: HY-871
2Tank 2 Basket: HY-872
1Tank 2 Basket: HY-873

Floor Electric Fryer: AP-86, AP-86-2, AP-86-3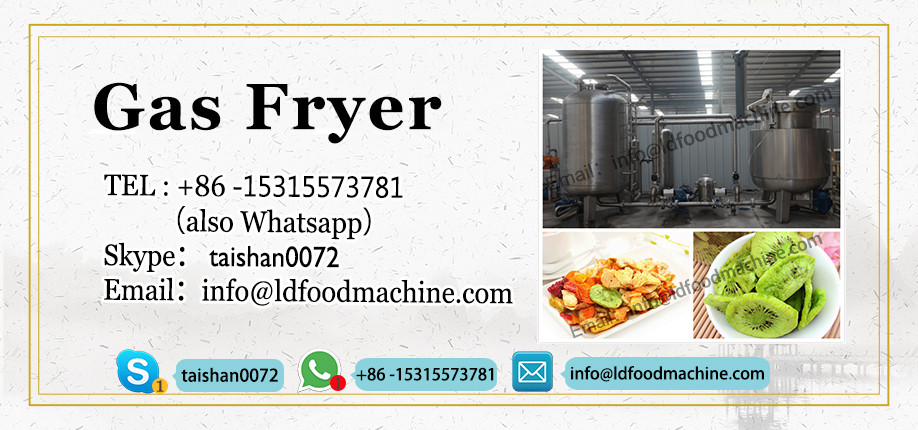 Workshop

Our company specializes in the manufacture of food packaging machines and western kitchen equipment.

Our factory covers an area of more than 30,000 square meters and we produce thousands of units per month. We have passed the certification of ISO9001:2000. We concentrate on quality manufacturing, distribution and after-sales service. We have many professional designers and engineers who have years of experience in developing new and superior quality products.

Our sales team offers good customer service and full process of placing orders, packaging, shipping and delivery worldwide.

Quality is the essential part and first priority of our company. Therefore, our products are both excellent in quality and reasonable in price and have been exported to Southeast Asia, Europe, America and so on. Welcome to establish a business relationship with us.
Welcome to contact with us
Commercial double fryer/ capacity 12L 2 Tank 2 Basket deep tank Gas Fryer HY-74 have thermostatic temperature control in the temperature range. A safety thermostat and drainage tap to make it easier to clean the machine.Gas fryer:Cast iron burners.Automatic burner ignition by means of an electromagnetic valve,with pilot light and thermocouple.
HHGYG
We are a professional western kitchen facility company which mainly specialize in Gas fryer,and we also agent many famous brand kitchen facilities, tableware and other hotel equipment, and all our products selling with wholesale price. our Commercial double fryer/ capacity 12L 2 Tank 2 Basket deep tank Gas Fryer HY-74 including western kitchen equipment series and refrigeration series, for instance,Gas fryer ice maker, ice cream machine, dish washer, popcorn machine , coffee machine, fruit juicer , oven, buffet stove, display warmer,and so on.