Product Description
Recommend Products
High Precision Stainless Steel Durable Gas Fryer Machine
Product Show
Basic parameters of products

Name:

Gas Fryer

Brands:

ETON

Model:

ET-TSRQZL

Formal Size:

609 x 666 x 412 mm

Gas Type:

LPG

Gas pressure:

2800Pa

Material:

Stainless steel

Net weight:

26kg

Packaging:

Carton

MOQ:

50
Product Introduction
Technical Features:
High quality stainless steel.
Good adhesion, do not miss the food crumbs.
Adjustable firepower.
Burner is a seamless steel pipe, can play a self flame stabilization purposes. Stainless Steel Gas Fryer | Stainless Steel Gas Fryer | Stainless Steel Gas Fryer


Installation Requirements and Considerations:
1. Installation Requirements
Installation: the machine away from the wall must be at least 10cm, in case the machine need to be installed against a wall, that wall must be fire-resistant to prevent burning.
Installation location should be in a well-ventilated place, and to install an exhaust fan to ensure the work process, the steam and exhaust gas after combustion.
After installation of the machine, be sure to keep a smooth, horizontal not inclined, nor can the use of shaking.
When installing the first application is due to gas suppliers licensed to use this type of gas, to verify the gas supply is consistent with the future use of gas, can be installed.
Do not use this machine does not comply with other gases used as fuel and high pressure regulating valve. (This machine is only suitable for low-pressure control valve)
2. gas connections
The machine must be installed before installing a quick disconnect gas supply valve, and must be placed near the machine easily touch the upstream position.
Make sure the machine is turned on with the same type of gas, if not identical, please do not turn on the gas connection pipeline having been painted yellow.
Pipeline connected to the machine must be used for the metal pipe to connect.
The machine should be using liquefied petroleum gas for testing.
If 10% higher than the rated pressure pipeline pressure requirements of the machine, you need to install a regulator to ensure that the rated pressure.
Once connected, use soap and water to test for leaks or pipe connections with a detection test, "Do not test the ignition source of fire!"
3. Precautions
Do not place flammable items (such as towels, etc.), placed anywhere on the oven surface, it may cause burning fire accident.
After use, immediately turn off the gas valve.
If found leak, immediately turn off the gas valve, open windows to enhance ventilation, do not switch the power and electrical system to be repaired before use.
4. Maintenance
Always clean up dirt and oil grill online basin. (Recommendation: twice daily)
If not used for long, first with painted cloth gasoline, cleaning stainless steel surfaces, well-ventilated place.
When cleaning equipment, do not use cleaners containing wear material, tools such as brushes or scrapers to clean the stainless steel surface, since the residual iron can cause rust. And in accordance with the direction of satin cloth, do not use the product to clean steel surface contains chlorine (bleach, hydrochloric acid, etc.), even though these products have been diluted and do not use.
Preheat the first ten minutes after work.
This product can not be washed with water directly.
Do not use corrosive substances (for example: potassium chloride) under floor cleaning equipment.
To regularly clean the furnace burner dirt. (Recommended once a week)
Company Information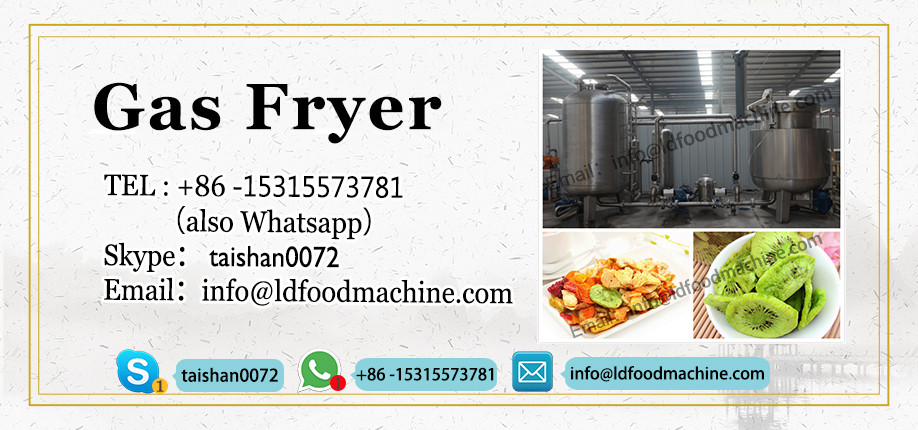 High Precision Stainless Steel Durable Gas Fryer Machine have thermostatic temperature control in the temperature range. A safety thermostat and drainage tap to make it easier to clean the machine.Gas fryer:Cast iron burners.Automatic burner ignition by means of an electromagnetic valve,with pilot light and thermocouple.
HHGYG
We are a professional western kitchen facility company which mainly specialize in Gas fryer,and we also agent many famous brand kitchen facilities, tableware and other hotel equipment, and all our products selling with wholesale price. our High Precision Stainless Steel Durable Gas Fryer Machine including western kitchen equipment series and refrigeration series, for instance,Gas fryer ice maker, ice cream machine, dish washer, popcorn machine , coffee machine, fruit juicer , oven, buffet stove, display warmer,and so on.