Product Description
Product Description
Welcome to Brandon equipment factory's website, we are in Guangzhou, China, near to the place of Canton Fair.
Brandon equipment factory, producing and exporting 15 more styles of fryers for 14years' experience.
Gas fryers and electrical fryers are all in mass production, best materials, best cost, best lead-time.
Let's see two gas fryers!
Comparison photo of Gas fryers: CF3 and GF4C

Dimensions of three gas fryers:
| | | | | |
| --- | --- | --- | --- | --- |
| Model | No. of tank | Programming channels per tank | Fry area (mm) | Burner's input rating |
| GF3 | single | N/A | 353 x 355 | 93,000 btu/h (27 kW) |
| GF4 | single | N/A | 353 x 355 | 115,000 btu/h (34 kW) |
| GF4C | single | 6 | 353 x 355 | 115,000 btu/h (34 kW) |
Dimension: 400 mm (W) x 800 mm (D) x 840 mm (working height) (Height including splash back is 1,180 mm)
Accessories:
2 fryer baskets
Crumb screen
Drain clog clearance prod
Drain oil extension pipe
Features:
1) GF3 and GF4 are CE approved.
2) Oil capacity of 21 liter for GF3 and 25 liter for GF4.
3) European gas valve.
4) Hi temperature limiting safety feature
5) Flame failure safety device.
6) Thermostatic control (from 0oC up to 195oC).
7) High thermal efficiency (beyond 50%).
8) Burner tubes carefully positioned across the vat for easy cleaning.
9) Deep cold zone design reduces wasteful oil deterioration by trapping crumbs under the cooking area.
10) Latch lock 1" ball-type drain valve: latch lock feature eliminates accidental scalding. Oil drain height: 350 mm.
11) Casters at the back and adjustable bullet feet in the front.
12) Stainless front rail, door, splash back and fry pot.
13) Gas Inlet: BSP 1/2".
Enhanced features of Computer control model:
1) Automatic melt cycle for solid shortening.
2) Electronic temperature sensor: quick response to load.
3) Buzzer goes off at the end of fry cycle process reaches the stage of "Shake basket reminding". This feature is good for frying French fries.
4) Precise temperature control for computer model. No unpleasant temperature overshoot which shortens oil lifespan and degrades food quality
5) Computer model requires 220V single phase power for the control board
Let show more HD photos
Model GF3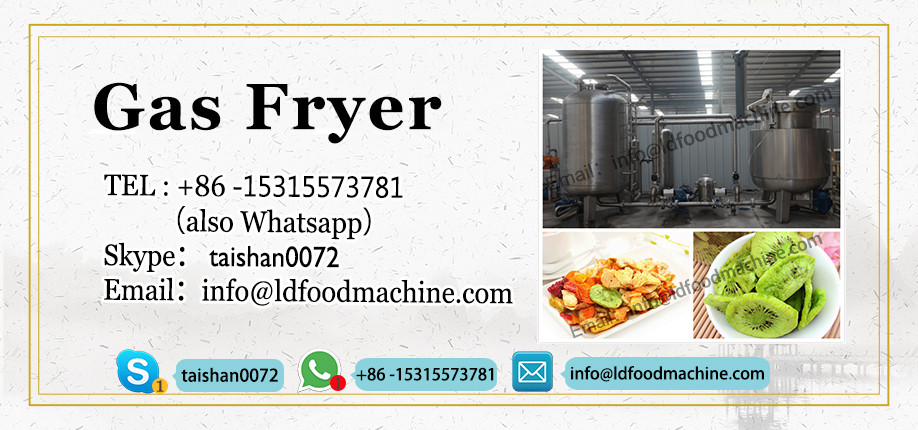 GF4C

Two fryer baskets
More Details:
More Parts, Please conact us or come to our website brandonequipment Point com or brandon point com point hk.
Certificate
Packaging & Shipping
Packaging
Shipping
We hope to get an chance of cooperation with you. Thank you!
Company Information
About Us
Factory photos:
Expert in food equipment
Set up in the year of 2000, Guangzhou Brandon Equipment Manufacturing Company Ltd. is a foreign direct investment from Hong Kong. Our company specializes in manufacturing stainless steel food service equipments, serving both the commercial and household market. Our company's strength includes gas, electrical, electronic and sheet metal manufacture. As far as R & D is concerned, our engineers are well-versed in design software, such as SolidWork, Autocad.
Your choice of high quality reputation
BRANDON has been approved by some international food outlets such as KFC. Our company is already a stainless steel gas fryer with two baskets for fast food chips chicken nuggetwned name in China's commercial food equipment market. Our products are well-known for meeting robust, tough handling during application.
Sophisticated manufacturing system
Our state-of-the art and cost efficient manufacturing system means that we always increase our competitiveness for our customers. That is how our logo tagline goes, "Brandon - boosting your competitiveness". Our manufacturing system is one of the few in China that employ ERP for systematic material and BOM control. Our system is also annually audited by BV (Bureau Veritas) , IMQ from Italy, TUV Rheinland.
Your best partner for the global market
BRANDON takes pride in our highly competent and very reliable Export Department Team who are all well-versed in English communication. Please contact us to find out how we can help you to enhance your market position. Kindly call us at +86 20-3996 1186 or email us .
Brandon's technical capability
Our engineers are all experts in their own field, including sheet metal construction, electronic & electrical circuitry, gas safety, 3-D sheet metal design software.
Most trusted standards
We are familiar with the relevant western standards in gas/electrical food equipment, such as CSA1.8a, EN203, EN484, EN498, Australian Gas (AGA 4563), electrical (EN60335, AS/NZS3000), RoHS, NSF etc. One of the reasons why our customers entrust us with the internal design of the products is because Brandon make equipment is always CE compliant, and during product testing, we can undertake all the coordination work with the certified body without any hassles to our customer.
Most competent manufacturer
To ensure consistent quality during mass production, Brandon has different check points to check on parts' quality. Jigs and fixtures are also very important to enable workers to accomplish the work task with ease.
Products are safe
This is something Brandon will never compromise. Our products are designed with safety in mind; at production they are checked 100% for safety including gas leakage test, dielectric test for electrical equipment.
More information please contact us or check our website:
www.brandon.com.hk
www.brandonequipment.com
stainless steel gas fryer with two baskets for fast food chips chicken nugget have thermostatic temperature control in the temperature range. A safety thermostat and drainage tap to make it easier to clean the machine.Gas fryer:Cast iron burners.Automatic burner ignition by means of an electromagnetic valve,with pilot light and thermocouple.
HHGYG
We are a professional western kitchen facility company which mainly specialize in Gas fryer,and we also agent many famous brand kitchen facilities, tableware and other hotel equipment, and all our products selling with wholesale price. our stainless steel gas fryer with two baskets for fast food chips chicken nugget including western kitchen equipment series and refrigeration series, for instance,Gas fryer ice maker, ice cream machine, dish washer, popcorn machine , coffee machine, fruit juicer , oven, buffet stove, display warmer,and so on.