Product Description
latest technology sunflower oil production line and large capacity oil press machine
Product Description
Business covers:
Vegetable Oil Series:
1> Oil pretreatment Equipment, Specifications: 1-1000T/D
2> Plant Oil leaching equipment, Specifications: 10-1000T/D
3> Continuous, Semi-continuous physical refining oil complete equipment, Specifications: 5-600T/D
4> Small Advanced Cooking Oil batch refining unit, Specifications: 1-20T/D.
Oilseeds scope: Soybean, rice bran, peanut, sesame, sunflower seed, rapeseed, palm,cottonseed, corn germ, copra, castor bean and so on.
latest technology sunflower oil production line and large capacity oil press machine process:
(1).Cleaning: Our vibration screen and destoner will Remove the raw material peanut in various impurities, such as: iron, stones, clump, such as the plant leaf, clean up after the raw material peanut impurity content should not exceed 0.2%.
(2).Crushing: Oil seed is crushed into 6-8 pieces. In order to meet the requirements of crushing, the peanut is suitable for crushing with the moisture of 7% to 12%.
(3). Softening: The purpose of softening is to adjust the moisture and temperature of oil, and make it soft.
(4).Flaking process: Rolling raw material into flakes, and the purpose is to increae surface area, destroy the peanut cell tissue, shorten the way of oil out from cake.
(5).Drying: Adjust moisture of rice bran to meet the requirement of going to extraction process.
(6).Cooking process: use steam cooking, inject direct steam and cook the flakes to meet the requirement of oil press.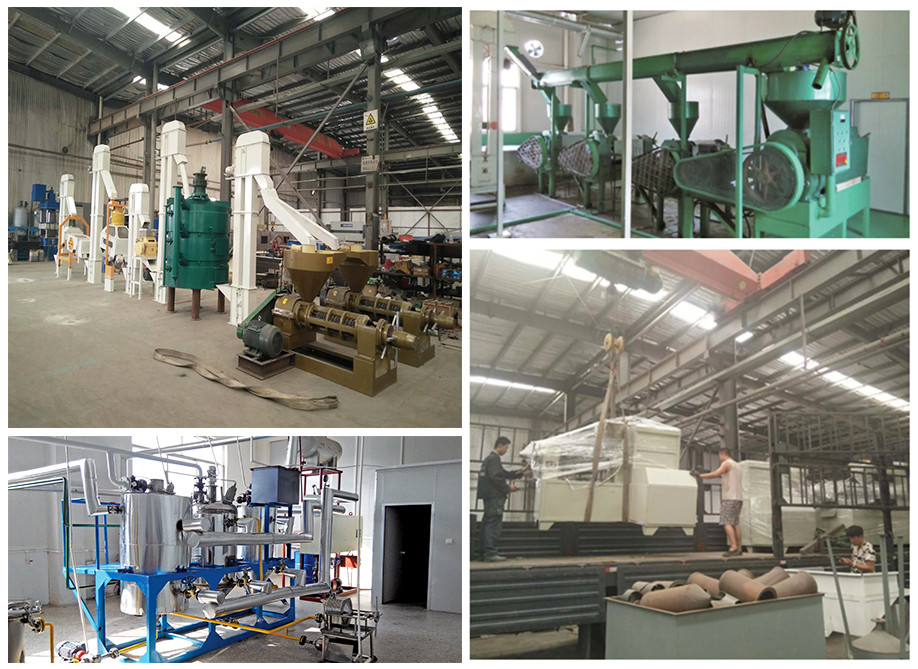 Sunflower oil production line solvent extraction process:
1,Adopting negative pressure evaporation can ensure excellent oil quality
2,Extraction system is highly adaptable and can adapt to different raw materials
3,All equipment is provided with exhaust gas absorption systems with excellent absorption
effect
4 ,Full energy saving design utilizes heat energy for many times and saves steam consumption.
Five main steps of automatic sunflower oil refinery plant process:
1. Crude corn germ oil degumming: In this step gums in crude corn germ oil are removed by hydration with the help of phosphoric acid.
2. Deacidification ( neutralization): In this step free fatty acids are neutralized by using sodium hydroxide and convert them into soap. Additional impurities are also removed by adsorption on soap.
3. Decolorization : During decolorization, unwanted pigments are adsorbed physically and oil will become much clearer.
4. Deodorization: Deodorization is used to remove unacceptable odors by steam distillation, the odoriferous compound are stripped off with the help of live injected steam into heated oil under high latest technology sunflower oil production line and large capacity oil press machine pressure.
5. Dewaxing (necessary for cold areas)
Some kinds of oil like sunflower, maize germ or corn oil have to waxes inside, if these impurities are not removed, the oil will freeze easily under low temperature, thus effecting oil quality and appearance. so this process is necessary in extremely cold areas.

Function of corn germ oil production line refinery plant main parts:
(1) Refining section: used to P-acid de-gumming, alkali refining de-acid and water rinsing.
(2) Decoloring section: used to remove off pigments, bleaching oils and grease dehydrate.
(3) Deodorizing section: to remove off the odor components in oil.
(4) Dewax: used to remove off the wax in the oil, in order to get the high quality oil.
(5) Heat-transfer oil stove: supply each device production needing heat energy, temperature reach above 280°C.
(6) Steam generator: produce the needing steam for de-odoring and distillation.
(7) latest technology sunflower oil production line and large capacity oil press machine pump: supply needing latest technology sunflower oil production line and large capacity oil press machine for dehydrate, de-color, de-odor. latest technology sunflower oil production line and large capacity oil press machine degree can reach above 755mm Hg.
(8) Press filter: filter clay, filter out clear oil.
(9) Air compressor: blow dry bleached clay, blow empty the leftover oil in the press filter.
Company Information
Our Services
1. Ensure to timely provide complete sets of equipment and accessories.
2. Ensure that one-time installation debugging acceptance.
3. Free training technological operator to ensure the trained staff can independent operation.
4. In the installation process, we will offer an experienced project manager, organize a good installation team for the work of field installation debugging.
5. After the equipment field assembly and installation, we will be also responsible for the single equipment debugging, on-line debugging and Feeding trial operation ,to ensure that equipment can normal operate in full load conditions.

6. Warranty period, all because of the quality of products has caused the damage or failure of equipment, suppliers responsible for the free repair and replacing spare part.
Packaging & Shipping
FAQ
1.Q:What kind of oil materials can your equipment process?
A: All kinds of oil seeds. For example of common oil material:soybean, rice bran, corn germ, cottonseeds, peanut, sunflower, rapeseed, palm fruit etc.
2.Q:What's the equipment input capacity?
A: 5-2000 tons per day. the input capacity is according your plan or requirements to customized.
3. Q:The materials of your machinery?
A: The stainless steel and carbon steel.
4.Q:How should I do if meet some trouble while using?
A:we can supply English manual book and also take a video for showing how to resolve the problems or dispatch our worker to your working site.
5.Q:Can you install the machine in local place?
A: We will send our engineers to local place to help installing the machine and provide technical guidance.
6.Q: the production method of your oil machinery?
A:divided into cold press and hot press two kind according the temperature,have physical direct press and solvent extraction etc. our machine can be meet your oil production.if any quotation,contact me free.
7.Q:how long the warranty of your oil machinery?
A:1 years,but lifetime technical support.
8.Q:how long can we receive the goods?
A:delivery about 45 working day after your order,have different shipping time of different machinery,and we will inform you shipping time based on your seaport.
This type of groundnut seed press line can be used for fixed amount small package filling,straight line type filling,mechanical,electric,apparatus control of all sorts of viscous and non-viscous,erosive liquid,latest technology sunflower oil production line and large capacity oil press machine such as plant oil chemical,liquid,daily chemical industry.groundnut seed press line is rather simple and rapid to change items,the design is quite distinct,the property is Very advantageous,latest technology sunflower oil production line and large capacity oil press machine appearance corresponds to international concept for mechanical equipment.
ASASASAS
latest technology sunflower oil production line and large capacity oil press machine is on the basis of original model, as per the production requirement. Adopts the suggestions from broad manufacturers. Reserves measuring core device technology, groundnut seed press line learn advanced filling process controlling technology from Europe and America developed country.