Product Description
Waxy maize starch product plant /Corn starch plant
The corn starch output capacity from 3000 ton pre year to 200000 ton per year.
Application:
1.Corn Starch used for Food and drink.
2.Corn Starch used for Textile starching, Medicine, Papermaking sizing, etc.
3.Corn Starch used for making Modified starch, Glucose, Suger, Sorbitol, Alchol, etc.
4.Corn Starch used for making Vitamin C, Lysine, Citric acid, Antibiotic, Enzymic preparations, etc.

Our production line:
1. Advanced and reliable Corn wet Milling technology.
2. Energy-saving, water-saving, labor-saving and little pollution. hot recycling close type production and the process water will be recycled .
3.Mostly machinery with fully stainless steel to be sure these is no corrosion.
4. Advanced surface treatment craft. Oil and dirty resisting.
5. Many various capacity option from 3000tpy to 60000tpy.
Our service:
We MecKey holds a strong and vigorous technological force team, all the engineers and technicians, once served in plant and scientific research institute, have abundant theory and practical experience.
Our team will offer specialized and kindly service for you from end to end.
Keeping Integrity, Profession, Efficiency, and Win-Win as our spirit and making friends through business contacts as our goal, we are always ready to provide satisfactory services for our friends from all over the world.
WE ARE WHERE YOU ARE
By choosing MecKey you are choosing the perfect long-term partner for your daily operations. Our service network can reach you wherever you are.
Corn/Maize starch general description process diagram:
General process description:
(1) Purifying: Before going to storage bin, pre-purifying is done to eliminate big and small foreign substance, which will be sent to germ cake collection section. The rotary screen placed beside the storage bin, has de-stoning and de-dusting functions. Purified corn is then sent to steeping section.
(2) Steeping: Counter current steeping principle is adopted to make corn become soft in steeping tank. Acid is heated and remains about 50°C when circulating in all tanks. Dipped corn is pumped to crashing stage.
(3) Sulfurous acid making: Sulfur is burned in furnace, getting SO2 gas, goes to absorbtion tower with china rings. Water is sprayed down, mixed with rising SO2 gas to get sulfurous acid.
(4) Crash and germ separation: Steeped corn is sent to 1st germ mill from wet corn storage bin. Crashed corn is pumped into 1st germ cyclone and screen to separate, and then goes to 2nd mill for further crush. Germ goes to 2nd germ cyclone, and then the light will be back to previous tank.
(5) Finely milling and fiber wash, dewater, drying: In pin mill, the degermed corn is multi--strongly crashed to remove fiber off. Fiber is sent to multi-stage washing screen for recovering the balance starch. Cleaned fiber goes to squeezer for dewatering then goes into bundle dryer for drying to mix with corn slurry for making animal feed product.
(6) Protein separation and starch washing: Starch milk goes to primary separator for gluten separation. Cleaned starch goes to 12 stages hydro cyclones for final washing to remove the tiny foreign items.
(7) Starch dewater and drying: Fine starch milk is dewatered by peeler centrifuge, the starch is sent to air flow dryer for making dry starch product in which moisture should be less than 14%. The finishing product is wrapped up through the packer and shipped out.
(8) Germ washing, dewater, drying, extraction oil and oil refinery: Germs from cyclone go to gravity arc screen for washing, then to squeezer for dewatering. Washed germs are sent to bundle dryer. Dried germ is fried and extracted then oil is filtered. Coarse oil is gotten at the end.
(9) Gluten concentration, dewater, drying: Gluten is concentrated by air floating vessels then goes to Waxy maize starch product plant filter for further dewatering. Dewatered gluten goes to bundle dryer for making gluten meal product.
(10) Processing water recovery and steeping liquid evaporation: Corn steeping liquid is sent to evaporator for concentration then goes to fiber bundle dryer mixed with fibre to get animal feed. Process water from concentrator, dewater machine which contains SO2 and some insoluble material, can be used again to the whole system such as steeping and washing.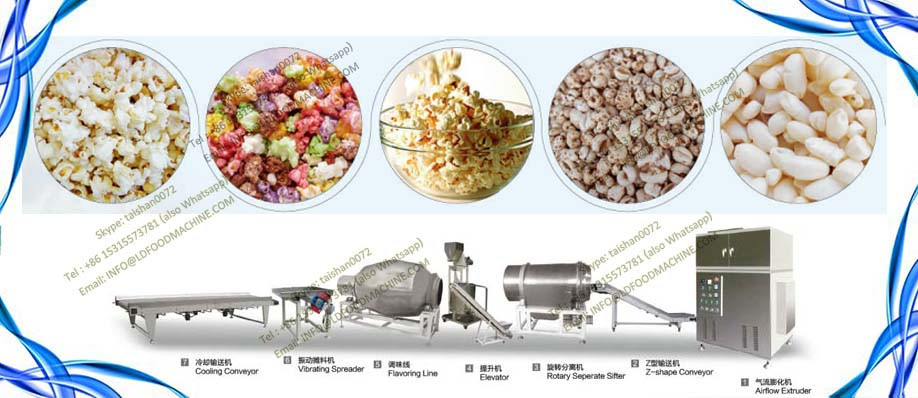 Welcome to contact us!
Waxy maize starch product plant is a food processing equipment developed, developed and produced on the basis of Jinan Joysun Machinery Co., Ltd. absorbing advanced foreign technologies. The technical performance and quality indicators of have reached the advanced level of similar international equipment. Waxy maize starch product plant From ingredients, extrusion, filling, forming, baking, spraying to finished products can be completed at one time, can produce all kinds of puffed foods, fragrant rice cakes, sandwich rolls (cakes) and crackers, cereal porridge, nutritional powder, etc. food. can produce all kinds of puffed foods, fragrant rice cakes and other sandwich rolls (cakes) and crisp biscuits, cereal porridge, nutritional powder and other foods. Using potato starch, corn starch, and flour as the main raw materials, the unique extrusion molding process is used to produce popular puffed foods with different shapes on the market. 222222 has a reasonable design, a high degree of automation, a clear control of extrusion parameters, the host is equipped with high and low pressure screws, increases the scope of use of raw materials, reduces costs, and improves product quality. The main products are spirals. Shells, round tubes, square tubes, circles, cartoon shapes, sports shapes, etc., produce products that are lifelike, crisp and crisp after being fried.
Jinan Joysun Machinery Co., Ltd. is a modern food machinery and equipment manufacturing enterprise integration R&D, manufacturing, sales, and after-sales services.