Product Description
Product Description
HG-series single / double roller dryer adopts advanced roller drying technology, this type of equipment is widely used for dewatering and drying thick liquid, sticky or paste slurry in food, chemical, pharmaceutical industries etc.; such as modified starch (pregelatinized starch / α-starch), rice flour, oatmeal or similar products; the finished products are in flaky, powder or granular.
This roller dryer is a kind of continuous rotation drying equipment with internal heating conduction style, saturated steam (or heat conduction oil) is feeded into the main roller; meanwhile, feed slurry is distributed on the surface of the roller in different modes; after passing through heating, slaking, water evaporation and scraping off, the dried product moves to the next working procedure for handling of finished product.
This production line mainly includes the following process sections, starch slurry preparation, feed material flow distribution, drying, peeling off, grinding, cooling and conveying etc.
Characteristics
High heat efficiency, large heating area, even heating: The principle of heat transfer of the roller dryer is heat conduction, and heat conducting direction keeps the same in the whole operation period; except heat loss of end cover and radiation loss, most heat energy will be used for evaporation of moisture in wet materials;
Flexible operation capacity and wide application: Various drying factors of the dryer can be adjusted, such as concentration of feeding liquid/thickness of material film, temperature of heating medium, rotating speed of main roller etc. which can change drying rate of the dryer;
Short drying time: normally, drying period of wet material is 10~ 200 seconds, so it is suitable for heat-sensitive materials; also it can be operated under reduced pressure to lower heating temperature down;
High drying rate: As film of wet material coated on the surface of roller is very thin, normally, thickness is 0.3 ~ 1.5 mm, and directions of heat and mass transfer are the same, evaporation capacity is 30~70 kg•H2O/m2•h;
Convenient to installation, easy and reliable operation, less maintenance work.
Specifications

Our Services
Service before sales: helps client to find technical solutions, assist on engineering design;
Service during project construction: full technical support on installation, commissioning, test running, training;
Service after sales: helps on factory management & operation, well organized quick support for spare parts supply and maintenance.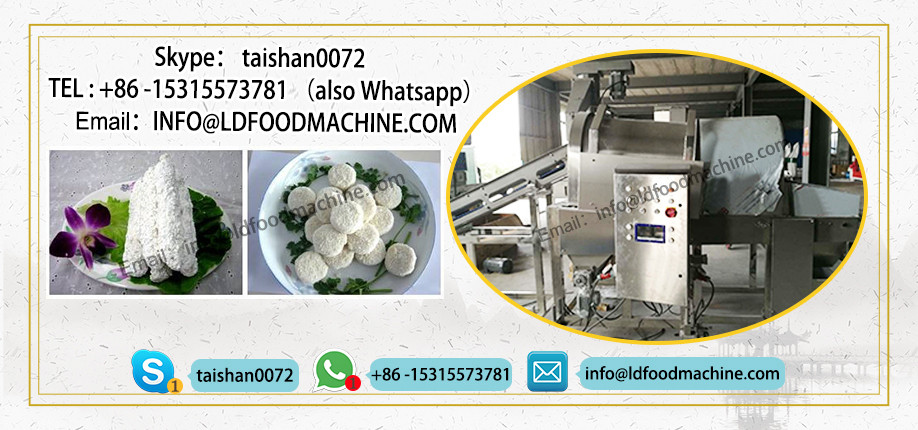 Company Information
Roller dryer machine/for alpha-starch/rice flour/oatmeal uses broken paddy flour as raw material, and with extruding, drying and polishing procedures, the new rice have good shape with color shine. Also, 's various nutrition matters can be added as nutritional rice.The usage is same to natural rice,but more simple and convenient than before. Roller dryer machine/for alpha-starch/rice flour/oatmeal not only nutrition but also adapts to the fast rhythm of the modern life.
Roller dryer machine/for alpha-starch/rice flour/oatmeal is a kind of shape machine which can produce many kinds of unique design snacks and cookies dry base by squeezing out and taking shape the dough and has characteristics of modern techniques, compact structure, multifunction, simple operation etc. is one of the most ideal new type food machinery deeply welcomed by the masses of users and investors of market at present as well.
garlic processing machine line.Jinan Joysun Machinery Co., Ltd. offer garlic separate machine,garlic peeling machine, garlic slicing machine ,,garlic harvester machine etc. Now our Roller dryer machine/for alpha-starch/rice flour/oatmeal have sell to 40+ countries include Canada ,Austria ,India ,South Afraic etc.We promise we will supply good quality of Roller dryer machine/for alpha-starch/rice flour/oatmeal ,and meet your need of Roller dryer machine/for alpha-starch/rice flour/oatmeal.