Product Description
Capacity 2-15tph of CE & ISO Animal Feed Pellet Machine Floating Fish Feed Pellet Machine Sale in Africa
1. Introduction Of Animal Feed Pellet Machine/Animal Feed Pellet Mill, Poultry Feed Pellet Mill
Animal feed pellet machine/Ring die animal pellet mill is an ideal pelletizing machine for high quality feed pellets.
Before pelletizing, grains such as corn, wheat, rice and soybean etc. need to be crushed into powder.
Also they should be mixed throughly with a mixer since other additives may be added to ensure a balanced feed formulation.
The Animal Feed Pellet Machine/animal feed pellet mill have a smooth surface and easy to digest for animals.
Therefore the animal feed pellet machine/ring die animal feed pellet mill is widely adopted by livestock farm, poultry farm,
feed processing industry and aquaculture.
2. Different Requirements for Animal Feed Pellet Machine/Animal Feed Pellet Mill, Poultry Feed Pellet Mill
Different animals have special requirements of pellets, we have several types of animal feed pellet machine/ ring die animal pellet mill which can respectively produce livestock feed pellets, poultry feed pellets, aquatic feed pellets, etc.
a. For pig, the pellet diameter is usually ø3.5-6.5mm.
b. For cattle, the pellet diameter is usually ø4.5-8mm.
c. For chicken, pellet diameter is usually ø3.2mm.
d. For fish, pellet diameter is usuallyø2.0, ø2.5, ø3.0mm.
e. For shrimps, pellet diameter is usually ø1.0-ø3.5mm.
3. Feature of Animal Feed Pellet Machine/Animal Feed Pellet Mill, Poultry Feed Pellet Mill
♦ Advanced belt-driving system with double motors on feed pellet machine, stable and reliable.
♦ Adopting high-qualified components on feed pellet machine, with long service life and low cost
♦ Whole transmission parts (including motor) of feed pellet machine chooses high-quality NSK/SKF bearings to ensure the transmission efficient, stable, low noise. Main motor choose Siemens.
♦ This feed pellet machine is equipped with full single layer stainless steel conditioner, ring die and cutter.
♦ Optional parts: Feed pellet machine can be equipped with double jackets stainless steel conditioner and dual spindle differential conditioner according to demands.
♦ A variety of overload protection devices and warning signs on feed pellet machine.
♦ Structural alloy steel main shaft with good strength and toughness.
Animal Feed pellet machine/ring die animal feed pellet mill can be widely used in pelletizing poultry feed, fish feed, cotton seed hulls, and other materials.
4. Unique Characters of Animal Feed Pellet Machine/Animal Feed Pellet Mill, Poultry Feed Pellet Mill
a. Unlike materials that are used to make wood pellets, grains for making feed pellets can get into the pellet machine just through gravity,
thus imperative feeding device is not necessary.
b. During the pelletizing process, steam should be added through the steam pipe . T
he steam can accelerate the ripening of materials and the finished pellets are easy to digest for animals.
c. Multi-layers can be mounted to produce certain high-grade feedstuff pellets.
5.Parameter of Animal Feed Pellet Machine/Animal Feed Pellet Mill, Poultry Feed Pellet Mill
| | | | | |
| --- | --- | --- | --- | --- |
| Model | Power(kw) | Power for feeder(kw) | Power for modulator(kw) | Capacity(T/H) |
| SZLH250 | 7.5/11*2 | 1.5 | 2.2 | 1-2 |
| SZLH350 | 22/30*2 | 1.5 | 2.2 | 3-5 |
| SZLH420 | 45/55*2 | 2.2 | 5.5 | 8-10 |
| SZLH520 | 55/75*2 | 2.2 | 5.5 | 12-15 |
6.Process of Animal Feed Pellet Machine/Animal Feed Pellet Mill, Poultry Feed Pellet Mill
(1)Crushing Process:
When the thickness of the raw material is >5 mm, the raw materials must first be used for size reduction before the feedstock is sent to the hammer mill (crusher) to reach a diameter of less than 3 mm.
(2)Mixing Process:
Two open doors structure, discharge rapidly, no leakage, no residue. Multiform liquid adding system and can be matched with compressed air jetting system Suitable for mixing premix, poultry feed, aquatic feed, additives and chemical and medicine industries, etc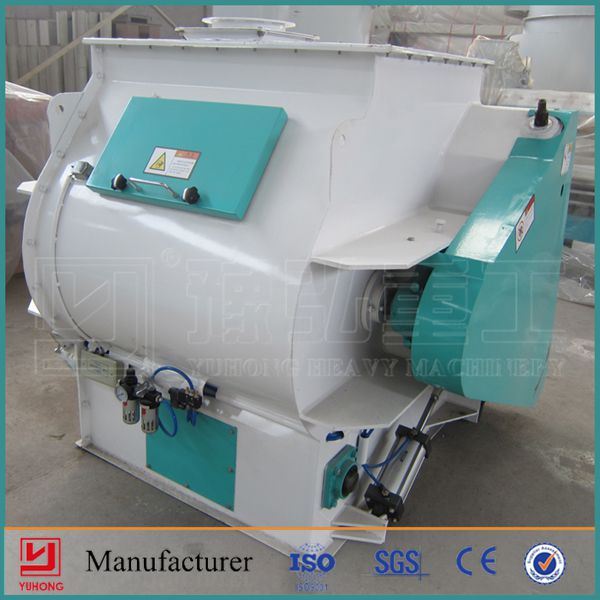 (3)Pelletizing Process:
Acting as the heart part of the whole processing line, ring die pellet machine adopts mechanical feed, high speed rotating centrifugal distribution into the granulating chamber, through the scraper to distribution materials, feeding uneven. but the finished products have strong internal structure and smooth surface.
(4)Cooling & Pulverize Process:
After the pelletizing process, the temperature of the feed pellet is about 60-80 degrees Celsius, with a moisture content of about 15%.A Cooler must then be used to reduce the moisture content of the wood pellets to about 3-4%, thereby making the wood pellets easier to store.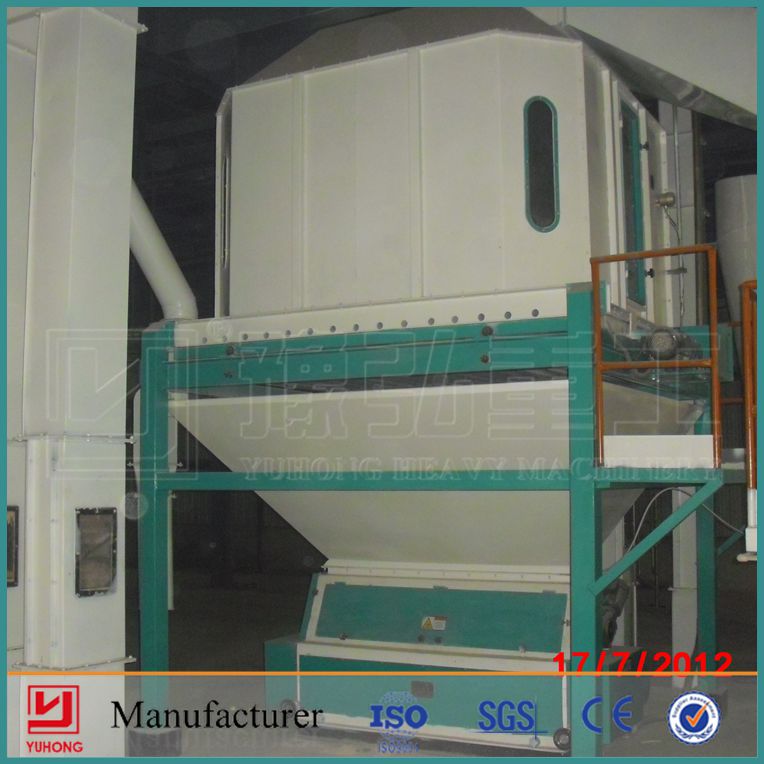 (5)Classifying screen:
It is applicable for screening and classifying of mash or pellet feed. It is also can be used for cleaning of raw materials andclassifyingof semi finished products after second grinding by large and medium feed mills.
(6)Packing Process:
After cooling and screening, the feed pellet must be protected from moisture and other environmental conditions. For this there is the packing process, which is effectively handled by our Semi-Auto Packing Machine.
Generally, most clients require a small scale with the auto-sealing packing machine and a scale for higher weight ranges for the semi-auto packing machine. For the first, the weight range is 15-50 kgs per bag, and for the second, it is 800 or 1000 kgs, modified per clients' needs.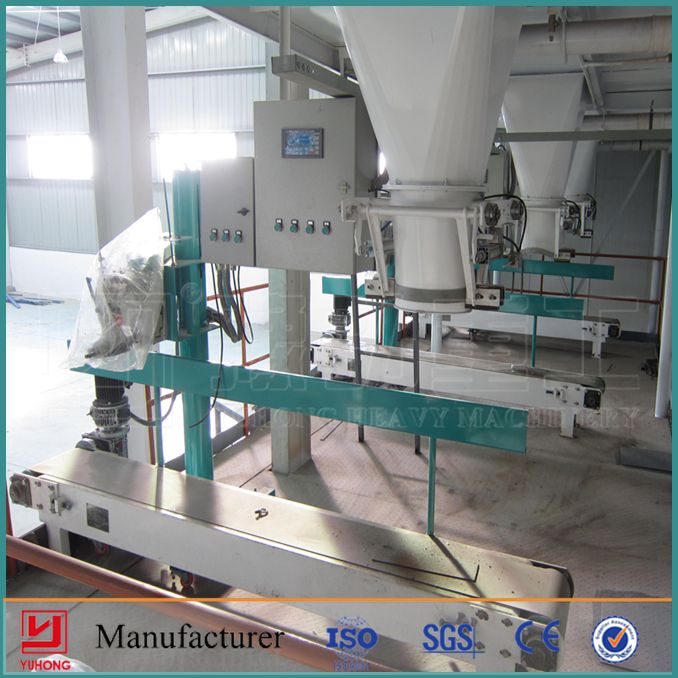 7.Live pictures Of Animal Feed Pellet Machine/Animal Feed Pellet Mill, Poultry Feed Pellet Mill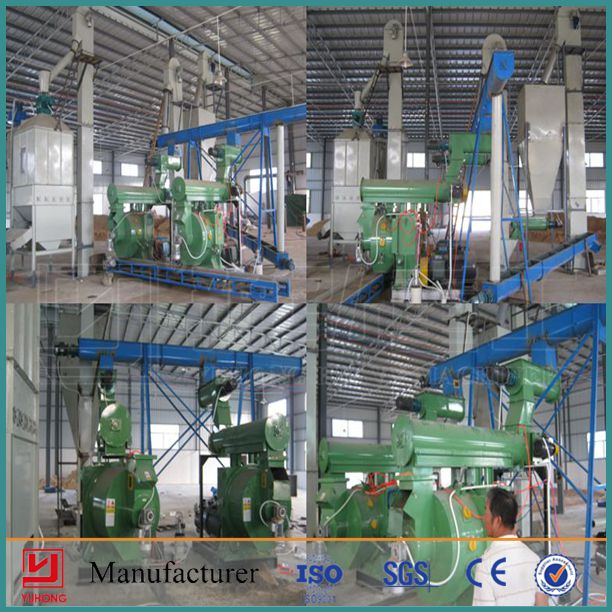 We are able to provide animal feed complete engineering solutions, including total planning, civil engineering, steel construction, storage system, feed processing machinery, intelligent packing, electrical control system.
We engage in feed machinery for more than 17years.
we have much more experiences on feed machinery after repeated attempts to trial in this years.
we want provide more value added service to all customers. also we can undertake all feed plant 2-40T/H.
easy to operate, high yield, good shape, the cut potato chips French fries surface smooth, uniform thickness and thickness can be adjusted freely. The new energy-saving frying machine has electric heating, coal heating and other forms. YUHONG CE & ISO Appoved Capacity 5-10tph Animal Feed Pelletizing Machine Mill in Africa uses imported high-quality stainless steel materials, exquisite workmanship, sturdiness and durability.
Jinan Joysun Machinery Co., Ltd.: In line with the principle of good faith management, with the tenet of "honesty, quality, and credibility", we adhere to the entrepreneurial spirit of "pioneering, pragmatic, and trustworthy" and create a dedicated service for each customer. Value, so that customers can buy the rest assured that the comfortable. Choose Jinan Joysun Machinery Co., Ltd., so you no worries! Do the product first, then do the market, the customer's praise is the best advertisement! Jinan Joysun Machinery Co., Ltd. works hand in hand with you!