Product Description
| | |
| --- | --- |
| Product Model | YJ-50M-25KG/DAY |
| Voltage(V) | 220 |
| Total Power(KW) | 0.75 |
| Total capacity(KG) | 125 |
| Daily Output(KG) | 25 |
| Power consumption (degree) | 0.7 |
| water consumption(m³) | 0.3 |
| Number of sprouting tray | 16pcs |
| The weight of machine (KG) | 150 |
| Packaging | wooden case |
| The size of machine (m) | 1.5×0.8×1.8 (length width height) |
______________________________________________________________________
| | |
| --- | --- |
| Product Model | YJ-100M-50KG/DAY |
| Voltage (V) | 220 |
| Total power (KW) | 0.75 |
| Total capacity (KG) | 250 |
| Daily output (KG) | 50 |
| Power consumption (degree) | 1.4 |
| Water consumption (m3) | 0.8 |
| Number of sprouting tray | 64PCS |
| The weight of machine (KG) | 300 |
| Packaging | wooden case |
| The size of machine (m) | 2.4X0.8X1.8(length width height) |
________________________________________________________________________
| | |
| --- | --- |
| Product Model | YJ-200M |
| Voltage (V) | 220/110/380 |
| Total power (KW) | 2.5 |
| Total capacity (KG) | 500 |
| Daily output (KG) | 100 |
| Power consumption (degree) | 2.2 |
| Water consumption (m3) | 1.3 |
| Number of sprouting tray | 64PCS |
| The weight of machine (KG) | 550 |
| Packaging | wooden case |
| The size of machine (m) | 2.4X1.4X1.8(length width height) |
_____________________________________________________________________
| | |
| --- | --- |
| Product Model | YJ-500M-250KG/DAY |
| Voltage (V) | 220 |
| Total power (KW) | 3 |
| Total capacity (KG) | 1250 |
| Daily output (KG) | 250 |
| Power consumption (degree) | 3.8 |
| Water consumption (m3) | 2.5 |
| Number of sprouting tray | 160PCS |
| The weight of machine (KG) | 720 |
| Packaging | wooden case |
| The size of machine (m) | 4.5X1.4X2.1(length width height) |
_______________________________________________________________
| | |
| --- | --- |
| Product | YJ-1000M-500KG/DAY |
| Voltage(V) | 220 |
| Total Power(KW) | 6.5 |
| Total capacity(KG) | 2500 |
| Daily Output(KG) | 500 |
| Power consumption (degree) | 15 |
| water consumption(m³) | 4 |
| Number of sprouting tray | 300pcs |
| The weight of machine (KG) | 1200 |
| Packaging | wooden case |
| The size of machine (m) | 5.8X2.1X2.3 (length width height) |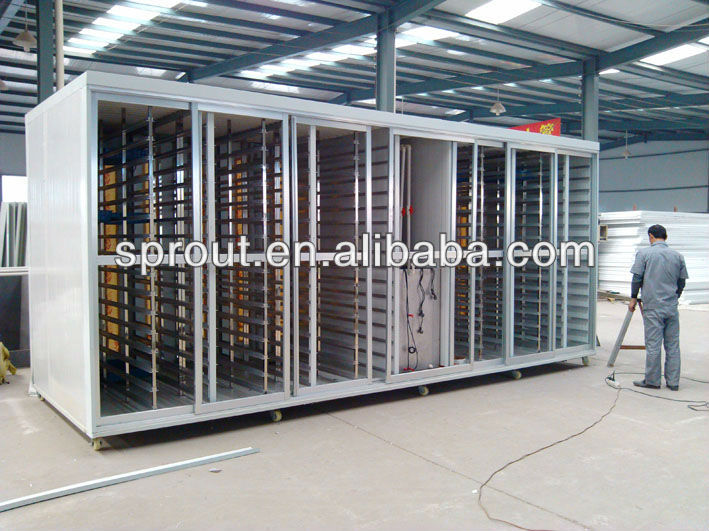 _______________________________________________________________
Ourcompany's Hydroponics Animal Feed Machine is full automatic, non-pollution and environment friendly. It is the combination of modern technology and traditional technology. By microcomputer, the machine automatically control temperature, add temperature, keep temperature, show temperature and drip water, etc. This kind of machine achieves the full automatic of producing process with the advantages of saving time, saving labour, low consumption and no noise.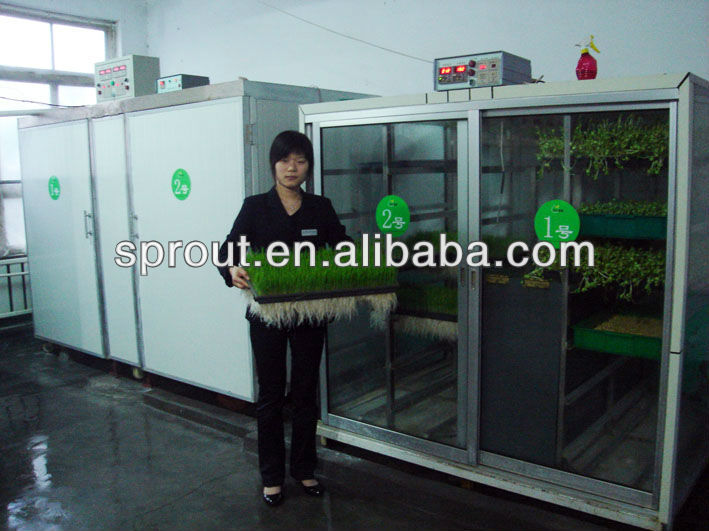 This new type bean sprout machine adopts the modern technology and the traditional process perfect union.
It has features such as the artistic design,the control system by the computer,the automatically temperature controlled,the ozone antiseptic technology used,the automatically water poured on.It is durable as well.
The completely bean sprouts machine,realizes in the production process entire automation,which has advantages of time-saving,the labor saving,the low consumption,no noise and pollution and so on.
It is a ideal machine for producing bean sprout.Our products are not only sold all over the country, but also
exported to Southeast Asia, Africa, Middle East, Brazil, North Korea and other countries, meanwhile, we have
established good cooperative relations, and a strong oversea sale network have been formed.
We are trusted and accepted by customers all over the world. We strictly control the product design, production and sale of three key links , take "firstclass products, firstclass quality, firstclass service" as the standard, meet customer requirements as the purpose and provide high-quality Service for the users of the world .
These equipments (Soilless cultivation machine) can provide adaptable temperature,
humidity, nutrition, health, green safe space for the seed.
2016 Popular Animal Feeding Machine is the use of rice flour, flour and other kinds of grain flour as raw materials to add some vitamins, trace elements and other high-nutrition ingredients mixed uniformly after extrusion curing and then for nutrition to strengthen the rice, after drying, shape, appearance taste edible method and natural The rice is consistent and supplements the lack of nutrients in natural rice. can also customize special rice with different functions according to different groups of people. Jinan Joysun Machinery Co., Ltd. has single screw rice extruder and twin screw extruder.
can be freely matched according to the requirements! 2016 Popular Animal Feeding Machine technology is a breakthrough in the recycling of grain using the principle of extrusion. The most important feature of technology is the addition of various nutrients essential to the human body to food, producing a variety of health foods, curative foods and functional foods. The products are easy to eat and easy to use. Digestion and absorption, welcomed by consumers. Artificial rice alias nutrition rice, gold rice.
Jinan Joysun Machinery Co., Ltd. was established in 1993. It is located in Shandong Province with a registered capital of 2 million RMB and covers an area of 9,800 square meters. It is a professional food machinery manufacturing company integrating research and development, professional production, direct sales and after-sales services. We took the lead in awarding and passing the quality standards of commercial products in Shandong Province, and successfully passed ISO9001:2008 international quality management system certification, and exported to the European Union's CE safety certification, BV certification, third-party certification. Now we have successfully obtained the trademark.