Product Description
Introduction of each part:
(1).Crushing Process--- poultry feed production line
When the thickness of the raw material is >10 mm, and >50 * 50 mm (L * W), the raw materials must first be used for size reduction before the feedstock is sent to the hammer mill (crusher) to reach a diameter of less than 3 mm.
(2). Mixing Process--- poultry feed production line
a.The feed mixer equality of mixing is below 7 percent.
b.The rim for sending materials is quite big. There is quite few material left in the machine.
c.This feed mixercomprehensively applies in matching feed factory, chemical industry, food, flour and other sectorsMixed in gravity-free state, no segregation, variety of liquids can be added.Conveyed by three chains, run in low speed, stable operation movement. Short mixing period(40-120 sec/batch), high evenness degree (CV5%) may be up to 2%
d.Two open doors structure, discharge rapidly, no leakage, no residue. Multiform liquid adding system and can be matched with compressed air jetting system Suitable for mixing premix, poultry feed, aquatic feed, additives and chemical and medicine industries, etc
(3). Pelletizing Process--- poultry feed production line
SZLH Feed Mill essence of the complete line, has the following features:
1. The lubrication system for feed pellet machine adopts a tracing and inspection system controlled by a microcomputer. When the temperature of the bearings exceeds normal temperatures, the microcomputer will start the auto-lubrication system for lubrication—thereby conveniently ensuring smooth functioning of the rollers. The lubrication system is comprised of a tracing and inspection system controlled by a microcomputer. There is also the option to lubricate by hand.
2. The drive gear is a precision-made transmission mechanism. The bearings are sourced from SKF in Sweden. The ring die uses a hoop fastening method which increases the speed of discharge in comparison with the previous bolt-fastening method. As a result, the capacity is 10-15% higher than the belt transmission structure.
3. The ring die and roller of the Feed pellet machine has been finely machined using alloyed steel. The heat treatment process is different from other domestic manufacturers in that the carburization treatment increases the depth of hard-facing to 2 mm which improves the anti-abrasion properties of the ring die and roller by a factor of ten. This greatly saves on replacement costs.
(4). Cooling Process--- poultry feed production line
After the pelletizing process, the temperature of the feed pellet is about 60-80 degrees Celsius, with a moisture content of about 15%.A Cooler must then be used to reduce the moisture content of the wood pellets to about 3-4%, thereby making the wood pellets easier to store.
Feedback from some foreign clients has suggested that in humid climates, the moisture content must be reduced to 7-8%. In order to satisfy the needs of these clients, we have developed a new Stabilizer Combined Cooler.
(5). Packing Process--- poultry feed production line
After cooling, the feed pellet must be protected from moisture and other environmental conditions. For this there is the packing process, which is effectively handled by our Semi-Auto Packing Machine.
Generally, most clients require a small scale with the auto-sealing packing machine and a scale for higher weight ranges for the semi-auto packing machine. For the first, the weight range is 15-50 kgs per bag, and for the second, it is 800 or 1000 kgs, modified per clients' needs.
In the operation of the complete Feed pellet plant, the filtering of dust is a key concern. For this purpose we offer the Common Dust Collector (or cyclone) and the Impulse Dust Filter. For air exhaust systems, we provide the Water Film Dust Collector for the greatest dust-free environment in the process of drying and cooling—a highly dust-emitting process.
Technical Parameters of Animal Food Pellet Making line
Model

SKLH

250

SKLH

304

SKLH

320

SKLH

350

SKLH

400

SKLH

420

SKLH

508

Capacity (T/H)

0.5-1.5

1.5-3

2-4

3-6

7-10

10-12

12-15

Screw feeder power (kw)

0.75

0.75

0.75

0.75

1.5

1.5

1.5

Conditioner power(kw)

2.2

2.2

2.2

2.2

3

3

3

Pellet size

2-18mm
The pictures of Animal Food Pellet Making line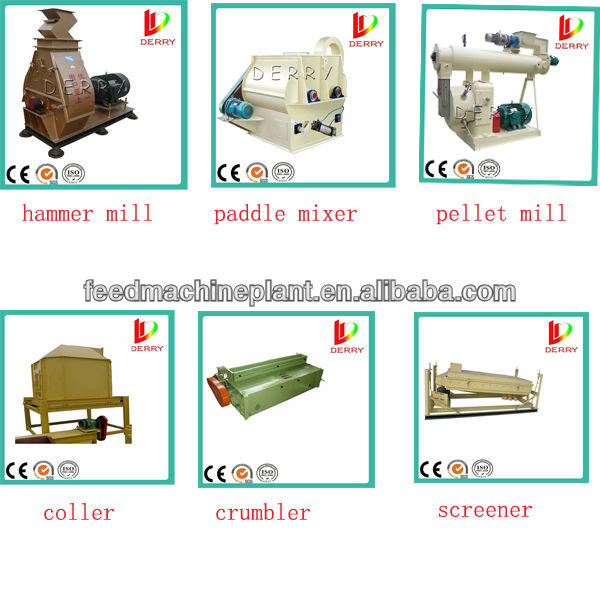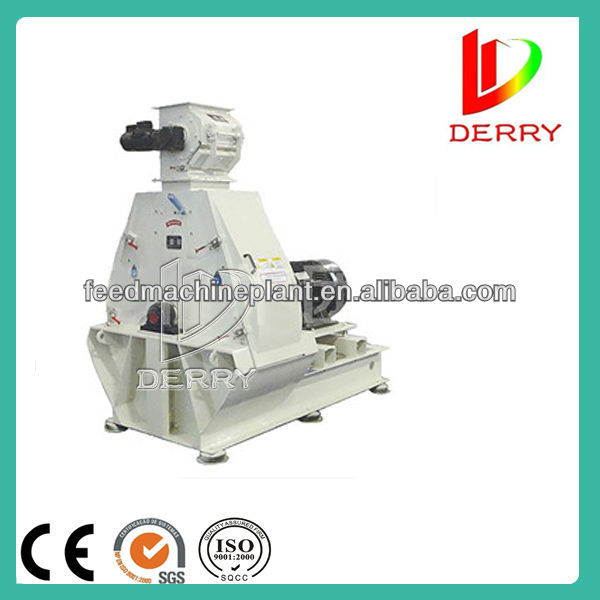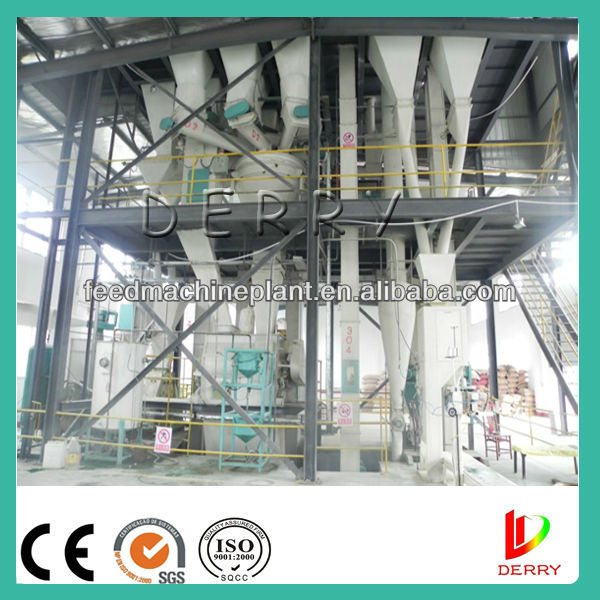 Packaging & Shipping
Our Services
Company Information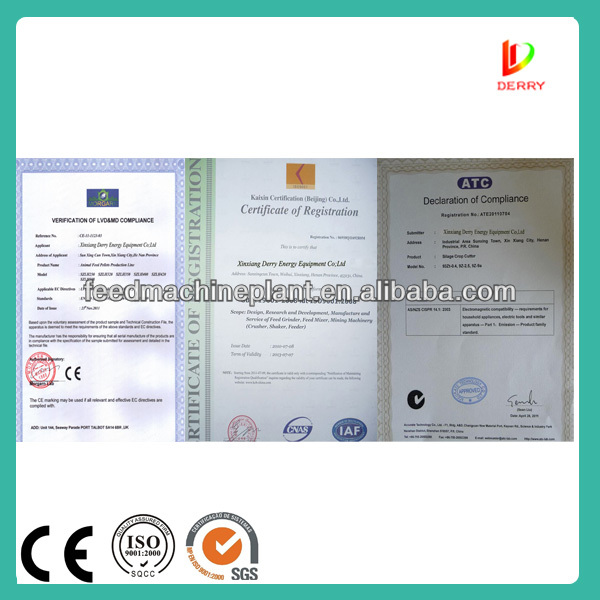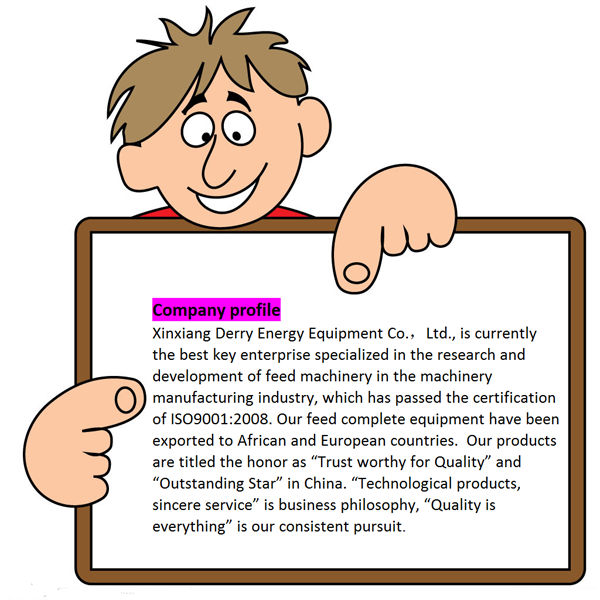 If you are insterested in our machines ,pls do not hesitate to contact with us!
Animal Food Pellet Making Machine/Chicken Feed Pellet Line adopts world-class technology to customize and produce special racks. High strength, high wear resistance, sharp teeth, uniform and delicate powder slag processing, higher starch extraction rate. The replacement of racks is quick and easy, which greatly reduces the labor intensity of labor and greatly increases the production efficiency. The separation part adopts a non-frame type three-section separation structure, which has small resistance and is more energy-efficient.
Animal Food Pellet Making Machine/Chicken Feed Pellet Line main functions:
For the extraction of potato starch, automatic fresh potato feed, crushing, separation, slagging, pulping. is also suitable for sweet potato, sweet potato, hawthorn, kudzu, plantain, and cassava.
advantages:
1: The smashing part is the first to use thorn bar type, discarding the manual sprint method in the past.
2: The lifespan of steel piercing teeth is twice the life of the previous piercing teeth, and can be replaced in ten minutes after wear.
3: The separation section uses a thick 40cm diameter separation tube, the separation is more clean, and the powder extraction rate is more than 99%.
Jinan Joysun Machinery Co., Ltd. is a modern food machinery and equipment manufacturing enterprise integration R&D, manufacturing, sales, and after-sales services.