Product Description
Product Description
The spray drier is widely used in the liquid shaping technology and in the drying industry. Particularly it is suitable for producing powder, granule or block solid product from solution, emulsion, suspending liquid and pumped paste liquid.
The working of spray dryer is as follows: Fresh air after filtering and heating, enters into the air distributor at the top of dryer.Then the hot air enters into the drying chamber. The liquid of raw material is pumped in through diaphragm pump, be atomized into tiny droplets. Through the very short time of contacting the hot air, the materials can be dried into the finished products.The wasted air and fine powder will be collected through collector at the bottom of cyclone.The tower body also equipped with observation door, sight glass, lamp-house and so on.
Detailed Images
During spray drying of feed liquid, tremendous energy and mass transfer occurs within extremely short time. Concentrated liquid drops leave the atomizer at the speed of 100-200m/s. Most moisture is removed from the retarding travel of liquid drops; and during this travel, fog drops lose initial velocity, and are carried away by dry air. Small liquid drops have 90% moisture evaporated at 0.5m away from the atomizer; while about 1.5m travel is required for big liquid drops.
In the full process of drying, the temperature of liquid drops is between surrounding air temperature and wet bulb temperature; and after atomization, the temperature of liquid drops will rise to be slightly higher than wet bulb temperature immediately. The evaporation of moisture from surface of liquid drops starts from constant-speed drying stage. At this stage, liquid drops are still fluid, and moisture in liquid drops is easy to move from inside to surface of liquid drops, maintaining surface moistened.
At the later drying stage, the moisture content reaches a critical value, liquid drops lose the characteristic of fluid and become wet solid, and encrustation forms on the surface. In such case, steam is produced because the received heat is bigger than the momentum of moisture movement, so the internal pressure further rises and makes the shell break. This stage is featured by sudden appearance of humidity gradient in radial direction of liquid drops. Moisture passes through the inside of particles and diffuses outwards, and drying rate begins to drop. Therefore, this stage is called as retarding stage.
Techincal Parameter
Modal(YPG)
25
50
100
150
200
300
500
1000-2000
Evaporated Capacity(kg/h)

25
50
100
150
200
300
500





the index depends on the partical condition
Diaphragm Pump

Power(kw)
0.2
4
7.5
11
15
22
30
Pressure(mpa)
it can be adjusted from 0.6 to 5 according to the material experient.in general,the pressure will be between 1 and 3

Heating method

electric
electric+steam
electric+coal fuel (oil) hot air furnace

Diameter of Chamber(mm)

1300
1800
2400
2600
2800
3200
3800
Total height of equipment
(mm)

7800
9200
11600
14000
15300
17100
19000
Features
♦ Quick drying speed. In the hot air stream, 95% to 98% of moisture can be evaporated immediately.
♦ It is especially suitable for drying thermal sensitive material.
♦ The product made by the machine has good uniformity, fluidity and high quality.
♦ The productive process is simple and the operation control is very convenient.
♦ For liquid containing 40-60% of damp (for special material, may be 90%), it can be dried to powder product through drying one time. After dried, it is not necessary to crush and sieve. So it reduces productive procedure and raises the purity of product.
Application
The spray dryer for coffee.
This is spray dryer was exported to the Malaysia,which evaporate amount reach to 1800kg/h,the electric+steam to be as the heat source.the most famous be fitting in drying solute drink,coffee,milk,tea and so on.

The spray dryer for sodium silicate.
This is spray dryer are customized by Slovenia, the evaporate amount reach to 2500 kg/h,the electric+oil to be as heat source,it is used widly in chemical filed.

The pilot spray dryer.
This is pilot spray dryer are popular used in pilot plant ,the customer feed the liquid material into it for testing ,

to know much more about the

materal's character.the evaporate amount only 5kg/h,the electric to be as heating source .

1. Chemical Industry:
white carbon,amino acid,catalyst,dyestuff intermediate,sodium fluoride,compund fertilizer,etc.
2. Plastics and resin:
AB,ABS emulsion, uric acid resin,phenolic aldehyde resin,urea-formaldehyde resin,polythene,etc.
3. Food Industry:
oats,chicken juice,coffee,instant dissoluble tea,protein,soybean,peanut protein,hydrolysate,etc.
4. Sugar:
corn syrup,corn starch,glucose,pectin,malt sugar,sorbic acid potassium,etc.
5. Ceramic:
aluminium oxide,ceramic tile material,magnesium oxide,talcum,etc.
Service Commitment
1. Design and production
We solicit buyers opinions widely at the design and production stage of equipment; especially at the stage of plan and elevation arrangement, we give full consideration to buyers' site conditions and public engineering conditions, and pay concurrent attention to the optimum combination when assuring the quality of equipment.
2. Installation and commissioning
After the equipment is delivered to buyers factory, we will dispatch full-time technical personnel to instruct buyers' installation and to take charge of commissioning until normal use of the equipment.
3. Training
Before buyers use our equipment normally, our commissioning personnel will organize buyers' relevant personnel to accept training, which covers the maintenance and care of equipment, timely repair of common faults, and procedures for operation of equipment.
4. Warranty
We provide one-year warranty for our equipment. For damage of equipment arising from non-artificial factors within the warranty period, we will provide repair service for free; and for damage of equipment arising from artificial factors, we will provide repair service in time and collect corresponding cost.
5. Maintenance and period
For damage of equipment after expiration of warranty period, we will provide on-site repair service within 24h/48h for enterprises inside/outside the province after receiving buyers' notification. The service provided after expiration of warranty period is fee-based, and flat cost will be collected each time when the service is provided.

Experienced Case
The spray dryer for sodium silicate.

This is spray dryer are customized by Slovenia, the evaporate amount reach to 2500 kg/h,the electric+oil to be as heat source,it is used widly in chemical filed.


Spray Dryer for instant coffee.
YPG-1800 ,exported to the Malaysia.

Spin Flash Dryer for fly ash.
XZG-3,exported to the Korea.

Mesh Belt Dryer for Onions.
DW5-2x9 ,exported to the Kazakhstan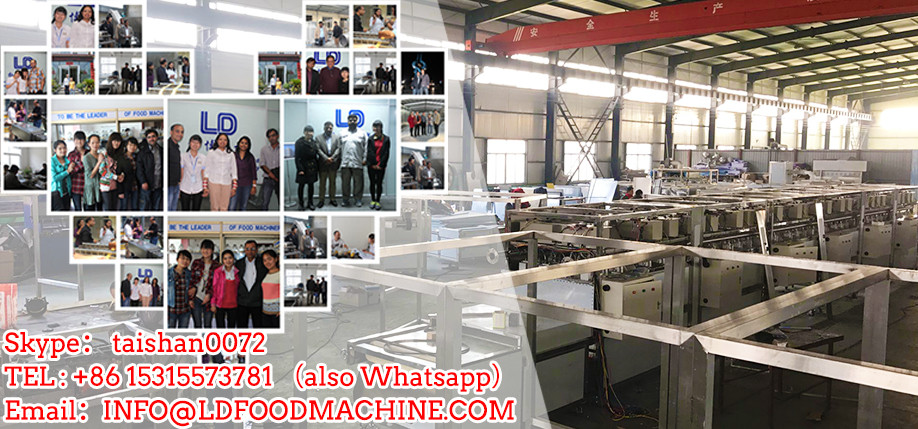 Jinan Joysun Machinery Co., Ltd., relying on strong technical support, advanced production equipment, excellent processing technology and scientific detection methods, we ensure product quality and delivery time, and provide a fully optimized technical solution according to your requirements. Jinan Joysun Machinery Co., Ltd. for thawing of meat products and seafood, the equipment has stable performance, reliable quality and short thawing time. It is an ideal defrosting equipment for high-tech meat products, made of stainless steel, conforming to food production standard. Welcome new and old customers to inquire. Our international business covers customers all over the world. We have competitive prices and are proud of our excellent after-sales service. The working attitude of the company and the continuous improvement of the innovation concept will lead Tuo Bo and you to step into the brilliant future hand in hand and create a better future.
Through continuous exploration and practice, the company has developed the advantages of low investment, high efficiency, low operation cost, high product quality and convenient control and operation. The microwave frequency thawing equipment with microwave frequency of 915MHz and output power of 20kw-200kw is above. For food processing enterprises such as chain fast food industry in China, food thawing is provided, and the improvement of food thawing technology in China is also renewed. The benefit is not only "farsightedness", but also at the foot of the eyes. According to experts, the traditional food thawing are based on heat conduction method, material surface temperature is higher than the internal temperature in the thawing process, inevitably there will be drop loss, which will increase the business loss. If merchants use microwave dryer, Fructose microwave powder Drying machine spray dryer power, material temperature and transmission speed can be used to achieve adjustable linkage, and the overall heating process control advantages can greatly reduce material consumption and improve food utilization. In addition, as the microwave thawing only needs electricity, no need to consume a lot of water, in the low carbon era, this is not lost a recommended fashion trend.
microwave dryer is a new type of environmental protection drying method. When dry, Fructose microwave powder Drying machine spray dryer directly to the medium molecules converted into heat, because the Fructose microwave powder Drying machine spray dryer penetrating performance of heating medium and at the same time, no need to heat conduction, so the heating speed is very fast, the water content below 30% of the food, the drying speed can be shortened hundreds of times.
AAABB
microwave dryer advantages of equipment
1, microwave dryer, short, fast
Conventional thermal sterilization is used to transmit heat from the surface of the food to the interior through heat conduction, convection, or radiation. It often takes a long time to get the germicidal temperature. The Fructose microwave powder Drying machine spray dryer is the direct interaction between microwave energy and microorganisms such as food and bacteria. The interaction between heat effect and non thermal effect can achieve fast warming and bactericidal action, and the processing time is greatly reduced. The sterilization effect of various materials is usually 3-5 minutes.
AAABU
2, Fructose microwave powder Drying machine spray dryer low temperature sterilization keep the nutrition and traditional flavor The Fructose microwave powder Drying machine spray dryer is through special heat and non thermal effect sterilization, compared with conventional thermal sterilization, it can get the desired disinfection effect at relatively low temperature and short time. Practice shows that the general sterilization temperature can reach the effect at 75-80 degrees centigrade. In addition, microwave dryer processed foods can retain more nutrients and color, aroma, taste, shape and other flavors, and have puffing effect. For example, the vitamin C retained in vegetables treated by conventional heat treatment is 46-50%, while that in microwave treatment is 60-90%, while that in conventional heating is 58%, while that in microwave heating is 84%.
PPPEE
3 microwave dryer and Fructose microwave powder Drying machine spray dryer save energy Conventional thermal sterilization often has heat loss in the environment and equipment, and microwave is directly treated to food, so there is no extra heat loss. In addition, the conversion efficiency of the electric energy to the microwave energy is in the 70-80%, and the power is generally reduced to 30-50%.
PPOOO