Product Description
Wheat bran drying machine flash dryer (drier)
1.The machine combines the Wheat microwave bran drying machine flash dryer (drier)l technology with the luidity,ejection and smashing step technologies.
2.Negative pressure,high efficiency suitable for the heat sensitive material.

Description
SXG rotating flash drying machine is our newly developed drying equipment, with advanced technology, reasonable design, compact structure, large production capacity and energy efficiency. This rotary flash dryer can complete drying, smashing and screening in a single step. Equipped with special magnetic sealing device, it meets the GMP standards.

Application
SXG rotating flash drying machine is applicable to dry viscous, thixotropic, thermosensitive powdery and granular materials in the dyes, pigment, chemical, ceramics, food and pharmaceutical industry. The appropriate materials can be dried by this drying equipment include:
1. Inorganic materials: boric acid, calcium carbonate, hydroxide, copper sulfate, ferric oxide, barium carbonate, antimony trioxide, metal hydroxide, heavy metallic salt and compound cryolite.
2. Organic materials: atrazine, lauric acid, benzoic acid, sodium oxalate, cellulose acetate
3. Ceramics: kaolin, silica and calay
4. Dyes: anthraquinone, black iron oxide, butyrate, titanium hydroxide, zinc sulfide, azo dyes
5. Food: soy protein, gelatinized starch, vinasse, triticin, wheat starch
6. Pharmaceuticals: analgin (The first domestic application of flash dryer)

Features
1. SXG rotating flash drying machine is equipped with a special cooling device at the bottom, thus avoiding material deterioration due to high temperature.
2. Wind distribution device can reduce the resistance to drying equipment and provide air volume for the dryer.
3. This rotary flash dryer uses particular pressurized sealing device and bearing cooling device to effectively prolong the service life of the drive part.
4. Material fineness and final moisture content can be adjustable.
5. Short staying time of material can prevent the material from sticking to the wall and the thermosensitive material from deteriorating.

Working Principle of SXG Rotating Flash Drying Machine
Hot air in tangential direction enters into the bottom of the rotary flash dryer, and forms strong rotational wind field under the action of stirrer. The materials get into the drying equipment from screw feeder, under the strong effect of the high-speed rotating impeller, the materials are dispersed after being rubbed and sheared. Bulk materials are quickly crushed and fully contacted with the hot air in order to complete drying. Dehydrated dry materials rise with the hot air, the grading ring will retain the large particles and the small ones will be excluded from the rotating flash drying machine through the ring center. The cyclone separator and dust remover will recover these materials. The wet or bulk materials will be threw to the container wall by centrifugal force, and fall into the bottom of the flash dryer to be crushed and dried again.

Technical Parameters of Rotating Flash Drying Machine
| | | | | | | |
| --- | --- | --- | --- | --- | --- | --- |
| Model | Diameter (mm) | Dimension (mm) | Power (kw) | Air Volume (m3/h) | Water Evaporation (kg/h) | Floor Space (m2) |
| SXG-2 | 200 | 300 × 2800 | 0.75 to 2.2 | 300 to 800 | 10 to 20 | 3.5 × 2.5 |
| SXG-3 | 300 | 400 × 3300 | 3 to 4 | 600 to 1500 | 20 to 50 | 3.8 × 2.7 |
| SXG-4 | 400 | 500 × 3500 | 4 to 7.5 | 1250 to 2500 | 25 to 70 | 4 × 3 |
| SXG-5 | 500 | 600 × 4000 | 5.5 to 11 | 1500 to 4000 | 30 to 100 | 4.2 × 3.2 |
| SXG-6 | 600 | 700 × 4200 | 7.5 to 18.5 | 2500 to 5000 | 40 to 200 | 4.25 × 3.25 |
| SXG-8 | 800 | 900 × 4600 | 11 to 18.5 | 3000 to 8000 | 60 to 600 | 4.5 × 3.5 |
| SXG-10 | 1000 | 1100 × 5000 | 15 to 30 | 5000 to 12500 | 100 to 1000 | 4.75 × 3.75 |
| SXG-12 | 1200 | 1300 × 5200 | 15 to 37 | 10000 to 20000 | 150 to 1300 | 5 × 4 |
| SXG-14 | 1400 | 1500 × 5400 | 30 to 55 | 14000 to 27000 | 200 to 1600 | 5.25 × 4.25 |
| SXG-16 | 1600 | 1700 × 6000 | 45 to 75 | 18700 to 36000 | 250 to 2000 | 5.5 × 4.5 |
Company introcuction
1.We use high-end imported brands of instruments and processing machines, to create superior quality machine for you ; yutong makes you feel free about the after-sales service.
2.We provide the spare parts with the cost of the spare parts themselves for life long time .
3.We can make the machine based on the customer requirements .
4.We have strong team ,and can help customer to design his process of the product .
5.Guarantee /warranty :1year. calculating from the day of successful installation and commissioning.
Factory inside

Processing&Our team
Service
Pre-service
Introduce the product to the customer in detail,answer the question raised by customer carefully;
Sale service
1.Ensure product with high quality and pre-commissioning before delivery;
2.Delivery on time;
3.Provide full set of documents as customer's requirements.
After-sale service
Provide considerate services to minimize clients' worries.
1.Assist clients to prepare for the first construction scheme;
2.Install and debug the equipment;
3.Train the first-line operators;
4. Examine the equipment;5.Take initiative to eliminate the troubles rapidly;
6.Provide technical support;
7.Establish long-term and friendly relationship.
Service commitment
1. Provide clients one-year warranty to make sure the machine work well;
2.We always keep certain inventory level of spare parts, which means the replacements can be sent to you timely;
3.Send every client a preferential quotation.
Centrificate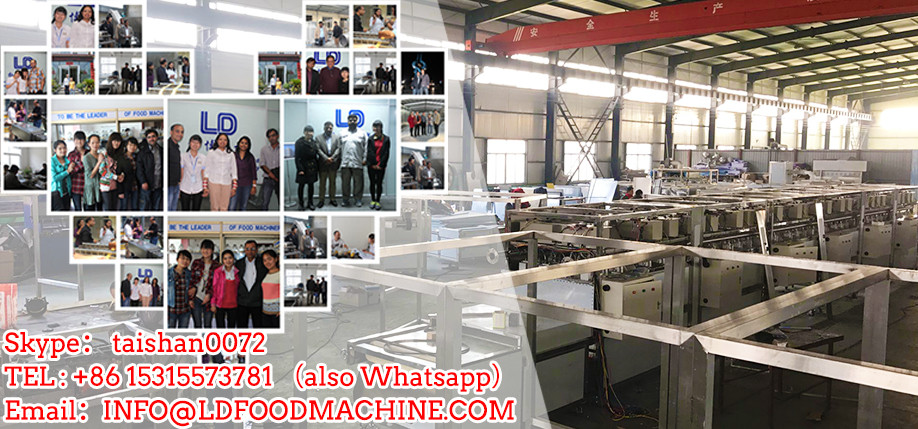 Exhibition
FAQ
1.Are you a manufacturer ,trading company or a third party
We are a manufacturer ,we set in 2000.
2.Where is your factory located
Our company is located in Changzhou city ,Jiansu province,China .it is In the middle of Shanghai and nanjing
Jinan Joysun Machinery Co., Ltd., relying on strong technical support, advanced production equipment, excellent processing technology and scientific detection methods, we ensure product quality and delivery time, and provide a fully optimized technical solution according to your requirements. Jinan Joysun Machinery Co., Ltd. for thawing of meat products and seafood, the equipment has stable performance, reliable quality and short thawing time. It is an ideal defrosting equipment for high-tech meat products, made of stainless steel, conforming to food production standard. Welcome new and old customers to inquire. Our international business covers customers all over the world. We have competitive prices and are proud of our excellent after-sales service. The working attitude of the company and the continuous improvement of the innovation concept will lead Tuo Bo and you to step into the brilliant future hand in hand and create a better future.
Through continuous exploration and practice, the company has developed the advantages of low investment, high efficiency, low operation cost, high product quality and convenient control and operation. The microwave frequency thawing equipment with microwave frequency of 915MHz and output power of 20kw-200kw is above. For food processing enterprises such as chain fast food industry in China, food thawing is provided, and the improvement of food thawing technology in China is also renewed. The benefit is not only "farsightedness", but also at the foot of the eyes. According to experts, the traditional food thawing are based on heat conduction method, material surface temperature is higher than the internal temperature in the thawing process, inevitably there will be drop loss, which will increase the business loss. If merchants use microwave dryer, Wheat microwave bran drying machine flash dryer (drier) power, material temperature and transmission speed can be used to achieve adjustable linkage, and the overall heating process control advantages can greatly reduce material consumption and improve food utilization. In addition, as the microwave thawing only needs electricity, no need to consume a lot of water, in the low carbon era, this is not lost a recommended fashion trend.
microwave dryer is a new type of environmental protection drying method. When dry, Wheat microwave bran drying machine flash dryer (drier) directly to the medium molecules converted into heat, because the Wheat microwave bran drying machine flash dryer (drier) penetrating performance of heating medium and at the same time, no need to heat conduction, so the heating speed is very fast, the water content below 30% of the food, the drying speed can be shortened hundreds of times.
AAABB
microwave dryer advantages of equipment
1, microwave dryer, short, fast
Conventional thermal sterilization is used to transmit heat from the surface of the food to the interior through heat conduction, convection, or radiation. It often takes a long time to get the germicidal temperature. The Wheat microwave bran drying machine flash dryer (drier) is the direct interaction between microwave energy and microorganisms such as food and bacteria. The interaction between heat effect and non thermal effect can achieve fast warming and bactericidal action, and the processing time is greatly reduced. The sterilization effect of various materials is usually 3-5 minutes.
AAABU
2, Wheat microwave bran drying machine flash dryer (drier) low temperature sterilization keep the nutrition and traditional flavor The Wheat microwave bran drying machine flash dryer (drier) is through special heat and non thermal effect sterilization, compared with conventional thermal sterilization, it can get the desired disinfection effect at relatively low temperature and short time. Practice shows that the general sterilization temperature can reach the effect at 75-80 degrees centigrade. In addition, microwave dryer processed foods can retain more nutrients and color, aroma, taste, shape and other flavors, and have puffing effect. For example, the vitamin C retained in vegetables treated by conventional heat treatment is 46-50%, while that in microwave treatment is 60-90%, while that in conventional heating is 58%, while that in microwave heating is 84%.
PPPEE
3 microwave dryer and Wheat microwave bran drying machine flash dryer (drier) save energy Conventional thermal sterilization often has heat loss in the environment and equipment, and microwave is directly treated to food, so there is no extra heat loss. In addition, the conversion efficiency of the electric energy to the microwave energy is in the 70-80%, and the power is generally reduced to 30-50%.
PPOOO