Product Description
Product Description
Product Description of Hot selling brown coal dryer/food drum dryer
Rotary drum dryer also known as drum drying equipment or rotary drum dryer. It is the key equipment to dry different materials with humidity or granularity in various fields.
Main Function is used for drying the high moisture material to a suitable moisture, so that the material can be reached a high efficient use value.

Main technical parameter of Hot selling brown coal dryer/food drum dryer
| | | | | | | | |
| --- | --- | --- | --- | --- | --- | --- | --- |
| model | Diameter(Φmm) | Length(m) | Power(kw) | Rotate speed(r/min) | Dehumidity Fan(T/h) | Capacity(T/h) | Weight(T) |
| Φ0.8 | Φ800 | 8 | 5.5 | | 4C(4KW) | 0.8-2.2 | 6.8 |
| Φ1.0 | Φ1000 | 10 | 7.5 | | 5C(7.5KW) | 1-3.3 | 7.5 |
| Φ1.2 | Φ1200 | 12 | 11 | | 5C(7.5KW) | 1.8-5.5 | 14 |
| Φ1.5 | Φ1500 | 14 | 15 | | 5C(7.5KW) | 3-8 | 20 |
| Φ1.8 | Φ1800 | 16 | 18.5 | | 6.3C(15KW) | 5-10 | 35 |
| Φ2.0 | Φ2000 | 18 | 22 | | 6.3C(15KW) | 6-12 | 45 |
| Φ2.2 | Φ2200 | 20 | 37 | | 8C(22KW) | 10-20 | 52 |
| Φ2.4 | Φ2400 | 20 | 45 | | 8C(22KW) | 12-25 | 75 |
| Φ2.5 | Φ2500 | 20 | 55 | | 10C(37KW) | 15-27 | 82 |
| Φ2.7 | Φ2700 | 20 | 90 | | 10C(55KW) | 20-30 | 90 |
| Φ2.8 | Φ2800 | 24 | 90 | | 12.5C(55KW) | 25-45 | 97 |
| Φ3.0 | Φ3000 | 24 | 110 | | 12.5C(75KW) | 30-50 | 106 |
| Φ3.2 | Φ3200 | 24 | 132 | | 12.5C(110KW) | 40-60 | 128 |
Working principle of Hot selling brown coal dryer/food drum dryer
1.The material walk into the rotary dryer by conveyor through the feeder machine of the dryer.Inside the rotary dryer have lifting plate,it can make the material up and down.Also before the rotary dryer have heat source,the fan will absorb the heat walk into the dryer.The heat and material will totally contact inside the rotary dryer. So the material will be dry.The fan settled after the cyclone,it absorb the heat inside the dryer,and inside the dryer will have negative pressure.The heat must walk into the dryer.
2.The rotary dryer speed can adjust through the transmission parts.It through motor,reducer,small gear.then get the dryer speed rotation.Inside China the motor is 380V/50HZ.If not same in our country,we can customize for you.
3.At the start of the dryer and the end of the dryer have temperature detector,so that you can check everywhere temperature inside the rotary dryer.
4.After the dryer have cyclone,it also called dust collector,it can collect the dust out from therotary dryer and protect the environmental.
5.The temperature also can adjust through the quality flow walk into the dryer,the fan flow,speed of the dryer etc.Main Features

Feature of Hot selling brown coal dryer/food drum dryer
1. have high degree of mechanization,large production capacity and continuous working.
2.With simple and excellent structure,the material running smoothly inside the rotary drier cyclinder.
3. less mechnical failure,low maintenace and low power consumption.
4. work uniformly and the drying product is very good.
5.With complete dust removal equipment and protect the environmental.
6. with no dust spilling.
7. easy to operated and have a good operating environment.


Advantages of Hot selling brown coal dryer/food drum dryer
1.The continuous drum dryer have reasonable structure, dry the material quickly.
2.Simple design, self-insulation, improve the heat efficiency to exceed 80%.
3.Structure delicate, stable operation.
4.good drying performance, coal consumption 5.The fuel can be coal, oil, natural gas etc, dry mass, granule and powder material.
6.Reduce land area for 50% compared to single drum rotary dryer, so construction investment is saved 50%,power consumption saved 60%.
7.Finished product moisture can be adjusted depends on requirement of client.
8.Lower outlet temperature, Hot microwave selling brown coal dryer/food drum dryer dust removal using life.
9.Drive by tug not gear.
10.Finished product temperature lower than 60°C, packing can be done continuously.
Application of Hot selling brown coal dryer/food drum dryer
a. Wood: sawdust, small wood chips, wood veneer, pine sawdust, wood shaving, wood flake, etc.

b. Ore: ore, slag, mineral power, limestone, quartz, fluorite powder, sand, iron ore, metal ore concentrates, metal tailing, coal, fly ash, etc.
c Metal: metal powder, iron powder, iron filings, steel scrap, copper filings, cooper slag, etc.
d. Chemical industry: gypsum powder of desulphurization gypsum stir-frying half water model and building gypsum
powder, clay, semiautomatics earth, kaolin, bauxite
e. Fertilizer: compound fertilizer, organic fertilizers, inorganic fertilizers, ammonium sulfate fertilizer, etc.
f. Agriculture: straw, grass, turf, animal manure, animal forage, fiber, EFB, coconut fiber, brewer grain.
Hot selling brown coal dryer/food drum dryer
1.Our Rotary Drum Dryer have CE certificate. The parts of the machine we all use nation standard.
2. The internal adopts assembled structure which has improved the accuracy of the equipment and it is easy to transport and install.
3. According to the characteristics of different fertilizers ,we have arranged the second granulation zone reasonably so as to improve the granulation effect .
4. Adopts assembled hoist board so as to exchange heat fully and lower the energy consumption 5. Temperature induction monitor ,uniform vibration and air proof setting , which improve performance and productivity efficiently .
6. The assorted combustion furnace is a type of energy efficient and has the characteristics of smaller area , easy regulation and equipped with greenhouse

Packing & Delivery
Pre-sale services:
Act as a good advisor and assistant of clients; enable them to get rich and competitive
from the returns of their investment.
1) Select suitable equipment model.
2) Design and manufacture products according to clients' special requirements.
3) Train technical personnel for clients.
4) Professional suggestion for customer
Services during the sale:
Respect clients; devote ourselves to improving the total value of clients.
1)take photos(including raw material, semi-products, final products, and loading products)
1) Pre-check and accept products ahead of delivery.
2) Prepare all clearance documents, so that the customer clearance smoothly.
After-sale services:
Provide considerate services to minimize clients' worries.
1) Provide civil engineering drawings of the equipment.
2) Free training(including installation,maintenace) to every customer.
3) Install and debug the equipment, ensure the dryer running smoothly.
4) Examine the equipment regularly.
5) Take initiative to eliminate the troubles rapidly at site.
6) Distribute the guarantee fittings door-to-door.
7) Provide technical exchange and support.
8) Provide maintenance for big items.
9) The most preferential prices to provide customers the quick-wear parts.

Our factory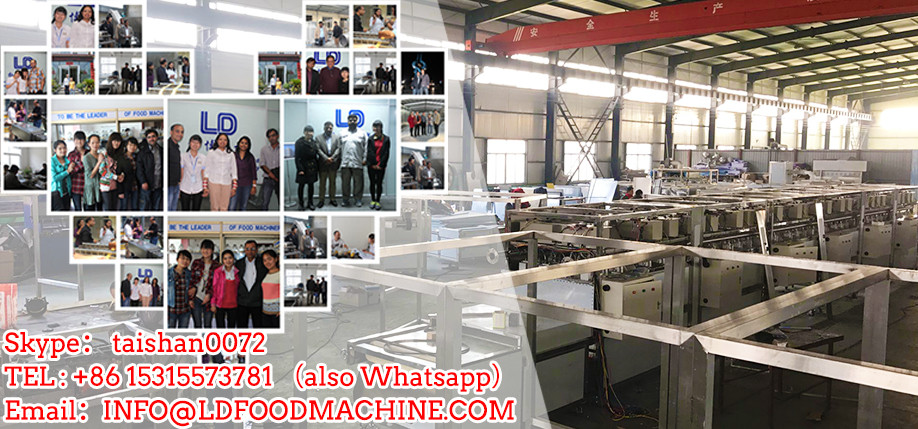 1. we have our own factory, our own workshop, not rent.
2. we have qualified technical workers, ensure the food dryer machine well-made.
3. we have our own technical team and installation department, we can guarantee overseas services.
4. we have rich stock for check,also can delivery machine as soon as possible.
The faith of our company is to get the market by professional operation,not by low price.We will make every

customer assured, achieved win-win for both. We warmly welcome you to visit our factory have further negotiations and inspection our machine quality.

Related Products
Certifications
Our customer
Shipping
Jinan Joysun Machinery Co., Ltd., relying on strong technical support, advanced production equipment, excellent processing technology and scientific detection methods, we ensure product quality and delivery time, and provide a fully optimized technical solution according to your requirements. Jinan Joysun Machinery Co., Ltd. for thawing of meat products and seafood, the equipment has stable performance, reliable quality and short thawing time. It is an ideal defrosting equipment for high-tech meat products, made of stainless steel, conforming to food production standard. Welcome new and old customers to inquire. Our international business covers customers all over the world. We have competitive prices and are proud of our excellent after-sales service. The working attitude of the company and the continuous improvement of the innovation concept will lead Tuo Bo and you to step into the brilliant future hand in hand and create a better future.
Through continuous exploration and practice, the company has developed the advantages of low investment, high efficiency, low operation cost, high product quality and convenient control and operation. The microwave frequency thawing equipment with microwave frequency of 915MHz and output power of 20kw-200kw is above. For food processing enterprises such as chain fast food industry in China, food thawing is provided, and the improvement of food thawing technology in China is also renewed. The benefit is not only "farsightedness", but also at the foot of the eyes. According to experts, the traditional food thawing are based on heat conduction method, material surface temperature is higher than the internal temperature in the thawing process, inevitably there will be drop loss, which will increase the business loss. If merchants use microwave dryer, Hot microwave selling brown coal dryer/food drum dryer power, material temperature and transmission speed can be used to achieve adjustable linkage, and the overall heating process control advantages can greatly reduce material consumption and improve food utilization. In addition, as the microwave thawing only needs electricity, no need to consume a lot of water, in the low carbon era, this is not lost a recommended fashion trend.
microwave dryer is a new type of environmental protection drying method. When dry, Hot microwave selling brown coal dryer/food drum dryer directly to the medium molecules converted into heat, because the Hot microwave selling brown coal dryer/food drum dryer penetrating performance of heating medium and at the same time, no need to heat conduction, so the heating speed is very fast, the water content below 30% of the food, the drying speed can be shortened hundreds of times.
AAABB
microwave dryer advantages of equipment
1, microwave dryer, short, fast
Conventional thermal sterilization is used to transmit heat from the surface of the food to the interior through heat conduction, convection, or radiation. It often takes a long time to get the germicidal temperature. The Hot microwave selling brown coal dryer/food drum dryer is the direct interaction between microwave energy and microorganisms such as food and bacteria. The interaction between heat effect and non thermal effect can achieve fast warming and bactericidal action, and the processing time is greatly reduced. The sterilization effect of various materials is usually 3-5 minutes.
AAABU
2, Hot microwave selling brown coal dryer/food drum dryer low temperature sterilization keep the nutrition and traditional flavor The Hot microwave selling brown coal dryer/food drum dryer is through special heat and non thermal effect sterilization, compared with conventional thermal sterilization, it can get the desired disinfection effect at relatively low temperature and short time. Practice shows that the general sterilization temperature can reach the effect at 75-80 degrees centigrade. In addition, microwave dryer processed foods can retain more nutrients and color, aroma, taste, shape and other flavors, and have puffing effect. For example, the vitamin C retained in vegetables treated by conventional heat treatment is 46-50%, while that in microwave treatment is 60-90%, while that in conventional heating is 58%, while that in microwave heating is 84%.
PPPEE
3 microwave dryer and Hot microwave selling brown coal dryer/food drum dryer save energy Conventional thermal sterilization often has heat loss in the environment and equipment, and microwave is directly treated to food, so there is no extra heat loss. In addition, the conversion efficiency of the electric energy to the microwave energy is in the 70-80%, and the power is generally reduced to 30-50%.
PPOOO