Product Description
Sludge dryer
Products

The product may be a paste, granular, powder, slurry, indirect heating or cooling the material, to be completed by drying, cooling, heating, sterilization, reaction temperature combustion unit operation. Special mixing equipment wedge blades with high heat transfer efficiency and heat transfer surface self-cleaning function.

Works

Densely lined with wedge-shaped hollow shaft hollow blades, axial flow through the heating medium through the hollow blades. Unit effective volume of the heat transfer area is large, the heat medium temperature from -40 ℃ to 320 ℃, can be water vapor, or liquid types: such as hot water, oil and so on. Indirect conduction heating, do not carry away heat the air, the heat are used to heat the material. Only through the device body heat loss to the environment heat insulation layer. Wedge-shaped blade heat transfer surface has a self-cleaning function. Material particles with relative motion wedge surface scrubbing action that can wash away the wedge surface attachment material, so that operation has maintained a clean heat transfer surface. Paddle dryer shell is Ω type, housing the general arrangements for two to four hollow stirring shaft. A sealed cover and the housing cover to prevent dust escaping materials fully play its role.
The heat transfer medium passes through the rotary joint, through the housing jacket and hollow shaft, the hollow mixing shaft in accordance with the type of the heat medium has a different internal structure, to ensure optimum heat transfer effect.

Features

blade dryer low energy consumption: Due to indirect heat, not a lot of air to carry the heat away, and set the dryer wall insulation layer, slurries, only 1.2kg 1kg of water evaporated water vapor.
blade dryer system costs low: unit effective volume has a huge heat transfer surface, shortening the processing time, the device size smaller. It greatly reduces the floor area and building space.
wide range of materials handling: Use different thermal medium, can deal with sensitive materials, but also to deal with the material to be heat treated. Common media are: water vapor, oil, hot water, cooling water, etc..
Continuous operation can also be intermittent operation, can be applied in many fields.
environmental pollution: do not use portable air entrained dust material rarely. Evaporation of the solvent material is very small, easy to handle. To have the contaminated material or solvent to be recovered condition, can be
Closed loop.
low operating costs: the structure. A small amount of wear, maintenance costs low.
stable operation: As the wedge-shaped blade special compression - expansion of stirring, the material particles full surface contact with the heat transfer in the axial section, the material temperature, humidity, degree of mixing small gradient, thus ensuring the process stability.

Adapt materials

Paddle dryer has been successfully used in the food, chemical, petrochemical, dyes, industrial sludge and other fields. Heat transfer equipment, cooling, mixing characteristics makes it possible to complete the following unit operations: The Burning (low temperature), cooling, drying (solvent recovery) heating (melting), response and sterilization. While stirring blade is heat transfer surface, the effective volume of the heat transfer unit area increases, shortening the processing time. Wedge-shaped blade heat transfer surface and has a self-cleaning function. Compression - expansion of the material mixture evenly mixing function. Material along the axial direction into a "plug flow" movement in the axial section, the material temperature, humidity, degree of mixing small gradient. Used to do medium heat blade dryer work to be completed by low-temperature combustion. Such as: calcium sulfate dihydrate (Ca2SO4 · 2H2O) combustion into calcium sulfate hemihydrate (Ca2SO4 · 1/22H2O). Sodium bicarbonate (NaHCO3) into calcined soda ash (Na2HCO3) and so on. Pass into the cooling medium, such as water, salt water, etc. can be used to cool the cooling. Eg: used in soda ash industry paddle cool base machine, replace the old air-cooled cooler base machine, saving energy and exhaust gas treatment equipment, reducing operating costs. Drying, the main function of the device, without using hot air, the solvent recovery, energy consumption, environmental control, the ideal state is easy to handle. On the need to recycle solvents, flammable oxidation sensitive materials especially adapted. Has been widely used in fine chemical, petrochemical, dye industry. Axial interval, temperature, humidity, degree of mixing uniformity, making the device used to heat or melt, or some solid material reactions. In the fertilizer and modified starch industry have been used successfully. Blade dryer can be used to sterilize food and flour processing. Unit effective volume large heating area, will soon be heated to sterilization temperature, avoiding prolonged heating to change the quality of materials.

Installation Schematic
Technical parameters
| | | | | | | | | | | |
| --- | --- | --- | --- | --- | --- | --- | --- | --- | --- | --- |
| Model | KJG-7 | KJG-15 | KJG-29 | KJG-41 | KJG-52 | KJG-68 | KJG-81 | KJG-95 | KJG-110 | KJG-150 |
| Heat transferring area(m2) | 7 | 15 | 29 | 41 | 52 | 68 | 81 | 95 | 110 | 150 |
| Effective volume(m3) | 0.25 | 0.6 | 1.85 | 2.8 | 3.96 | 5.12 | 6.43 | 9.46 | 11.67 | 16.4 |
| Blade diameter(mm) | 300 | 500 | 700 | 700 | 900 | 900 | 1000 | 1100 | 1200 | 1400 |
| Body length(mm) | 3400 | 3550 | 3900 | 5500 | 5500 | 6400 | 6900 | 6900 | 7000 | 7400 |
| Total length(mm) | 5000 | 6000 | 7000 | 8600 | 9200 | 9800 | 10800 | 10800 | 11500 | 13500 |
| Lower housing width(mm) | 580 | 940 | 1300 | 1300 | 1700 | 1700 | 2100 | 2100 | 2300 | 2600 |
| Total width(mm) | 1100 | 1200 | 1900 | 1900 | 2400 | 2400 | 3000 | 3000 | 3200 | 3600 |
| Total height(mm) | 1500 | 1800 | 2100 | 2100 | 2600 | 2700 | 3100 | 3100 | 3300 | 3800 |
| Speed range(rmp) | 10-25 | 10-25 | 8-20 | 8-20 | 5-15 | 5-15 | 4-12 | 4-12 | 2-10 | 2-10 |
| Transmission power(kw) | 3 | 7.5 | 18.5 | 30 | 37 | 45 | 75 | 75 | 90 | 132 |
| Equipment gross weight(T) | 2.5 | 5.5 | 12 | 16 | 20 | 25 | 36 | 41 | 52 | 78 |


Changzhou Haijiang Drying Equipment Co., Ltd. is a rise in the era of the sun industry pride, carrying the trend of the East China Sea, dazzling in the Yangtze River Delta by sea, Changzhou. since its inception in 2001,Relying on unique advantages of the region to bring the broad market, and more than 10 years of self-catching the continuous development of the company. haijiang has become key enterprises in China's dry industry trade.
Haijiang cover over 20,000 square meters ,have modern office plant more than 10,000 square meters, Haijiang is a professional manufacture of drying , granulation, pellting, coating, mixing, crushing, screening . Main products have 50 varieties and 600 models, with an annual output 1,000 sets, Haijiang is widely used in pharmaceutical, chemical, food, agricultural and sideline products processing, textiles, electronics, feed and other fields.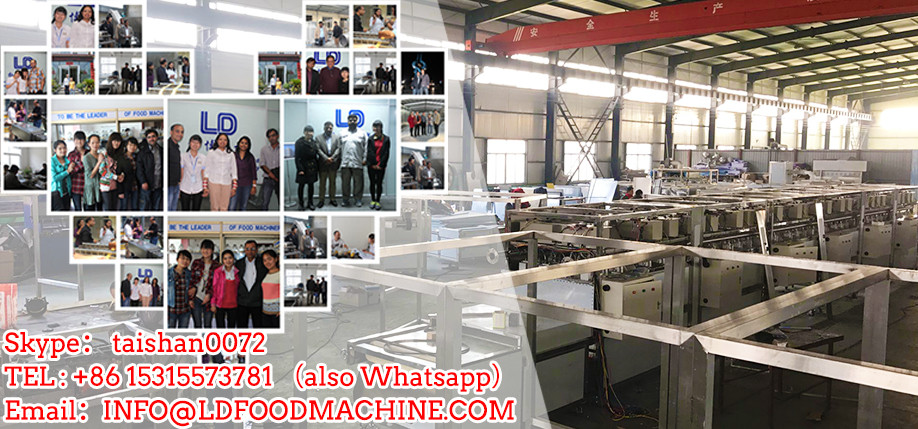 Jinan Joysun Machinery Co., Ltd., relying on strong technical support, advanced production equipment, excellent processing technology and scientific detection methods, we ensure product quality and delivery time, and provide a fully optimized technical solution according to your requirements. Jinan Joysun Machinery Co., Ltd. for thawing of meat products and seafood, the equipment has stable performance, reliable quality and short thawing time. It is an ideal defrosting equipment for high-tech meat products, made of stainless steel, conforming to food production standard. Welcome new and old customers to inquire. Our international business covers customers all over the world. We have competitive prices and are proud of our excellent after-sales service. The working attitude of the company and the continuous improvement of the innovation concept will lead Tuo Bo and you to step into the brilliant future hand in hand and create a better future.
Through continuous exploration and practice, the company has developed the advantages of low investment, high efficiency, low operation cost, high product quality and convenient control and operation. The microwave frequency thawing equipment with microwave frequency of 915MHz and output power of 20kw-200kw is above. For food processing enterprises such as chain fast food industry in China, food thawing is provided, and the improvement of food thawing technology in China is also renewed. The benefit is not only "farsightedness", but also at the foot of the eyes. According to experts, the traditional food thawing are based on heat conduction method, material surface temperature is higher than the internal temperature in the thawing process, inevitably there will be drop loss, which will increase the business loss. If merchants use microwave dryer, high microwave quality sludge dryer for drying city sludge power, material temperature and transmission speed can be used to achieve adjustable linkage, and the overall heating process control advantages can greatly reduce material consumption and improve food utilization. In addition, as the microwave thawing only needs electricity, no need to consume a lot of water, in the low carbon era, this is not lost a recommended fashion trend.
microwave dryer is a new type of environmental protection drying method. When dry, high microwave quality sludge dryer for drying city sludge directly to the medium molecules converted into heat, because the high microwave quality sludge dryer for drying city sludge penetrating performance of heating medium and at the same time, no need to heat conduction, so the heating speed is very fast, the water content below 30% of the food, the drying speed can be shortened hundreds of times.
AAABB
microwave dryer advantages of equipment
1, microwave dryer, short, fast
Conventional thermal sterilization is used to transmit heat from the surface of the food to the interior through heat conduction, convection, or radiation. It often takes a long time to get the germicidal temperature. The high microwave quality sludge dryer for drying city sludge is the direct interaction between microwave energy and microorganisms such as food and bacteria. The interaction between heat effect and non thermal effect can achieve fast warming and bactericidal action, and the processing time is greatly reduced. The sterilization effect of various materials is usually 3-5 minutes.
AAABU
2, high microwave quality sludge dryer for drying city sludge low temperature sterilization keep the nutrition and traditional flavor The high microwave quality sludge dryer for drying city sludge is through special heat and non thermal effect sterilization, compared with conventional thermal sterilization, it can get the desired disinfection effect at relatively low temperature and short time. Practice shows that the general sterilization temperature can reach the effect at 75-80 degrees centigrade. In addition, microwave dryer processed foods can retain more nutrients and color, aroma, taste, shape and other flavors, and have puffing effect. For example, the vitamin C retained in vegetables treated by conventional heat treatment is 46-50%, while that in microwave treatment is 60-90%, while that in conventional heating is 58%, while that in microwave heating is 84%.
PPPEE
3 microwave dryer and high microwave quality sludge dryer for drying city sludge save energy Conventional thermal sterilization often has heat loss in the environment and equipment, and microwave is directly treated to food, so there is no extra heat loss. In addition, the conversion efficiency of the electric energy to the microwave energy is in the 70-80%, and the power is generally reduced to 30-50%.
PPOOO