Product Description
Dual counter-rotating shafts with unique intermeshing hollow wedge-shaped paddles produce intimate mixing, optimize heat transfer, and provide a self-cleaning feature. A large heat transfer area to volume ratio is achieved by the use of hollow paddles and a jacketed vessel, through which the heating medium flows. The result is an efficient, compact machine with less space requirements and lower installation cost.
FEATURES
Low Operation Cost
- Easy to operate
- Requires minimal attention
- Simple instruments monitor the process
- High efficiency
- Low off-gas volume
Low Maintenance Cost
- Designed for high torque and low operating speed
- Simple durable design for easy and low maintenance
- No internal parts to adjust or maintain
- No metal to metal contact
- Shafts, pillow block bearings, and drive components are designed for long life under adverse conditions, insuring long term mechanical integrity
- Robust frame supports split pillow block bearings
- Grease-purged stuffing boxes. Alternate seal designs are available



Low Installation Cost
- Designed with compact structure
- Small off-gas system
- Vertical shaft removal reduces building size requirements
WORKING PRINCIPLE
The Hollow Paddle Dryer has a metal wall which separates the process mass from the heat source (steam or hot oil). High thermal efficiency is obtained because the heat from the thermal medium goes directly into the process mass. As the material comes into contact with the heated through and agitators, the process mass is heated via conduction. With an insulated dryer, very little heat is lost. To evaporate 1kg of water only requires about 1.2kg of steam for slurry materials. Exhaust gas is minimal and at a low temperature. Therefore, the volume of non-condensable gas from the dryer, which might require treatment, is minimal.

HEAT SOURCES(Temperature at 180ºC - 250ºC)
Heating by Steam
Steam enters the hollow shaft through a rotary joint and is evenly distributed to all paddles. Condensate is removed with each revolution.
Heating by Hot Oil(thermal fluid)
Hot oil(thermal fluid) enters and exits the hollow shaft through a rotary joint. Pressure from the supply pump forces liquid through the hollow paddles.
TECHNICALPARAMETERS
Model

Item

JYS3
JYS9
JYS13
JYS18
JYS29
JYS41
JYS52
JYS68
JYS81
JYS95
JYS110
Heat Transferring Area (m2)
3
9
13
18
29
41
52
68
81
95
110
Effective Volume (m3)
0.06
0.32
0.59
1.09
1.85
2.8
3.96
5.21
6.43
8.07
9.46
Range of Rotating Speed (rmp)
15-30
10-25
10-25
10-20
10-20
10-20
10-20
10-20
5-15
5-15
5-10
Power (kw)
2.2
4
5.5
7.5
11
15
30
45
55
75
95
Inner Width (mm)
306
584
762
940
1118
1296
1476
1652
1828
2032
2210
Outer Width (mm)
736
841
1066
1320
1474
1676
1854
2134
1186
2438
2668
Body Lenght (mm)
1956
2820
3048
3328
4114
4724
5258
5842
6020
6124
6122
Total Lenght (mm)
2972
4876
5486
5918
6808
7570
8306
9296
9678
9704
9880
Distance of Material Inlet & Outlet (mm)
1752
2540
2768
3048
3810
4420
4954
5384
5562
5664
5664
Height of Center (mm)
380
380
534
610
762
915
1066
1220
1220
1220
1220
Hotal Height (mm)
762
838
1092
1270
1524
1778
2032
2362
2464
2566
2668
Heat Inlet (inch)
3/4
3/4
1
1
1
1
11/2
11/2
11/2
11/2
2
Heat Outlet (inch)
3/4
3/4
1
1
1
1
11/2
11/2
11/2
11/2
2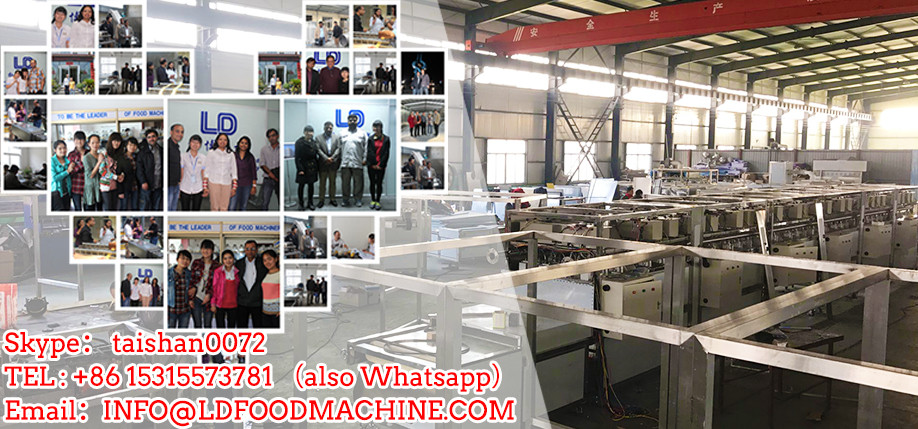 Jinan Joysun Machinery Co., Ltd., relying on strong technical support, advanced production equipment, excellent processing technology and scientific detection methods, we ensure product quality and delivery time, and provide a fully optimized technical solution according to your requirements. Jinan Joysun Machinery Co., Ltd. for thawing of meat products and seafood, the equipment has stable performance, reliable quality and short thawing time. It is an ideal defrosting equipment for high-tech meat products, made of stainless steel, conforming to food production standard. Welcome new and old customers to inquire. Our international business covers customers all over the world. We have competitive prices and are proud of our excellent after-sales service. The working attitude of the company and the continuous improvement of the innovation concept will lead Tuo Bo and you to step into the brilliant future hand in hand and create a better future.
Through continuous exploration and practice, the company has developed the advantages of low investment, high efficiency, low operation cost, high product quality and convenient control and operation. The microwave frequency thawing equipment with microwave frequency of 915MHz and output power of 20kw-200kw is above. For food processing enterprises such as chain fast food industry in China, food thawing is provided, and the improvement of food thawing technology in China is also renewed. The benefit is not only "farsightedness", but also at the foot of the eyes. According to experts, the traditional food thawing are based on heat conduction method, material surface temperature is higher than the internal temperature in the thawing process, inevitably there will be drop loss, which will increase the business loss. If merchants use microwave dryer, JYS microwave horizontal wedge shape sludge paddle dryer,cacao beans dryer power, material temperature and transmission speed can be used to achieve adjustable linkage, and the overall heating process control advantages can greatly reduce material consumption and improve food utilization. In addition, as the microwave thawing only needs electricity, no need to consume a lot of water, in the low carbon era, this is not lost a recommended fashion trend.
microwave dryer is a new type of environmental protection drying method. When dry, JYS microwave horizontal wedge shape sludge paddle dryer,cacao beans dryer directly to the medium molecules converted into heat, because the JYS microwave horizontal wedge shape sludge paddle dryer,cacao beans dryer penetrating performance of heating medium and at the same time, no need to heat conduction, so the heating speed is very fast, the water content below 30% of the food, the drying speed can be shortened hundreds of times.
AAABB
microwave dryer advantages of equipment
1, microwave dryer, short, fast
Conventional thermal sterilization is used to transmit heat from the surface of the food to the interior through heat conduction, convection, or radiation. It often takes a long time to get the germicidal temperature. The JYS microwave horizontal wedge shape sludge paddle dryer,cacao beans dryer is the direct interaction between microwave energy and microorganisms such as food and bacteria. The interaction between heat effect and non thermal effect can achieve fast warming and bactericidal action, and the processing time is greatly reduced. The sterilization effect of various materials is usually 3-5 minutes.
AAABU
2, JYS microwave horizontal wedge shape sludge paddle dryer,cacao beans dryer low temperature sterilization keep the nutrition and traditional flavor The JYS microwave horizontal wedge shape sludge paddle dryer,cacao beans dryer is through special heat and non thermal effect sterilization, compared with conventional thermal sterilization, it can get the desired disinfection effect at relatively low temperature and short time. Practice shows that the general sterilization temperature can reach the effect at 75-80 degrees centigrade. In addition, microwave dryer processed foods can retain more nutrients and color, aroma, taste, shape and other flavors, and have puffing effect. For example, the vitamin C retained in vegetables treated by conventional heat treatment is 46-50%, while that in microwave treatment is 60-90%, while that in conventional heating is 58%, while that in microwave heating is 84%.
PPPEE
3 microwave dryer and JYS microwave horizontal wedge shape sludge paddle dryer,cacao beans dryer save energy Conventional thermal sterilization often has heat loss in the environment and equipment, and microwave is directly treated to food, so there is no extra heat loss. In addition, the conversion efficiency of the electric energy to the microwave energy is in the 70-80%, and the power is generally reduced to 30-50%.
PPOOO