Product Description
Product DescriptionDW Series mesh-belt dryer is a special equipment researched and developed on the basis of traditional net belt dryer. It has stronger pertinency, practicability and high efficiency of energy. It is widely used for materials with high water contents and low drying temperature, such as dewatering vegetable, herbal medicine,etc.
The materials are uniformly put on the mesh-belt by the material charger. The mesh-belt takes 12-60 mesh stainless steel wire net and it is drawn and moved inside the dryer by a transmission device. The dryer is composed of several units. For each unit, the hot air is circulated separately. Some exhausted gas is discharged with a special moisture elimination blower. The waste gas is controlled through an adjusted valve. The hot air passes through the mesh-belt covered with the material from the top to the bottom or from bottom to the top and this will complete the heat and mass transfer process. This process will bring the material water away. The mesh-belt moves slowly, running speed can be freely adjusted according to the material temperature. The final products after the drying will fall into the material collector continuously. The top and low circulation units can be freely equipped according to the users' demand. The unit number can be selected according to the demand.

Detailed Images
Multi-layer Mesh Belt dryer for Dehydrated Vegetables
1.Dryer structure: five layer, five unit, the width of mesh belt is 2 meters, and the length of mesh belt is 9 meters(the effective drying area is 85m2).
2.The speed of mesh belt is frequency adjustable, it can ensure the residence time of materials and the quality of materials discharging.
3.Equipment consists of five controllable circulation units, each unit is equipped with fresh air supply filter (in order to guarantee the supplement of fresh air smoothly, internal air duct of drying oven has fresh air supply diversion bending pipe),heater, circulating fan, bypass duct filter, humidity-discharging outlet,etc.
4.The heater and circulating fan are installed at the bottom of mesh belt dryer, proposed bypass duct filter to avoid pollution, and the upper and the lower of each unit on both sides of dryer are equipped with quick-opening door which is convenient for cleaning and maintenance.
5.Five circulation units adopt hot air recycling, it can make the equipment energy consumption is lower and more reasonable.
6.The use of reasonable inclined guide wind device and material tray, can make air distribution uniformly in the mesh belt width direction , small temperature difference, clear material easily.
7.Material trays without holes are placed at the bottom of return net belt, for the purpose of material collecting and cleaning.
8.The equipment uses 80 mm thick rock wool insulation, good sealing, small heat loss, and the environment is clean.
9.Sealing gaskets are all white silicone rubber pad.
10.Equipment inside stainless steel 304 seal plate thicknessδ1.5, the inner wall is full welding, equipment outside stainless steel 304 seal plate thicknessδ1.0.
11.Exposed transmission chain and non-standard circulating wind shall equip with stainless steel hood (fan cover end with ventilation holes).
12.The surface of stainless steel with semi gloss treatment, the surface of carbon steel are coated with red lead anti-rust paint two degrees, aluminium paint one degree.
13.After the production of equipment is finished, transmission convey system shall test run, there should be no abnormal noise and jamming.
14.Equipment outside surface adopt Q235, for anti-corrosion paint processing.
15.In order to prevent dust pollution which is formed by the flying powder be detained in the drive chain, the stainless steel sheet is additionally added above the chain and mesh belt baffle plate as a shield, to prevent dust into the chain.
16.Total installed power: ~25.5KW
17.Steam consumption: 700kg/h~1000kg/h
18.Equipment weight:15600 kg
Techincal Parameter
Specification

DW-1.2-8
DW-1.2-10
DW-1.6-8
DW-1.6-10
DW-2.0-8
DW-2.0-10
Unit

4
5
4
5
4
5
Drying Length(mm)

8
10
8
10
8
10
Feeding Thickness(mm)

less than 60

Working temperature

50-140
Steam Pressure(mpa)

0.2-0.8
Consumption of steam(kg/h)

120-300
150-375
150-375
170-470
180-500
225-600
Drying Time(h)

0.2-1.2
0.25-1.5
0.2-1.2
0.25-1.5
0.2-1.2
0.25-1.5
Capacity(kg/h)
60-160
80-220
75-220
95-220
100-260
120-300
Power(kw)
11.4
13.6
11.4
13.6
14.7
15.8
Dimention
L(m)
9.56
11.56
9.56
11.56
9.56

11.56
W(m)
1.49
1.49
1.9
1.9
2.32

2.32
H(m)
2.3
2.3
2.4
2.4
2.5
2.5
Weight(kg)
4500
5600
5300
6400
6200
7500
Features
♦ The DW mesh-belt dryer is a extension and improvement of hot air circulation drying oven.

♦ It possess fast drying speed, high evaporation intensity and good product quality.

♦ The structure of equipment is compact, and the operation and maintenance is simple.
Application

The belt dryer for onions.
This is belt dryer was exported to the Kazakhstan,five layer, five unit, the width of mesh belt is 2 000mm, and the length of mesh belt is 9000mm(the effective drying area is 85m2)
The belt dryer for pigment.
This is belt dryer was exported to the Indian, production capacity:500kg/h the width of mesh belt is 2 000mm, and the length of mesh belt is 15000mm
The belt dryer for fruit .
This is belt dryer was exported to the Indian, production capacity:800kg/h the width of mesh belt is 2 000mm, and the length of mesh belt is 15000mm
♦ Food Industry:De-watering vegetable, particle feed, monosodium glutamate, shredded coconut stuffing, garlic, cushaw,turnip, yam, bamboo shoot, etc.

♦ Chemical Industry:organic pigment, compund rubber,acryl fibre,medicine material,etc.

♦ Others:plastic product,small wooden product, aging for the electronic component device.
Service Commitment
1. Design and production
We solicit buyers opinions widely at the design and production stage of equipment; especially at the stage of plan and elevation arrangement, we give full consideration to buyers' site conditions and public engineering conditions, and pay concurrent attention to the optimum combination when assuring the quality of equipment.
2. Installation and commissioning
After the equipment is delivered to buyers factory, we will dispatch full-time technical personnel to instruct buyers' installation and to take charge of commissioning until normal use of the equipment.
3. Training
Before buyers use our equipment normally, our commissioning personnel will organize buyers' relevant personnel to accept training, which covers the maintenance and care of equipment, timely repair of common faults, and procedures for operation of equipment.
4. Warranty
We provide one-year warranty for our equipment. For damage of equipment arising from non-artificial factors within the warranty period, we will provide repair service for free; and for damage of equipment arising from artificial factors, we will provide repair service in time and collect corresponding cost.
5. Maintenance and period
For damage of equipment after expiration of warranty period, we will provide on-site repair service within 1week for enterprises inside/outside the province after receiving buyers' notification. The service provided after expiration of warranty period is fee-based, and flat cost will be collected each time when the service is provided.

Experienced Case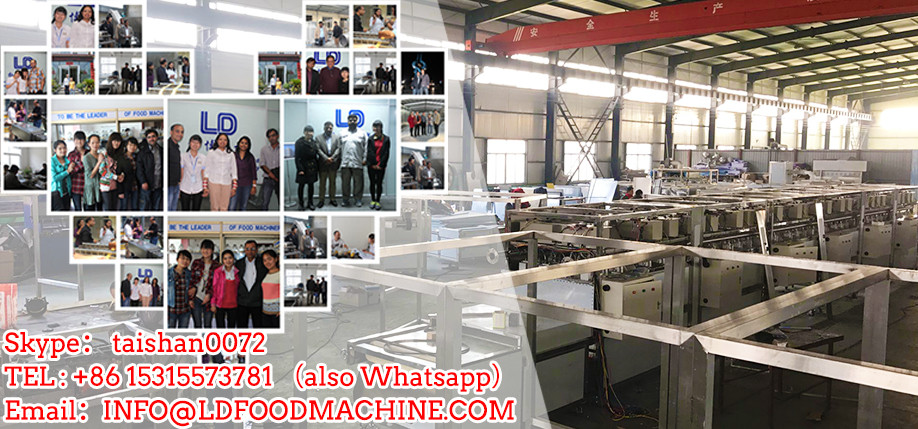 The spray dryer for sodium silicate.

This is belt dryer are customized to the Indian customer, Heat source:clean flue gases(heat exchanging type coal-fired hot air furnace, output quantity of heat is 160×104Kcal/h)
Usage temperature:180-130℃
Circulating air volume:each section ≈18000 m3/h
Total installed power:120kW
Overall dimensions (L×W×H):19000×2400×3100mm
it is used widly in chemical filed.
Spray Dryer for instant coffee.
YPG-1800 ,exported to the Malaysia.

Spin Flash Dryer for fly ash.
XZG-3,exported to the Korea.

Mesh Belt Dryer for Onions.
DW5-2x9 ,exported to the Kazakhstan
Jinan Joysun Machinery Co., Ltd., relying on strong technical support, advanced production equipment, excellent processing technology and scientific detection methods, we ensure product quality and delivery time, and provide a fully optimized technical solution according to your requirements. Jinan Joysun Machinery Co., Ltd. for thawing of meat products and seafood, the equipment has stable performance, reliable quality and short thawing time. It is an ideal defrosting equipment for high-tech meat products, made of stainless steel, conforming to food production standard. Welcome new and old customers to inquire. Our international business covers customers all over the world. We have competitive prices and are proud of our excellent after-sales service. The working attitude of the company and the continuous improvement of the innovation concept will lead Tuo Bo and you to step into the brilliant future hand in hand and create a better future.
Through continuous exploration and practice, the company has developed the advantages of low investment, high efficiency, low operation cost, high product quality and convenient control and operation. The microwave frequency thawing equipment with microwave frequency of 915MHz and output power of 20kw-200kw is above. For food processing enterprises such as chain fast food industry in China, food thawing is provided, and the improvement of food thawing technology in China is also renewed. The benefit is not only "farsightedness", but also at the foot of the eyes. According to experts, the traditional food thawing are based on heat conduction method, material surface temperature is higher than the internal temperature in the thawing process, inevitably there will be drop loss, which will increase the business loss. If merchants use microwave dryer, other microwave agriculture products dryer/Fruits and vegetables drying equipment power, material temperature and transmission speed can be used to achieve adjustable linkage, and the overall heating process control advantages can greatly reduce material consumption and improve food utilization. In addition, as the microwave thawing only needs electricity, no need to consume a lot of water, in the low carbon era, this is not lost a recommended fashion trend.
microwave dryer is a new type of environmental protection drying method. When dry, other microwave agriculture products dryer/Fruits and vegetables drying equipment directly to the medium molecules converted into heat, because the other microwave agriculture products dryer/Fruits and vegetables drying equipment penetrating performance of heating medium and at the same time, no need to heat conduction, so the heating speed is very fast, the water content below 30% of the food, the drying speed can be shortened hundreds of times.
AAABB
microwave dryer advantages of equipment
1, microwave dryer, short, fast
Conventional thermal sterilization is used to transmit heat from the surface of the food to the interior through heat conduction, convection, or radiation. It often takes a long time to get the germicidal temperature. The other microwave agriculture products dryer/Fruits and vegetables drying equipment is the direct interaction between microwave energy and microorganisms such as food and bacteria. The interaction between heat effect and non thermal effect can achieve fast warming and bactericidal action, and the processing time is greatly reduced. The sterilization effect of various materials is usually 3-5 minutes.
AAABU
2, other microwave agriculture products dryer/Fruits and vegetables drying equipment low temperature sterilization keep the nutrition and traditional flavor The other microwave agriculture products dryer/Fruits and vegetables drying equipment is through special heat and non thermal effect sterilization, compared with conventional thermal sterilization, it can get the desired disinfection effect at relatively low temperature and short time. Practice shows that the general sterilization temperature can reach the effect at 75-80 degrees centigrade. In addition, microwave dryer processed foods can retain more nutrients and color, aroma, taste, shape and other flavors, and have puffing effect. For example, the vitamin C retained in vegetables treated by conventional heat treatment is 46-50%, while that in microwave treatment is 60-90%, while that in conventional heating is 58%, while that in microwave heating is 84%.
PPPEE
3 microwave dryer and other microwave agriculture products dryer/Fruits and vegetables drying equipment save energy Conventional thermal sterilization often has heat loss in the environment and equipment, and microwave is directly treated to food, so there is no extra heat loss. In addition, the conversion efficiency of the electric energy to the microwave energy is in the 70-80%, and the power is generally reduced to 30-50%.
PPOOO