Product Description
Product Description
2016 QG series air stream drier, JG Series wader dryer, powder sand rotary dryer
QG FEATURE

The dry strength is large and investment of equipment is saving, equipment manufactured, 50-1500kg/h.
The automatic contert is high and the quality of product is good, the raw material to be dried is inside the pipe. The dry time is short (only 0.5-2 seconds). So that the automatic can be realized. The raw material cannot contact with outer substances. So the pollution is small and the quality of product is good.
QG Application
The equipment can meet different need of raw materials. Besides the mentioned raw materials in basic model, there are hymenal, A,B,C intermediate, ABS resin, white carbon black, tea, catalyst of oxalic acid, promote agent m,d,m,catalyst, deposited carbon powder, Nacetyl sulfanily chloride, paminosalicylic acid, pphthatic acid, diethyl aniline, titanium dioxide, active carbon, sodium fluosilicate, ammonium sulphate, powder of silicon glue, synthesis resin. Calcium suiphate, pp resin, aureomycin, sodium polysilicate, or glucose, sodium sulphate, mine of sulphate, mine of phosphorus, BB blue, melting phosphorus fertilizer, tetracycline, ferric oxide, calcium carbon ate, titanium/ferric mine, copper mine, powder of white potato. Tail coal, sterate, zein, medicine, medical agent, ferric oxide, less residue and so on.
The equipment will be supplied completely and the heat soure can be chosen freely, the basic type consists of filer, heater, feeder, drying pipe, fan and cyclone separator, customer can install duster and other auxiliary equipment in accordance with practical conditions.
On the choice of heating way, air stream drier has wide suitability. Customer can choose steam, electricity and air-heated furmace to heat in accordance practical conditions.
Meanwhile it should be chosen in should be chosen in accordance with the temperature of raw material to be resisted, or temperature of hot air,if less than150 degree C, chose steam to heat, if less than 200 degree C, electric or steam and electric as supplement or heat conduct oil, if less than 300 degree C, coal air heated furnance, if less than 600 degree C, oil air heated furnance.
It is a kind base type, suitable for drying granule and adhesive property powder, the aketch is negative stream drying, and you can choose positive stream drying.
JG series Descriptions
This drier is suitable for the raw material that contain more moisture and appear paste and other raw materials that cannot be dried with other drying methods. For example, copolymer of vinyl acetatend chloroethylene, cellulose acetate, catalyst, C,M,C,CT-1 resin, burnt plaster, electrolytic manganese eioxide, anthraquinone ammonium sulfonate, fluor, diatomaceous, silica gel catalyst, born powder, potassjum perchlorate sulfonamide, synthesis resin, active gluten, active argil, chemical filter cake, titianium dioxide, decanedioic acid, copper sulphate, aluminum sulphate, sodium suphate, calxium phosphate, starch, drestuff, calcum citrate coalearth, cement, aluminum hydroxide, ferricoxide, orgamic fuel, maize albumen feed, mica powder, medicine, dyestuff, paper feed, mica powder, medicine, dyestuff, paper pule of potassium perchromate, less reaidue and so on.
JG series working princlple
Air drier can remove moisture from the surface of raw materials of granule or power that are easy to dehydrate. Under the air of drying, the quality of finished products can be controlled to be the best state because of raw material can stay here in a short time. The drier of our factory is developed on the basis of basic type to add a reinforced device of stepless speed exchange. When the humidity raw material is fed through screw, it is mixed with air fully and under the broken and pushing of rotating knives, the surface of raw material is broken to fine granule. It moves onto the outlet at the same time of drying. Finally it enters into drying pipe under the absorbing of air force. At the place it is drier further, the humidity and heavy granule that is not absorbed by air is broken and dried continuously till entering the drying pipe.

Packaging & Shipping

Our Services
Company Information
FAQ
Fault Phenomenon

Possible Cause

Elimination Methods

1, The Temperature Rise Is Not High

1 Fan Reversal Or Shutdown

2 Steam Flow Or Pressure Is Low

3 Hydrophobic Jam

4 Vent Regulating Improper Or Failure

5 Boxes Or Crack Leakage

6 Electric Heating May Be Short Circuit

1 To Correct, Repair Or Replacement

2,Eliminate Congestion, To Guarantee The Pressure

3 Repair Or Replacement

4 No Exhaust Or Less Exhaust

5 Stoppage

6 Check The Electrical Heating

2, The Temperature Is Not Uniform

1 Left And Right Wind Deflector Improper Adjustment

2 Flat Box Or The Crack Of The Door

3 Material (Workpiece) Volume Is Too Large, Large Block Hot Air

1 According To The Second Part , 3 Points Do The Debugging
2 Stoppage
3 Try To Guide The Wind

3, Temperature Lose Control, Too High

1 Control System Failure (Without Self-Control, The Steam Valve Opening Is Too Big)

2 Vent Improper Adjustment

3 Steam Pressure Is Too High

1 Check Instrument, Lines, Especially The Steam Solenoid Valve, According To The Electromagnetic Valve Manual Repair Or Replacement.

2 Appropriate Increase The Displacement

3 Appropriate Increase The Displacement

4, The Drying Time Is Too Long

1 Temperature Is Not Enough

2 Uneven Temperature

3 Vent Plug

4 Material Laying Too Thick

With Reference To Fault 1 Ruled Out

With Reference To Fault 2 Ruled Out

3 Ensure Displacement And Clearfour Minus Expected, Choose The Best Thickness
Thanks for your time to read, for 2016 new promotion, we are providing US$200 cash coupon for QG series air stream drier.
Click following picture to get discount code.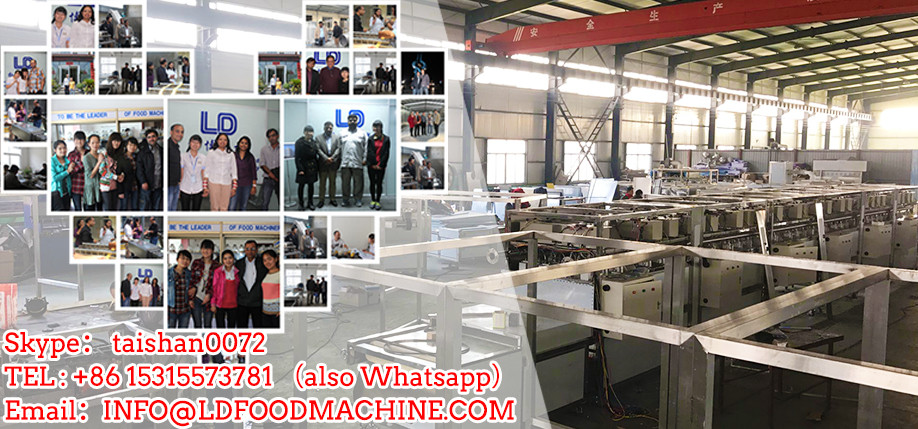 2016 QG series air stream drier, JG Series wader dryer, powder sand rotary dryer
Jinan Joysun Machinery Co., Ltd., relying on strong technical support, advanced production equipment, excellent processing technology and scientific detection methods, we ensure product quality and delivery time, and provide a fully optimized technical solution according to your requirements. Jinan Joysun Machinery Co., Ltd. for thawing of meat products and seafood, the equipment has stable performance, reliable quality and short thawing time. It is an ideal defrosting equipment for high-tech meat products, made of stainless steel, conforming to food production standard. Welcome new and old customers to inquire. Our international business covers customers all over the world. We have competitive prices and are proud of our excellent after-sales service. The working attitude of the company and the continuous improvement of the innovation concept will lead Tuo Bo and you to step into the brilliant future hand in hand and create a better future.
Through continuous exploration and practice, the company has developed the advantages of low investment, high efficiency, low operation cost, high product quality and convenient control and operation. The microwave frequency thawing equipment with microwave frequency of 915MHz and output power of 20kw-200kw is above. For food processing enterprises such as chain fast food industry in China, food thawing is provided, and the improvement of food thawing technology in China is also renewed. The benefit is not only "farsightedness", but also at the foot of the eyes. According to experts, the traditional food thawing are based on heat conduction method, material surface temperature is higher than the internal temperature in the thawing process, inevitably there will be drop loss, which will increase the business loss. If merchants use microwave dryer, 2016 microwave QG series air stream drier, JG Series wader dryer, powder sand rotary dryer power, material temperature and transmission speed can be used to achieve adjustable linkage, and the overall heating process control advantages can greatly reduce material consumption and improve food utilization. In addition, as the microwave thawing only needs electricity, no need to consume a lot of water, in the low carbon era, this is not lost a recommended fashion trend.
microwave dryer is a new type of environmental protection drying method. When dry, 2016 microwave QG series air stream drier, JG Series wader dryer, powder sand rotary dryer directly to the medium molecules converted into heat, because the 2016 microwave QG series air stream drier, JG Series wader dryer, powder sand rotary dryer penetrating performance of heating medium and at the same time, no need to heat conduction, so the heating speed is very fast, the water content below 30% of the food, the drying speed can be shortened hundreds of times.
AAABB
microwave dryer advantages of equipment
1, microwave dryer, short, fast
Conventional thermal sterilization is used to transmit heat from the surface of the food to the interior through heat conduction, convection, or radiation. It often takes a long time to get the germicidal temperature. The 2016 microwave QG series air stream drier, JG Series wader dryer, powder sand rotary dryer is the direct interaction between microwave energy and microorganisms such as food and bacteria. The interaction between heat effect and non thermal effect can achieve fast warming and bactericidal action, and the processing time is greatly reduced. The sterilization effect of various materials is usually 3-5 minutes.
AAABU
2, 2016 microwave QG series air stream drier, JG Series wader dryer, powder sand rotary dryer low temperature sterilization keep the nutrition and traditional flavor The 2016 microwave QG series air stream drier, JG Series wader dryer, powder sand rotary dryer is through special heat and non thermal effect sterilization, compared with conventional thermal sterilization, it can get the desired disinfection effect at relatively low temperature and short time. Practice shows that the general sterilization temperature can reach the effect at 75-80 degrees centigrade. In addition, microwave dryer processed foods can retain more nutrients and color, aroma, taste, shape and other flavors, and have puffing effect. For example, the vitamin C retained in vegetables treated by conventional heat treatment is 46-50%, while that in microwave treatment is 60-90%, while that in conventional heating is 58%, while that in microwave heating is 84%.
PPPEE
3 microwave dryer and 2016 microwave QG series air stream drier, JG Series wader dryer, powder sand rotary dryer save energy Conventional thermal sterilization often has heat loss in the environment and equipment, and microwave is directly treated to food, so there is no extra heat loss. In addition, the conversion efficiency of the electric energy to the microwave energy is in the 70-80%, and the power is generally reduced to 30-50%.
PPOOO