Product Description
250L/H automatic mini water filtration container system
Buying Guides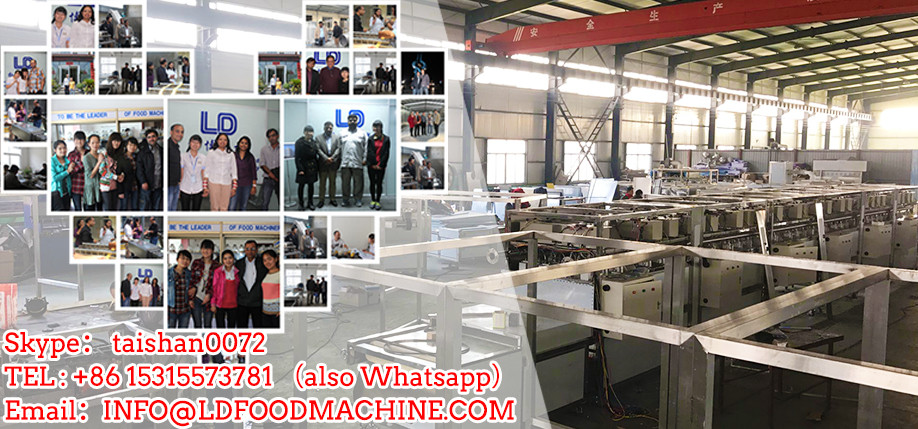 Product Description
1. Product description:
reverse osmosis process uses semi permeable spiral wound membranes to separate and remove dissolved solids, organic, pyrogens, sub micron colloidal matter and bacteria from water. Water permeates the minute pores of the membrane and is delivered as purified water. Impurities in the water are concentrated in the reject stream and flushed to drain. Reverse osmosis is capable of removing 97-99% of total dissolved solids (TDS), 99% of organic, including pyrogens, and 99% of all bacteria in the feed water.
2. Technological process
raw water+ raw water tank+ raw water pump+ sand filter+ carbon filter+softener (optional)+ security filter+ high pressure pump+ reverse osmosis system+ pure water tank+ UV sterilizer (ozone generator) +precision filter + water supply points
3. Application:
Feed water(source water):
city water, river water, lake water, underground water(borehole, well), brackish water, sea water......
Treated water:
1. Electronic industry: Pre-filter for ultra pure water, chemical products and pure water
2. Food and beverage industry: filter for mineral water, wines and fruit juice
3. Medicine industry: filter for drug liquid, gases
4. Chemical industry: filter for organic solvent
5. Petroleum industry: filter for oil-field flooding
..................................................................
4. Optional choice:
1. RO membrane: Filmtec /USA Dow brand/CSM brand/Huitong brand
2. Pump: Grundfos/FLECK
3. UV sterilizer
4. Chemical dosing system
5. Water softener
6. SS304 water tank
7. Ozone generator
8. Purolite Resin
5. Specification of machine
| | | | | |
| --- | --- | --- | --- | --- |
| Model No. | Capacity (M3/H) | Power (kw) | Recovery Rate (%) | Total land area LX W X H (mm) |
| RO-250 | 0.25 | 1.5 | 50 | 2500X1000X2800 |
| RO-500 | 0.5 | 1.5 | 50 | 2500X1000X2800 |
| RO-1000 | 1 | 2 | 50 | 3500X1200X2800 |
| RO-2000 | 2 | 4 | 50-60 | 6500X1500x2800 |
| RO-3000 | 3 | 4.5 | 55-65 | 7500X1500X2800 |
| RO-4000 | 4 | 6.5 | 55-65 | 7500X1500X2800 |
| RO-5000 | 5 | 11 | 60-70 | 10000X2500X3500 |
| RO-6000 | 6 | 11 | 60-70 | 10000X2500X3500 |
| RO-8000 | 8 | 18 | 60-70 | 10000X3500X3500 |
| RO-10000 | 10 | 20 | 60-70 | 10000X4000X3800 |
| RO-20000 | 20 | 30 | 70-75 | 15000X5000X5000 |
| RO-30000 | 30 | 40 | 70-75 | 20000X6000X5000 |
| RO-50000 | 50 | 50 | 70-75 | 30000X8000X5000 |
6. Descriptions of every part of machine:
Item No.
Equipment Name
Place of origin
Quantity
1
Raw water pump
Domestic
1 pc
2
Quartz sand filter

FRP/Stainless steel

KAI YUAN
1set
3
Activated carbon filter FRP/Stainless steel
KAI YUAN
1set
4
Security filter stainless steel/PVC
KAI YUAN
1set
5
High-pressure pump
CNP
1 pc
6
Reverse osmosis water system
KAI YUAN
1set
A. Membrane housing stainless steel 4040
Domestic
1 pcs
B. Membrane LCLE-4040
USA Dow
1 pcs
7
Electronic Control System
KAI YUAN
1set
8
Filler
A.quartz sand
Domestic
B.activated carbon
Domestic
9
Scene valves

, U-PVC pipe

Domestic
1 batch


7. Control panel with carved LOGO:

Picture of machine

Production Flow
Every step of machines need pay a lot of patation on every thing
Prepare accessories - welding - making electric control system - assembling system - inspection machine - packing equipment with wooden case - shipment
After finished machine, before shipment, we will testing machine
Container making
Step 1:
Step 2:
Step 3
Advantages&Functions
Advantage:
1).Can produce pure water continuously and highly automatic
2).No need chemical to regeneration, easy operation
3).RO system uses imported USA DOW membrane
4).Automatic switch on when low water level, and switch off when high water level
5).RO membrane can wash automatically and reduce pollution
6).Water shortage protection for multi-stage pump
7).Production water conductivity meter can test the monitoring quality on line contionuosly.
8).Low operation Cost and Long life span
9). It is PC program controller
10).Easily control and Maintain
11).Auto membrane flushing
12).Environmental protection, Low power consumption
13) Auto flush/backwash
14) Low /high pressure protection
Function:
1. Raw water pump: provide pressure to quartz sand filter/ activated carbon filter
2. Quartz sand filter: get rid of turbidity, suspended mater, organic matter, colloid ect.
3. Activated carbon filter: remove color, free chloride, organic matter, harmful matter and so on.
4. Micron filter: prevent any deposition of large Particles, most of the bacteria, and viruses going into RO membrane, the accuracy is 5 um, for holding back any large particulates such as large iron, dust, suspended matter, impurity.
5. High pressure pump: provide high pressure to RO membrane(at least 2.0Mpa)
6. Manually wash RO membrane;
7. Manually wash RO memebrane with chemicals on machine;
8. Machine automatically stops when high water level of purified water, and runs when low level;
9. Multi-stage pumps protect the machine when lack of water;
10. Protection in such cases as no power, lower pressure, higher pressure, shot circuit, creepage, etc
| | | |
| --- | --- | --- |
| Name of parts | | Function of parts |
| Raw water pump | ~~~ | provide the pressure to quartz sand filter/active carbon filter |
| Quartz sand filter | ~~~ | get rid of turbidity, suspended matter, organic matter, colloid, ect. |
| Active Carbon filter | ~~~ | Remove the color, free chloride, organic matter, harmful matter, ect. |
| Softener | ~~~ | exchange "ions" of calcium and magnesium with the most common and easiest method. |
| Security filter | ~~~ | prevent large particles, bacteria, viruses into RO membrane, accuracy is 5um, |
| High pressure pump | ~~~ | Provide the high pressure to RO membrane |
| RO system | ~~~ | main part of the plant. The RO membrane's desalting rate can reach 99%, removing over 97% ions |
| UV sterilizer | ~~~ | kill bacterias in water |
FAQ
Q: What is Reverse Osmosis?
A: Reverse osmosis (R/O) is a water treatment process in which water is forced through a semi-permeable membrane that has very small holes or "pores". Clean water passes through and impurities that are too big to pass through the membrane are left behind and flushed away.
Q: How Does Reverse Osmosis Work?
A: Reverse osmosis systems purify water by forcing pressurized water through a very fine, plastic membrane. If the raw water being treated comes from a well or another private source, disinfection and pre-filters (to remove chlorine and/or particulates/sediment) may be needed in advance of the R/O unit to remove contaminants that can foul or damage the membrane.
Q: How Do I Know What Size Unit to Buy?
A: R/O units are rated according to the amount of treated water produced per day. For example, one type of unit produces 5000 liters of treated water per day under its design conditions. In reality, conditions frequently vary. Line pressure is often lower, water will frequently be colder than 25° C and backpressure in the storage tank will likely reduce the performance of the unit. Consequently, you should examine water conditions and buy a larger rated unit than needed if any of the above problems are noted
Q: Material of reverse osmosis system?
A: You can choose FRP filter + U-PVC pipe, stainless steel filter + U-PVC pipe or total stainless steel.
Q: What is packing of this machine? Is it suitable for shipment?
A: Machine will be packed by standard wooden case. It is suitable for shipment. After you receive machine, you only need to open wooden case to pick up machine.
Q: Is this machine easy to install? Will you arrange engineer to help me install?
A: This machine is very easy for install. The machine you received is assembled. You will only need to put material inside to filters, and then backwash, fast rinse filters. It is very easy for you to follow our English instruction and video.
Q: How can I pay you?
A: After we confirmed order, I will send you contract sales with our company bank information. You can transfer money to our company bank account by T/T.
Q: If there is problems of machine, how can I solve?
A: You can contact me by e-mail or skype, and then tell me problems, send pictures. If it is in one year warranty time, I will send you spare parts for free. If it is more than 1 year, I will help you to find problems, and you can buy spare parts from me or in locally.
250L/H automatic mini water filtration container system

250L/H automatic mini water filtration container system is our company's self-developed 250L/H automatic mini water filtration container system according to European and American equipment, 250L/H automatic mini water filtration container system has a high degree of automation, stability, simple operation, high yield, short process time and other characteristics, and effectively improve the various defects in the original tradition. Widely used in all kinds of baby rice noodles, sesame paste, walnut paste products, is a new and efficient . produced foods with unique shape, many flavors and colors, and scientific scientific nutrition, has a reasonable structural design, screw is a special material, has a fast self-cleaning function, high machine stability, easy to learn, accurate parameters Control can ensure that the products produced have the same shape, taste and color.
Jinan Joysun Machinery Co., Ltd. was established in 1993. Jinan Joysun Machinery Co., Ltd. is located in Shandong Province with a registered capital of 2 million RMB and covers an area of 9,800 square meters. Jinan Joysun Machinery Co., Ltd. is a professional food machinery manufacturing company integrating research and development, professional production, direct sales and after-sales services. We took the lead in awarding and passing the quality standards of commercial products in Shandong Province, and successfully passed ISO9001:2008 international quality management system certification, and exported to the European Union's CE safety certification, BV certification, third-party certification. Now we have successfully obtained the trademark.