Product Description
Qingdao YUPACK T1650F-CS Semi-auto Top Plate Stretch Wrapping Machine
Product Description
Stretch wrapping machine are used to wrap stretch film around a loaded pallet. Film provides estra support while the products are being transporte & storage to protect them from tip, spill or from being damaged. Additionally, wrapped loads can easily be separated and identified.
T1650F-CS tray type wrapping machine is suitable for bulk cargo container transport and parts tray packaging. The price of the winding machine is high. Widely used in glass products, hardware tools, electronics, electrical appliances, paper, ceramics, chemicals, food, beverages, building materials and other industries. It can improve the efficiency of logistics and reduce the loss during transportation. It has the advantages of dust prevention, moisture-proof and reducing the cost of packaging. It is an ideal choice to improve the quality of packaging products. The price of the winding machine is moderate, and it is the first choice for enterprises and institutions. Qingdao AI Xun provides competitive wrapping machine prices.
Technical Parameter
Control system
1.PLC programmable control.
2.The top and bottom winding layer number, times, top time, reinforcement layer 0-9 can be directly set on the panel.
3.Easy to operate: just press the auto run button to complete the entire packaging process.
4.Photoelectric switch, automatically sensing the height of the goods.
5.Selection of electrical control components, high reliability.
6.Automatic manual switching at any time.
Turntable system
1.Turntable frequency control, 0-12 rpm adjustable.
2.After packing, the turntable is reset automatically.
3.The turntable is made of pure steel with high abrasion resistance.
Film frame system
1.The film rack is a dynamic pre stretching mechanism, with pre stretching up to 250% and reducing film consumption.
2.The film feeding speed is adjustable, and the DC motor is controlled separately.
3.The rising and falling speed of the membrane stand can be adjusted independently.
4.The membrane frame is made of pure cast aluminum membrane, and it is light and stable.
5.Wear resistant cots, long service life.
6.The film system follows a pull mechanism.
7.The lifting column is a double chain structure, stable and reliable.
Pressing top system
1.Capping device: the linear guide rail structure, safe and stable.
2.Lifting column: double column structure, safe and reliable;
3.Top pressure: 20Kg.
4.Gas consumption: 1000ml/min.
Optional functions
1.Membrane rack for opening: easy to film and change film roll.
2.Ramp: easy to cart up and down cargo.
3.The price of the wrapping machine is high
4.Automatic breaking film.
Details

warehouse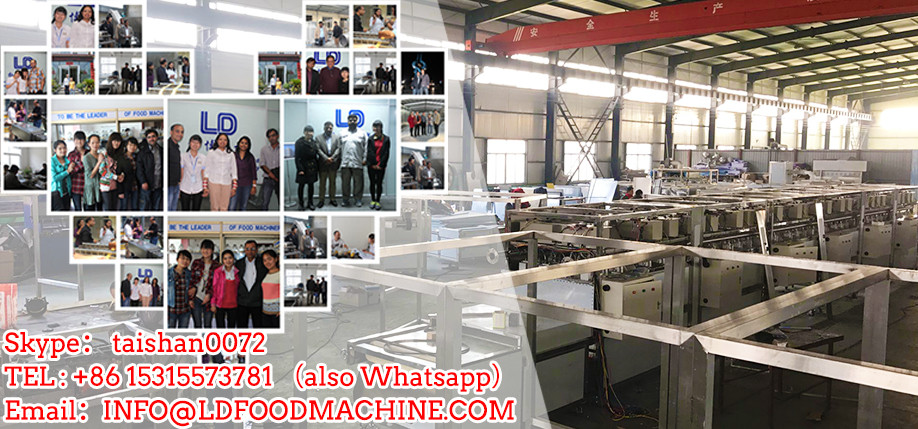 About us
Qingdao Ausense was established in 2001,which is professionally specialized for the planning of complete end-of-line packaging equipment, R & D and manufacturing. After years of practice, we have automatic carton forming,carton package, sealing, shrinking, Qingdao YUPACK T1650F-CS Semi-auto Top Plate Stretch Wrapping Machine,strapping, palletizing, wrapping, transportation and other 10 series that are over 60 varieties of packaging equipments. Company rely on the automation industry chain advantages, the integration of technology research and development, design, production, in conjunction with the customer site applications, providing customers with intelligent, flexible, one-stop information technology automated packaging solutions.
Qingdao YUPACK T1650F-CS Semi-auto Top Plate Stretch Wrapping Machine is the use of rice flour, flour and other kinds of grain flour as raw materials to add some vitamins, trace elements and other high-nutrition ingredients mixed uniformly after extrusion curing and then for nutrition to strengthen the rice, after drying, shape, appearance taste edible method and natural The rice is consistent and supplements the lack of nutrients in natural rice. can also customize special rice with different functions according to different groups of people. Jinan Joysun Machinery Co., Ltd. has single screw rice extruder and twin screw extruder.
can be freely matched according to the requirements! Qingdao YUPACK T1650F-CS Semi-auto Top Plate Stretch Wrapping Machine technology is a breakthrough in the recycling of grain using the principle of extrusion. The most important feature of technology is the addition of various nutrients essential to the human body to food, producing a variety of health foods, curative foods and functional foods. The products are easy to eat and easy to use. Digestion and absorption, welcomed by consumers. Artificial rice alias nutrition rice, gold rice.
Jinan Joysun Machinery Co., Ltd. was established in 1993. It is located in Shandong Province with a registered capital of 2 million RMB and covers an area of 9,800 square meters. It is a professional food machinery manufacturing company integrating research and development, professional production, direct sales and after-sales services. We took the lead in awarding and passing the quality standards of commercial products in Shandong Province, and successfully passed ISO9001:2008 international quality management system certification, and exported to the European Union's CE safety certification, BV certification, third-party certification. Now we have successfully obtained the trademark.