Product Description
Product Description
Screw Oil Press / oil presser/oil pressing machine production line
This line is consist of four machines including peanut shelling machine, peanut roaster machine, peanut oil pressing machine and peanut oil filter machine.
Wide application Such oil press can apply to more than 20 kinds of oil crops such as the
coconuts,

sunflower, soybean,cotton seeds , tee seeds, rice bran, flaxseeds,sesame, peanuts, rape,
cocoa and grass seeds, corn pummels etc.


Main Features
Advanced technology: reliable performance, easy operation, easy maintenance.

High rate of oil: and the old equipment compared to normal oil rate by 2-3 percentage points.

Energy: the equivalent electrical power output is reduced by up to 40%, with an average savings of 6 kWh per hour, the production of electricity can save 30 yuan

Provincial workers: labor savings equivalent to 60% yield, 1-2 people can organize production.

Wide use: a machine can be pressed peanut, flax, sesame, rapeseed, sunflower, cottonseed, soybeans and other 30 kinds of oil crops

Pure oil: Screw Oil Press / oil presser/oil pressing machine production line filtration residue to protect the oil clean.

Small footprint: minimum oil mill will be able to meet only 10 m2

Detailed Images
1.Peanut Shelling Machine
| | | | | | |
| --- | --- | --- | --- | --- | --- |
| Model | Capacity | Voltage | Power | Shelling rate | Dimension |
| MN-2 | 500Kg/h | 380V | 2.2Kw | >95% | 130*80*190cm |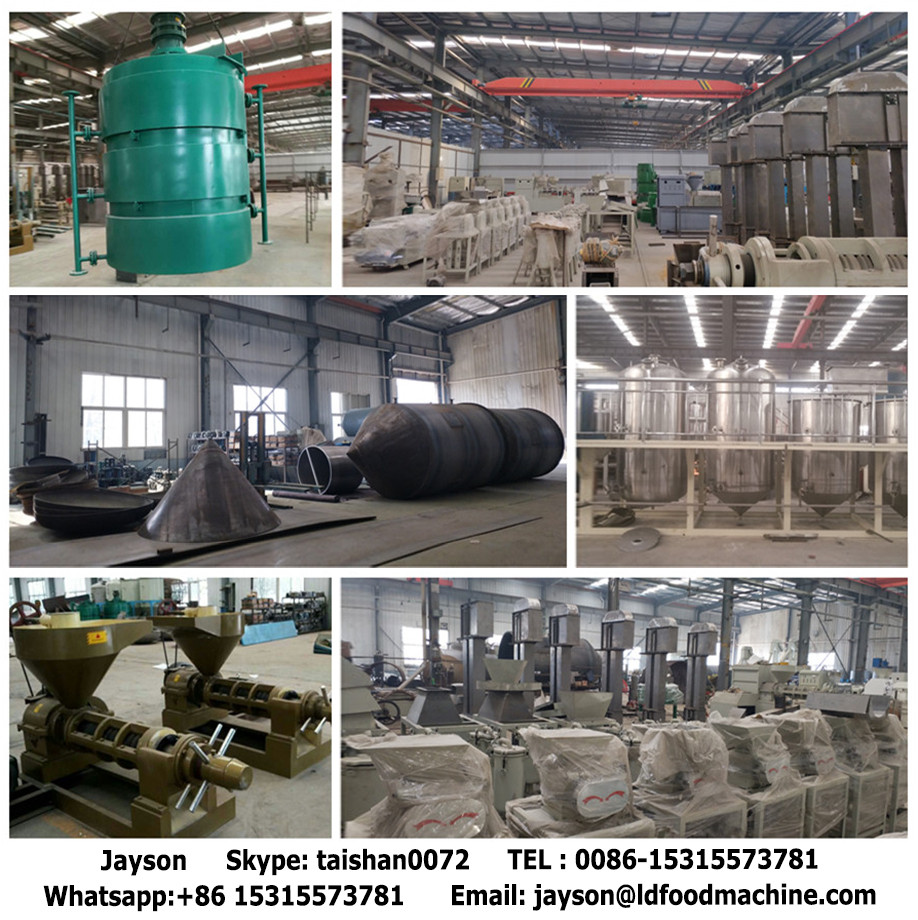 2.Peanut RoasterMachine
This machine is to dry peanut , sesame , soybean before putting into oil machine to increase oil rate.
| | |
| --- | --- |
| Model | MN-140 |
| Capacity | 600-800kg/h |
| Frying rate | ≥98% |
| Heating source | Diesel , Natural gas |
| Temperature | 300℃ |
| Inner wall thickness | 5-10mm |
| Outside wall thickness | 1.5mm |
| Power | 4kw |
| Dimension | 3000*1200*1400mm |
| Weight | 780kg |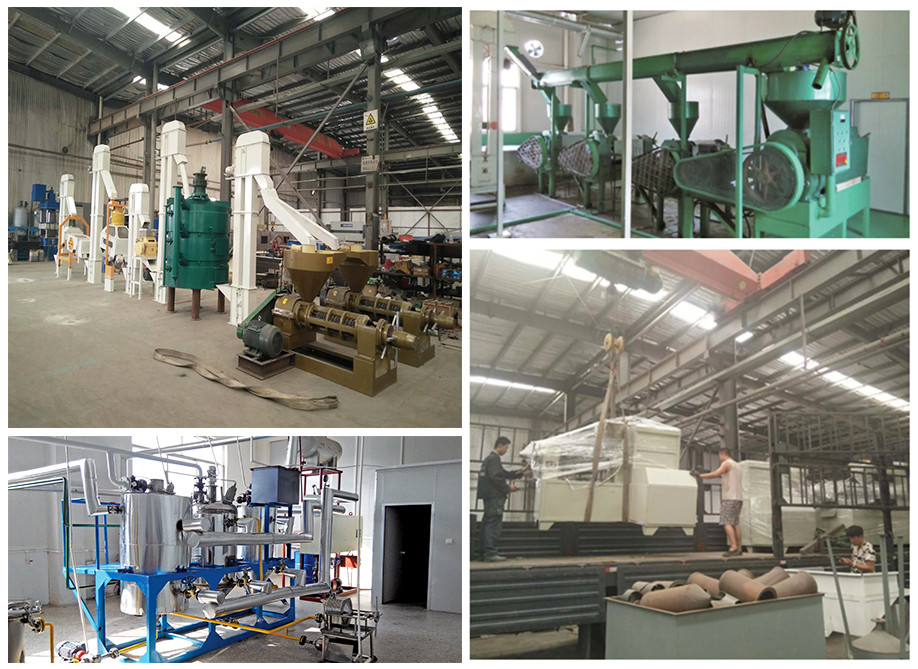 | | | | |
| --- | --- | --- | --- |
| Model | MN-80A | MN-100A | MN-120A |
| Screw diameter | 80mm | 100mm | 120mm |
| Capacity(t/24h) | 3-4 | 5-6 | 6-8 |
| Motor(KW) | 5.5 | 7.5 | 11 |
Screw press works

After the deceleration force to the main shaft, attached to the spindle with the rotation of the pressing screw, the oil between the threads continue to move forward, because the space between the pressing bore and pressing bolts of diminishing, oil density increases, so that the pressure is gradually increased Big. In the press process, because the machine automatically force the Department of hot days, the automatic temperature control device, increase the body temperature of the host, so as to reduce labor intensity, body wear, labor, energy saving, time-saving, between the oil particles, oil friction occurs between the parts and generates heat. This constitutes a pressure oil extraction process, the two elements of heat, destruction of oil cells, oil spill from the oil line, pie a cake from the cake between the head and the mouth is pushed out. When spilled oil flows through the filter drums above the oil pan, pump the air out of the barrel. Barrel a negative pressure on the oil through the filter cloth, being drawn into the barrel, while diesel was isolated in the cloth top, then get is pure oil
4.Centrifugal oil filter machine
Product Description:
Our centrifugal oil filter is mainly for oil pressing factory using, filt the impurities in the crude oil inside, so no residue after filtration Petrol clear, can not afford to foam. Simple operation, good filter effects, small operating vibration, easy clean-up special, small volume,can be out under the oil press machine,etc.

| | | | | |
| --- | --- | --- | --- | --- |
| Model | Power | Working speed | Dimeter | Capacity |
| MN-80 | 2.2Kw | 1800r/min | 600mm | 350Kg/h |
Finished product
used Peanuts, rice bran, sesame, oil palm fruit, soybean, canola, tung tree seeds, corn, Chinese tallow tree seeds, pepper seeds, cottonseed, sunflower, rapeseed
Packing & Delivery
Certifications
Bank slip
Related Products
Castor seed peanuts soybean sesame olives mona Brand corn germ oil press machine


91.8% Response Rate
HE NAN oil filter machine and price | deep fryer oil filter machine


91.8% Response Rate
2016 Screw Oil Press / oil presser/oil pressing machine production line Sesame Oil Press Machine Competitive price and stable performance hydraulic sesame oil presser with Reliable Quality
91.8% Response Rate
YHVGDG
Screw Oil Press / oil presser/oil pressing machine production line are obtained from a variety of seeds, grains and nuts. Most common types of oil-bearing seeds and nuts are Canola, Castor, Coconut, Corn (Maize), Cottonseed, Mustard, Olive, Palm, Palm-Kernel, Peanut (Groundnut), Rapeseed, Safflower, Soybean, and Sunflower. Other major specialty are obtained from Almond, Avocado, Cashew, Grapeseed, Jatropha, Pecan, Pine, Shea, and Walnut. There are literally hundreds of other seeds and nuts that are available regionally around the world.The New type automatic Screw Oil Press / oil presser/oil pressing machine production line wheat germ oil press/corn germ oil press/olive oil plant for sale is Reasonable Price for various oil seeds, such as avocado ,olive,coconut , soybean, sesame, sunflower seed, peanut, cocoa bean, rape seed, moringa and so on
GJGSDGF
Structure of New type automatic Screw Oil Press / oil presser/oil pressing machine production line
1.Characteried of by simple design, easy to operate and maintenance
2.Cast iron machine base
3.High productivity ,energy saving and labour saving
4.Special gear box structure of make the rotating speed averagely
5.Compact structure, stable functions
6.Main parts of Screw Oil Press / oil presser/oil pressing machine production line chamber through the processing of high-temperature tempering and low temperature quenching;
7.Compact structure, stable function.
jygjyf