Product Description
Product Description
oil press machine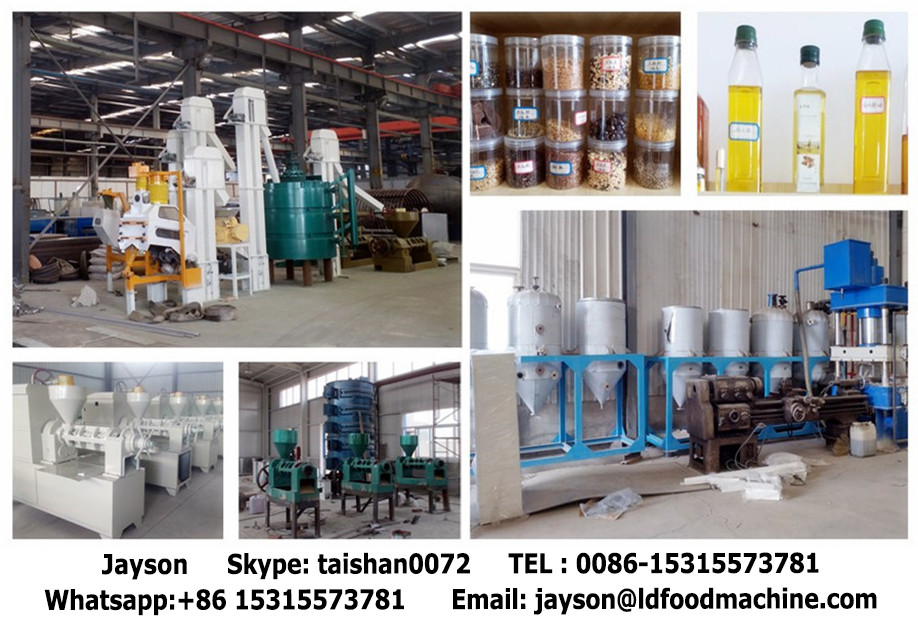 Name of

commodity

HF-80

HF-100

HF-120

Spiral diameter

Φ80mm

Φ100mm

Φ117mm

Spiral speed

35r/min

37r/min

40r/min

Chamber inside

diameter

Φ82mm

Φ102mm

Φ120mm

Power

Main

engine

Y-132-M2-6
4-4.5KW

Y132S-4 5.5KW
Y132M-4 7.5KW

11KW
(Y160M-4)

hot sale screw press oil expeller oil press machine

pump

Y801-4
0.55KW

Y802-4
1.1KW

1.1KW
(Y90S-4)

Heater

2.2KW

2.2KW

4.2KW

Processor
(sesame,

pine nut)

80-100 kg/hour

150-200 kg/hour

250-350 kg/hour

Weight

780kg

1100kg

1500kg

Dimensions

1600x1100x1550 mm

1800x1100x1550

2200x1480x2100
Full automation,high oil output, pure oil quality, easy to operate.
Characteristics:
1. New fashion ideal Mechanical and electrical integration
Scientific design, reasonable structure, convenient operation, safe and
stable, fully automated device. It takes only a few minutes from feeding
to the finished product.
2. Excellent material,Sophisticated technology
The oil mill is made of high carbon steel through the high frequency
quenching and heat treatment. It is famous for its high hardness, strength and good abrasion resistance. It adopts the high temperature and pressure and continuous operation. It improves the life of the oil press and it can be used for decades.
3. Reasonable pressing chamber, high rate of output oil
Using the principle of multi-stage advance and progressive compression, so that the pressure of pressing chamber increases rapidly and then the fuel oil will have a disposable fission separation. It uses infrared temperature control system to control the pressing temperature and moisture automatically, so that the fuel can softening activated grease molecules directly. It is stable for squeezing which greatly improve the oil of rate.
4. Temperature control and automatic pouring
The fried material's quality is a direct impact on the quality of oil and the rate of oil. There is a saying that '' it needs three points press, seven points fried material'' we can see the important role fried material plays in the oil extraction process. However, the key to frying is the quality and device of the machine. Our company's material frying machine adoptsa gear transmission, each model is equipped with the device for dampingnoise and thicker plate and scrambled chamber volume. It can use a variety of heating fuel (coal, electricity, gas, firewood, etc.) to heat. Its design concept is wide heating and fast frying. It is also installed with oil temperature
display instrument inverted switch, the magnetic separation functions and other advanced devices. It is easy to operate and has high degree of automation.
5. Suitable for different Seasons, unrestricted
This oil press is not affected by climate constraints and appropriate for four seasons. Because the oil pan device adopts the heating temperature control system which can adjust the oil's temperature automatically according to the environment temperature in order to achieve a rapid fine filter effect. So it doesn't affect by the season and climate. It can operate all the year.
6. Efficient fine filter: fast and convenient
It uses a variety of fine filter system device which increases the oil filter pressure and improve the hair oil temperature. All new guiding oil technology that can filter automatically and produce the pure oil. Filtering and pressing is conducting simultaneously which greatly improved the oil filter speed. Convenient and practical, it is an ideal choice for customers.
7.Wide press multi-usage
Regardless of the difference of the country climate condition, it achieved the effect of oil on the can truly. The machine adopts the forced feeding device. It has a uniform feeding rate and a high pressing speed. It can press peanut, soybean, rapeseed, sesame, sunflower, flax seed, tea seed, cottonseed, pepper seeds, walnuts, Tung seed, castor, almonds and other oil crops widely.
8.The function of the hot sale screw press oil expeller oil press machine oil filter used to filtrate the crude oil which come out from oil press.
9. Apply for different beans and materials.
Company Information

oil press machine
JHVVJVJH
hot sale screw press oil expeller oil press machine Systems range in size from the Introductory 1-liter and 5-liter models to the larger 2000psi Mid-range Production and 5000psi which are expandable up to 40 liters and 80 liters, respectively. Our largest 5000psi Production system is capable of processing up to 100 pounds of material per day!
JHBJSHB
In addition to designing and manufacturing new systems, hot sale screw press oil expeller oil press machine and sells used and refurbished systems from our Introductory trade in program – a great option for businesses just getting started or who want to increase their with minimal capital investment.
JHJHBHJ
hot sale screw press oil expeller oil press machine Function: is an oil extractor through soaking or spraying prepressed cake by a certain organic solvent. The principle of this part is the different solubility of solvent.
hot sale screw press oil expeller oil press machine Use range: fits for pre-press extraction of high oil- content materials and direct once time extraction of low-oil-content materials.
hot sale screw press oil expeller oil press machine Main parts: making series includes rotary extractor, toaster, 1st evaporator, 2nd evaporator, stripping tower, condenser, etc.