Product Description
Product Description


The 2018 new style and latest design complete soft and hard biscuit production line just finished and installation in our customer factory in South America, the full automatic biscuit production line can make all kinds of hard and soft biscuit, it is automatic from mixing to packing.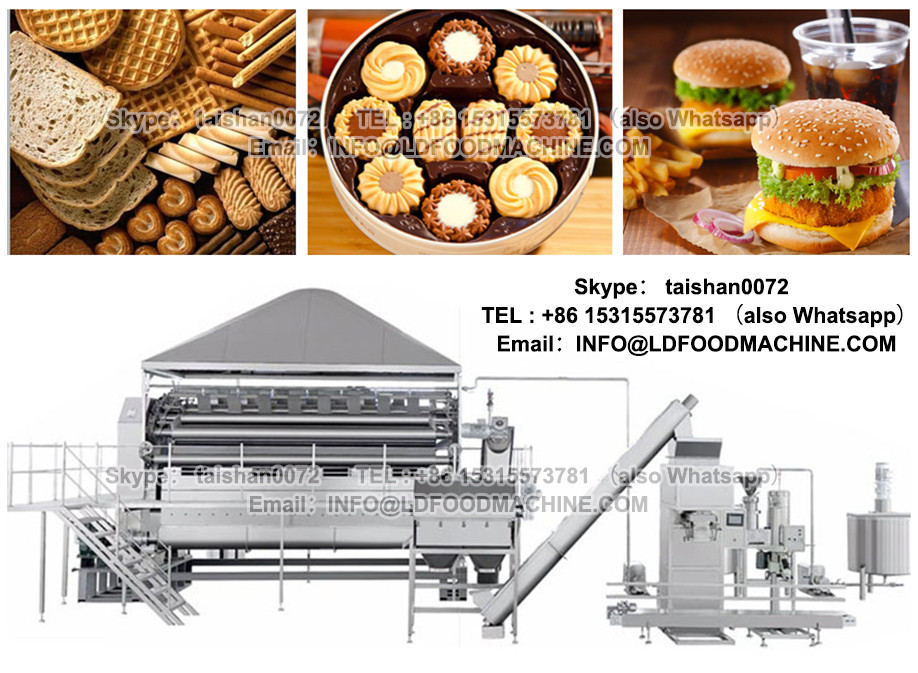 Different working width 400mm,620mm,1000mm and 1200mm line for option
Capacity from 100kgs per hour to 1500kgs per hour.
Turnkey Project are customized, full details layouts will be supplied accordingly.

Equipment For Small Business Biscuit Factory Machine Biscuit Making Machinery Automatic Hard and Soft Biscuit Production Line including following machinery:
Horizontal dough mixer, 250kg/batch,
vertical dough mixer 500kg/batch
Automatic dough tipper and feeding system
Three-roll combination sheeter for feeding and sheeting dough
Laminator for overlapping dough to sheeting on gauge rolls, included cream spreading machine.
Gauge rolls
Rotary cutting machine for hard biscuit forming
Scrap collection and return system
Rotary moulder for soft biscuit forming
Salt/sugar spreading machine
Tunnel oven, electric, indirect diesel oil or gas fried for option, length can be design as per capacity.
Oil spraying machine
Turning machine 180degree or 90degree design as per the plant length
Cooling conveyor
Biscuit stacking machine
Packing table
Biscuit sandwiching machine
Automatic Feeding and Packing Line


Detailed Images
Hard and Soft biscuit dough sheeting and forming line


1.Three-roll combination Pre-sheeter

2. Laminator ,used for Cracker


3. Combin 3 Gauge rolls


4. Twin Rotary cutter for hard biscuit forming

5. Rotary moulder for soft biscuit forming(3 servo motors)

6. Hybrid Gas oven(refer to the following pictures)
Baking oven has included:
Electrical oven - Heated Air Circulation
Indirect-fired Gas Oven
Direct-fried Gas Oven
Direct and Indirect Hybrid Gas Oven

7. Cooling and Stacker and Packing conveyor

Certifications
Related Products
Ice Cream Sandwich Biscuit Maker Biscuit Sandwich Making Machine
91.8% Response Rate
Tray Type Rotary Moulder Soft Biscuit Making Machinery
91.8% Response Rate
Small Mini Scale Cookie Machine Cookie Dropping Machine
91.8% Response Rate
Our Service
Packing & Delivery
Our Company
Equipment For Small Business Biscuit Factory Machine Biscuit Making Machinery is suitable for foods such as casual products, soy products, meat, and aquatic products. is widely used in large, medium and small-sized fried food manufacturers, school canteens, and large-scale restaurants.
Jinan Joysun Machinery Co., Ltd. is a modern food machinery and equipment manufacturing enterprise integrating R&D, manufacturing, sales, and after-sales services.
The main production of food frying equipment, cleaning equipment, blanching cooking equipment, pasteurization line, drying machine, vacuum packaging machines and other food processing equipment.
Equipment For Small Business Biscuit Factory Machine Biscuit Making Machinery is the essence of absorbing the same kind of equipment, retaining the advantages of large-scale equipment for enrichment, and referencing the user's feedback information throughout the country for design and development.
has the characteristics of low one-time investment, low energy consumption, multiple functions, small size, high profit, convenient use and maintenance. The full set of equipment consists of peeling, slicing (strips), fluttering, dehydration, oil-water mixed frying, degreasing, seasoning, packaging and auxiliary equipment.