Product Description
Product Description
2014 new functional chestnut machine
Introduction of machine
Through a long time of development and practice, the main roller increasing ptfe hose, make the machine at work stripping out camellia fruit skin smooth, no scratches, internal cracks.
The machine is at work can be adjusted according to the size of varieties of camellia fruit,
suitable for different varieties in different parts of the camellia fruit processing, solved the camellia fruit size mixture,
uneven, camellia fruit too easy to break, the problem of too small not shell.
Feature of machines:
1.Mainly by the feeding mechanism, de Punta agencies, separating part cleaning mechanism and the like. In order to meet a courtyard a chestnut processing
2.Selection of singlephase 2.2KW electric motor as auxiliary power can be achieved that is received is processed off mode.
3.Shelling fast, 20 times manual work, that income that is off the processing mode, you can reduce the losses caused by retting
4.Stripped clean of chestnut skin without injury, does not affect the quality, and cleaning clean.
5.The peel speed can be adjusted.After Peeling, the chestnuts surface are very smooth and no scratch.
Main parameter of machine:
| | |
| --- | --- |
| Model | MKBL-1000 |
| Power | 220V,2kw |
| Output | 1000 kg/h |
| Peeling rate | 98% |
| Overrall size | 1300*500*1250mm |
Photos of machines: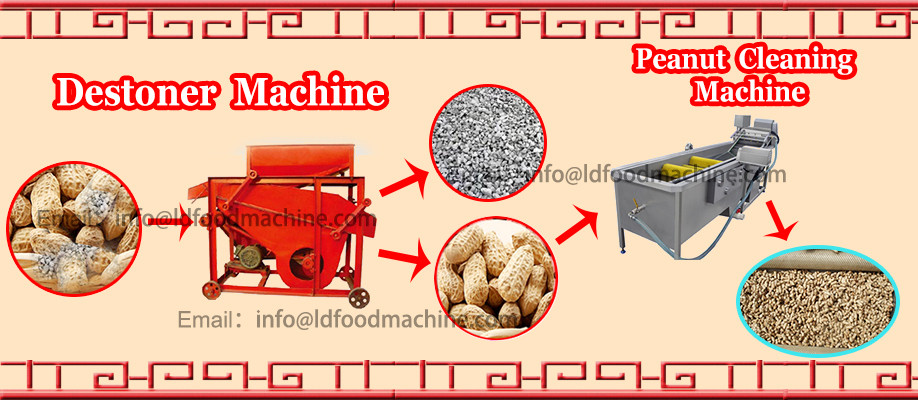 Peeled materials of this machines
Packaging & Shipping
The package of machine is export wooden case,to avoid the damage of sea shipping
Our Services
Pre-sale service:
•We provide presales service in various forms, for example, making investment budget,manufacturing,planning, etc. so that customers make a reasonable plan with less cost.
•Investment budgeting: We provide services of product profit analysis, recommendation of machine and auxiliary equipment and relevant budgeting, human resources allocation and budgeting.
•Plant Planning: We provide the mounting dimension of the equipment base,design of equipment layout, workshop ventilation, water transmission etc.
• Offer information of peripherals
In-sale service:
• Detailed design of lay-out that is the position of the procession
• Technological information of provided products
• Schedule about design, manufacturing and installation
• Working & Producing progression
•Training course for the technician so that the installation is safe and standard
After-sale service:
•For customers buying our products, we provide them free training so that they can use and maintain the machine independently.
•We will answer customer's question on technology in time. If needed, we will offer on-site guidance and assistance.
•We can provide free technical guidance if customers need new equipment, add or rebuild equipment.
• We will prioritize the product upgrade of former customers.
Company Information
Zhengzhou 2016 new functional chestnut machine, LTD mainly 2016 new functional chestnut machinees on the business of import and export of machinery equipment, affording purchase and sales service for international and domestic . enterprise
The main operating items of the company include Food machinery, agricultural machinery, and forestry machinery. Depending on the Professional Technical Team and excellent service team, our company provides global clients with high-quality products, and has quickly become a new star in the industry.
'Never pursue the shortterm profit at the expense of our future' is 2016 new functional chestnut machine's motto. 2016 new functional chestnut machine is a team full of ideal and passion as well as the vigor and vitality of pursuing innovation. Ever since its establishment, 2016 new functional chestnut machine has enjoyed a great deal of trust and support. In addition, the rise of market share has laid a solid foundation for its being the most valuable company. We are looking forward to becoming your strategic cooperative partner and providing you with the high-quality service.
Our contact information as follows:
ZHENGZHOU 2016 new functional chestnut machine TRADING CO,LTD
ADD:NO.100,Zhenghua Road,Zhengzhou city,Henan,China
About us: www.zzmkmachine.com
Tel:+86371 55901106 Mob: +8615238301208 Fax:+86371 86017295
SKYPE: kellymkmachine
2016 new functional chestnut machine Completed a series of bread and hamburger productions such as continuous tableting, dough sheet finishing, sheet rolling, pattern making, quantitative cutting, stuffing, and forming an automatic swing plate. The whole process of mass production of bread and hamburgers was realized.
2016 new functional chestnut machine Features:
2016 new functional chestnut machine] uses a number of advanced technologies to integrate photoelectric sensing, electromagnetic induction, human-machine interface, microcomputer programming, new materials, and bionic technologies, with a high degree of automation. Materials used and packaging materials, etc.: All materials in contact with the surface are stainless steel, polypropylene, PU, latex, nylon 1010, etc. that meet food-grade safety requirements. is sealed with stainless steel and polycarbonate plates. Can meet the needs of large-scale industrial production, scale production of a machine can produce drawing bread, hamburgers, French bread and so on.
Jinan Joysun Machinery Co., Ltd. is a modern food machinery and equipment manufacturing enterprise integration R&D, manufacturing, sales, and after-sales services.