Product Description
Product Description
Descriptions
GMP series hot air circulation oven adopts noise elimination and thermal stable axial flow fan and automatic temperature control system. The entire circulation system is enclosed to make that the heat efficiency of the drying oven increases from 3~7% of the traditional drying oven to 35~45% of the present one. The highest heat efficiency can be up to 50%. The successful design of GMP hot air circulation oven makes that the hot air circulation drying oven in our country reach the advanced level in the world. It saves energy and increases the economic benefit. In1990,the medical management bureau of the State issued the industry standard and the uniform type is RXH.
Applications
This drying oven is suitable for the material and product hot solidification and dry de-watering in the pharmaceutical, chemical, food, farming, side-product, aquatic product, light industries, heavy industries and others industries. Such as: raw material medicine, crude drug, prepared herbal medicine of Chinese traditional medicine, plaster, powder, particle, drinking agent, pill, packing bottle, pigment, dyestuff, de-watering vegetable, dried fruit piece, GMP Series Hot Air Circulation Drying Oven, plastics, resin, electric component, baking varnish and etc.

Explanations
1.Options of heat source: steam, electricity, or far infrared, or both steam electricity.
2.Drying temperature: steam heating 50-130 ℃ , Max.140 ℃ .
3.Electricity and far infrared:50-300 ℃ .Automatic control system and computer control system on request.
4.Commonly used steam pressure 0.2-0.8Mpa(2-8 bar).
5.For GMP-I, electric heated, rated power consumption:15Kw, real consumption : 5-8Kw.
6.The special requirements should be indicated at the time of order.
7.Please consult as for any special requirements.
8.For operation temperature of over 140 ℃ or less than 60 ℃ , please indicate when order.
9.The ovens and baking trays made by our factory are uniform in dimensions, and can be exchanged each other.
10.Trays dimensions:460x640x45mm
Features
Most hot air is circulated in the oven. The Heat efficiency is high and the energy is saved. By using the forced ventilation function, there are adjustable air distribution plates inside the oven. The materials can be dried uniformly. The heating source might be steam, hot water, electricity and far infrared. With a wide selection. The whole machine is low in the noise. The operation is in balance. The temperature is controlled automatically. The installation and maintenance are easy. The application is wide. The machine can be used for drying various materials and is a versatile drying equipment.
Technical parameters:
model

drying

capacity

each

batch

(Kg)

Power

(Kw)

Steam to be

consumed

(Kg/h)

Heat

radiation

area(m2)

Air velocity

(m3/h)

Temperatue

between

the top and

the bottom

(℃)

Trays

(piece)

Overall dimension

(L×W×H)mm

trolley

to be

used

(set)

GMP0

25

5

5

5

3400

±2

8

1400×1200×1600

0

GMP1a

50

0.45

10

10

3400

±2

24

1400×1200×2000

1

GMP1

100

0.45

18

20

3450

±2

48

2300×1200×2000

2

GMP2

200

0.9

36

40

6900

±2

96

2300×2200×2000

4

GMP3

300

1.35

54

80

10350

±2

144

2300×3220×2000

6

GMP4

400

1.8

72

100

13800

±2

192

4450×2200×2000

8

high effciency and high temperature far infrared sterilizing oven

1200×1000×1600

1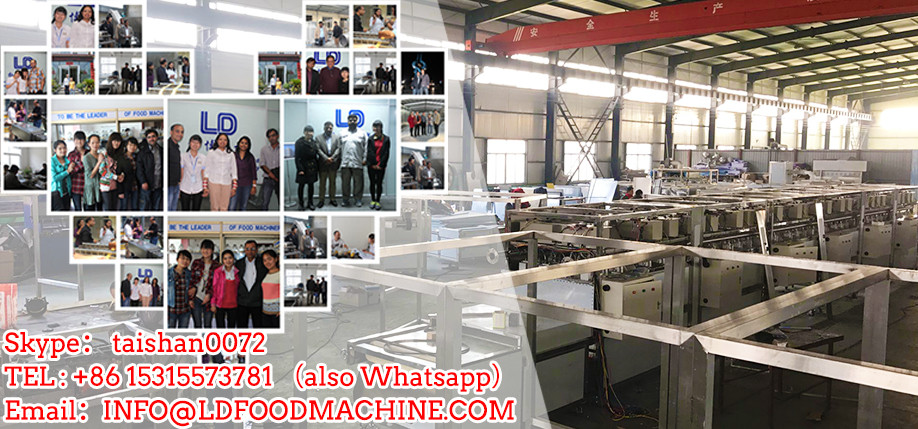 GMP Series Hot Air Circulation Drying Oven is suitable for foods such as casual products, soy products, meat, and aquatic products. is widely used in large, medium and small-sized fried food manufacturers, school canteens, and large-scale restaurants.
Jinan Joysun Machinery Co., Ltd. is a modern food machinery and equipment manufacturing enterprise integrating R&D, manufacturing, sales, and after-sales services.
The main production of food frying equipment, cleaning equipment, blanching cooking equipment, pasteurization line, drying machine, vacuum packaging machines and other food processing equipment.
GMP Series Hot Air Circulation Drying Oven is the essence of absorbing the same kind of equipment, retaining the advantages of large-scale equipment for enrichment, and referencing the user's feedback information throughout the country for design and development.
has the characteristics of low one-time investment, low energy consumption, multiple functions, small size, high profit, convenient use and maintenance. The full set of equipment consists of peeling, slicing (strips), fluttering, dehydration, oil-water mixed frying, degreasing, seasoning, packaging and auxiliary equipment.