Product Description
CT-C series Hot air circulating circle drying oven herb dryer
CT-C series hot air circulation drying oven uses alow noise and high temperature proof axial flowe blower and an automatic temperature control system.The whole circulation system is the fully envlosed to make that efficiecny of the drying oven increases from 3-7% of the traditional drying oven makes that the hot air circulation drying oven in our country catch the dvanced level both at home and abroad.In order to save a large quantity of the energy in our country,in order to enhance the economic results of the enterprises.In 1990,the medicine management bureu of the state issued the industry standard and the uniform type is RXH.
Main technical parameters of hot air circle oven and relevant explanation
Original Model
C T ——C
Specfficatkxtd
Tho 3" Improvement and desigh (egulppea with autoimdic oontrol
Qenerai dry equipment
Asemebte and typ
system
1,For the heating source, there are two kinds; the steam, and the electrecal or far infrared steam for our users to choose.
2,The temperatures to be us©d;steam heating50~130C,Max.140tJ.
3,The moisture while using the electrical or temperatures:50~300C.
4,There are the automatic control system and the computer control system for users's election.
5,Commonly used steam pressure 0.2~0.8Mpa(2~8kg/cm4)
6,If the electrical heating and type one,the calculation is 15KW, and the pra ctlcal use is 5~8KW/h.
rements should be indicated at thetime of order, non-standard oven should be consulted. ure8 more thean 140t) and less than 60t) should
tfonnin
7,The special requirt
8,The price for the
9,The use temperatu be indicat ed at the time of order.
10,The ovens and baking plates made bu our factory are the dlmens Ions,and can be exchanged each other.
11 v The baking plte dlmon8lons:460 x 640 x 46mm.
l, drying and dehydration J8tiy, chemical Industry, products, squatic products, laterials can be
so on, The raw materials
or raw Immersed electical dehydrati on v
Application
v materials Chinese traditional medicine, tablet of drink, nary,powder,granule,packing bottle,pigment,dyestutf, egetable.dtied fruit and melons,banger,pla3ttc resin, ts.diylng vanish and so on.
CT,CT-C Series Hot Air Circle Oven Technical Parameters
Type for the Industry standard

Type and specrtcatlon

Drying Capacity for each tm(kg)

steam to be consumed(kg/h)

Heat radiation area (m2)

Air capacity

K/h)

Overall dimension WxDxH(mm)

RXH-14-B

CT-I

100

1.1

20

20

3400

±2

48

2430x1200x2375

2

RXH-27-B

CT-II

200

1.1

40

40

5200

±2

96

2430x2200x2480

4

RXH-41-B

CT-III

300

2.2

60

80

9800

±2

144

3430x2200x2620

6

RXH-54-B

CT-IV

400

2.2

80

100

9800

±2

192

4460x2200x2620

8

RXH-6-C

CT-C-O

25

0.45

5

5

3450

0

16

1280x1100x1750

0

RXH-7-C

CT-C-IA

50

0.45

10

10

3450

±2

24

1400x1200x2000

1

RXH-14-C

CT-C-I

100

0.45

18

20

3450

±2

48

2300x1200x2000

2

RXH-27-C

CT-C-II

200

0.9

36

40

6900

±2

96

2300x2200x2000

4

RXH-27A-C

CT-C-IIA

200

0.9

36

40

6900

±2

96

4460x1200x2290

4

RXH-41-C

CT-C-III

300

1.35

54

80

10350

±2

144

2300x3220x2000

6

RXH-42A-C

CT-C-IIIA

300

1.35

54

80

10350

±2

144

3430x2200x2000

6

RXH-54-B

CT-C-IV

400

1.8

72

100

13800

±2

192

4460x2200x2290

8

RXH-25-A

High effloency and high temperature far Infrared bacte

1200x1000x1600

1
1%. Note: The material will carbon stoel,aluminum alloy or stinless
The material will be carbon steel,aluminum alloy or stalnless.The final mototure of raw material(damp)wlll be lees
Features
Most of hot air is drided inside the oven,The hot efflciency is high; The energy source can be saved;
It uses enhanced ventilation and equips with divider air distributing plate inside the oven, Raw material can b© dried evenly; The hot source can be steam,hot water, electricity or far Infrared.
The machine has low noise and stable operation .The temperature can be controlled automatically .The installation and maintenance are very convenient.
The applied fields are wide and can be suitable for all kinds of raw materials.lt is a comprehensive drier.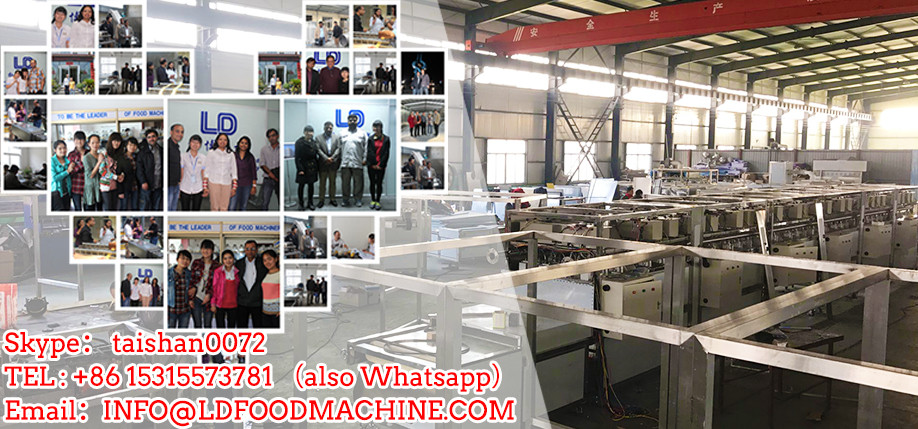 CT-C series Hot air circulating circle drying oven herb dryer is a food processing equipment developed, developed and produced on the basis of Jinan Joysun Machinery Co., Ltd. absorbing advanced foreign technologies. The technical performance and quality indicators of have reached the advanced level of similar international equipment. CT-C series Hot air circulating circle drying oven herb dryer From ingredients, extrusion, filling, forming, baking, spraying to finished products can be completed at one time, can produce all kinds of puffed foods, fragrant rice cakes, sandwich rolls (cakes) and crackers, cereal porridge, nutritional powder, etc. food. can produce all kinds of puffed foods, fragrant rice cakes and other sandwich rolls (cakes) and crisp biscuits, cereal porridge, nutritional powder and other foods. Using potato starch, corn starch, and flour as the main raw materials, the unique extrusion molding process is used to produce popular puffed foods with different shapes on the market. 222222 has a reasonable design, a high degree of automation, a clear control of extrusion parameters, the host is equipped with high and low pressure screws, increases the scope of use of raw materials, reduces costs, and improves product quality. The main products are spirals. Shells, round tubes, square tubes, circles, cartoon shapes, sports shapes, etc., produce products that are lifelike, crisp and crisp after being fried.
Jinan Joysun Machinery Co., Ltd. is a modern food machinery and equipment manufacturing enterprise integration R&D, manufacturing, sales, and after-sales services.