Product Description
High capacity full Stainless steel Fruit and vegetable drying oven
Application
It is widely used in sea cucumber,fish products,Chinese herb,dehydrated vegetable , fruit dried . Also can be sued into plastic resins, electrical originals, such as baking finish.
1. Hot air is circled inside the oven. The hot efficiency is high ,the energy source can be saved.
2. It is use forced ventilation effect, in which there are adjustable points wind board. Drying, heat source materials uniform may be steam, electricity,infrared, choose widely.
3. Low noise, the running balance, automatic temperature, install maintain convenient.
Description
Our hot air circulation oven adopts noise elimination and thermal stable axial flow fan and automatic temperature control system. The entire circulation system is enclosed to make that the heat efficiency of the drying oven increases from 3~7% of the traditional drying oven to 35~45% of the present one. The highest heat efficiency can be up to 50%. The successful design of hot air circulation oven makes that the hot air circulation drying oven in our country reach the advanced level in the world. It saves energy and increases the economic benefit. In1990,the medical management bureau of the State issued the industry standard and the uniform type is RXH.
Features
Most hot air is circulated in the oven. The Heat efficiency is high and the energy is saved. By using the forced ventilation function, there are adjustable air distribution plates inside the oven. The materials can be dried uniformly. The heating source might be steam, hot water, electricity and far infrared. With a wide selection. The whole machine is low in the noise. The operation is in balance. The temperature is controlled automatically. The installation and maintenance are easy. The application is wide. The machine can be used for drying various materials and is versatile drying equipment.
Explanation
1. Options of heat source: steam, electricity, or far infrared, or both steam electricity.
2. Drying temperature: steam heating 50-130 ℃, Max.140 ℃.
3. Electricity and far infrared:50 -300 .Automatic control system and computer control system on request.
4. Commonly used steam pressure 0.2-0.8Mpa (2-8 bar).
5. For CT-C-I, electric heated, rated power consumption: 15Kw, real consumption: 5-8Kw.
6. The special requirements should be indicated at the time of order.
7. Please consult as for any special requirements.
8. For operation temperature of over 140 ℃ or less than 60 ℃, please indicate when order.
9. The ovens and baking trays made by our factory are uniform in dimensions, and can be exchanged each other.
10. Baking plate dimensions: 460*640*45mm
The main parameter
Model

Plate number

Motor

Area of the plates

Productivity

Dimension

(m)

MNHG-1

24

9kw

5.76m²

100kg/batch

1.55*0.8*2.2

MNHG-2

48

12kw

11.52m²

200kg/batch

2.1*1.1*2.3

MNHG-4

96

18kw

23.04m²

300kg/batch

2.1*2*2.3

MNHG-6

144

22kw

34.56m²

400kg/batch

2.6*2.1*2.3

MNHG-8

192

30kw

46.08m²

500kg/batch

4*2*2.3
Picture shows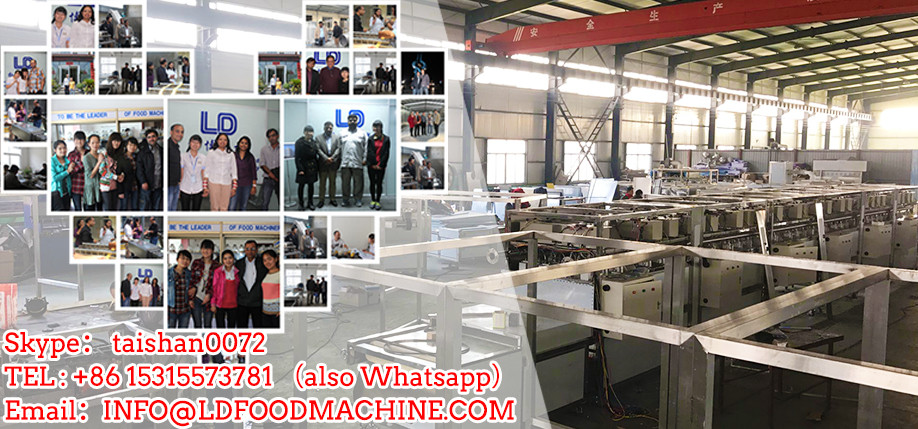 High capacity full Stainless steel Fruit and vegetable drying oven is a food processing equipment developed, developed and produced on the basis of Jinan Joysun Machinery Co., Ltd. absorbing advanced foreign technologies. The technical performance and quality indicators of have reached the advanced level of similar international equipment. High capacity full Stainless steel Fruit and vegetable drying oven From ingredients, extrusion, filling, forming, baking, spraying to finished products can be completed at one time, can produce all kinds of puffed foods, fragrant rice cakes, sandwich rolls (cakes) and crackers, cereal porridge, nutritional powder, etc. food. can produce all kinds of puffed foods, fragrant rice cakes and other sandwich rolls (cakes) and crisp biscuits, cereal porridge, nutritional powder and other foods. Using potato starch, corn starch, and flour as the main raw materials, the unique extrusion molding process is used to produce popular puffed foods with different shapes on the market. 222222 has a reasonable design, a high degree of automation, a clear control of extrusion parameters, the host is equipped with high and low pressure screws, increases the scope of use of raw materials, reduces costs, and improves product quality. The main products are spirals. Shells, round tubes, square tubes, circles, cartoon shapes, sports shapes, etc., produce products that are lifelike, crisp and crisp after being fried.
Jinan Joysun Machinery Co., Ltd. is a modern food machinery and equipment manufacturing enterprise integration R&D, manufacturing, sales, and after-sales services.