Product Description
Automatic Dry Garlic Peeling Machine|Garlic Peeler|Garlic Clove Breaking Machine
Garlic peeling machine Product Description
The working principle of the machine applying advanced air compress or technique to peel off skin naturally,
which guarantees the quality of garlic cloves.Completely automatic dry-peel operation Also can peel scallion/shallot.
This machine has automatic guide device, garlic skin removed from the garlic full automatic.The machine complys
with health standards. The garlic kernel can't be injured so it can be stored for many days.
This machine uses a specially designed peeling principle, during the peeling process, garlic completely doesn't touch
the blade ,so we can ensure the garlic without damage, and there is smooth surface, no pollution etc.
This machine has the features of fully automatic operation, utility, energy saving, small volume, high production
efficiency, easy to clean and repair and low failure rate.
Garlic peeling machine Application
It used for peeling garlic skin with high efficiency and low damage rate,and many models to be chosen.
Garlic peeling machine Advantages
Energy saving, peel garlic/shallot perfectly,use air flow as power,easy operating and maintenance,
high peeling rate,low breakage,high efficiency.
Automatic Garlic peeling machine is high efficiency drying and peeling machine , without damage,
It is invented according to the special physical properties of garlic.
It not only can reduce the manual labor, but also not undermine the quality of the garlic, can reach health,
environmental protection standards, the economic value of the production of garlic.
1) The special design makes sure that the garlic is no any friction with the blade during peeling. So you could get the
garlic in good condition, low breakage, smooth surface, non-pollution.98% peeling rate,peel garlic/shallot perfectly
2) It is equipped with Auto-temperature control and conveying-material, and the garlic could be stored for long time
3) Full automatic line with drying, peeling, pratical, economical, high production efficiency.
4) And it is easy to keep maintenance, low failure rate etc.

Technical Parameter
| | | | |
| --- | --- | --- | --- |
| Model | HQL-100 | HQL-200 | HQL-300 |
| Voltage | 220V-50Hz | 220V-50Hz | 220V-50Hz |
| Power(kw) | 1.7 | 3.2 | 4.7 |
| Electric Heating (kw) | 1.5*1 | 1..5*2 | 1.5*3 |
| Air Compressor | 0.75 kw | 11kw | 18.5kw |
| Size(cm) | 60*60*135 | 60*90*165 | 80*80*155 |
| Capacity(kg/h) | 80-150 | 180-280 | 280-400kg/h |
Our finished product :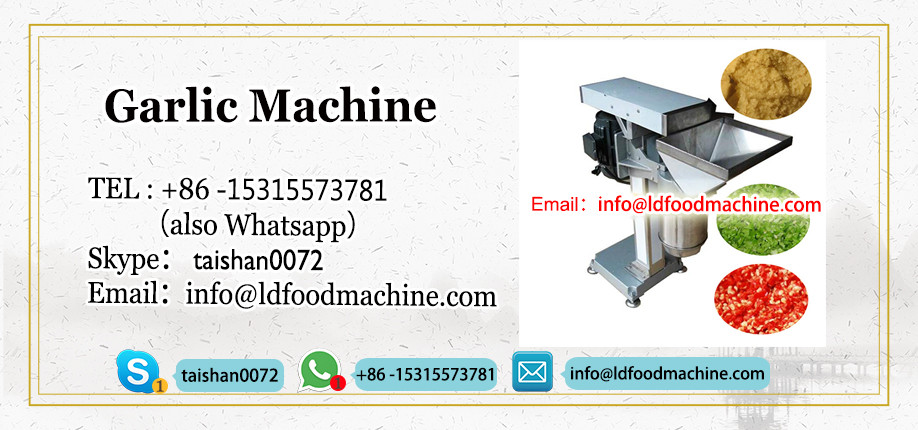 Our packing and shipping :

Our certificate :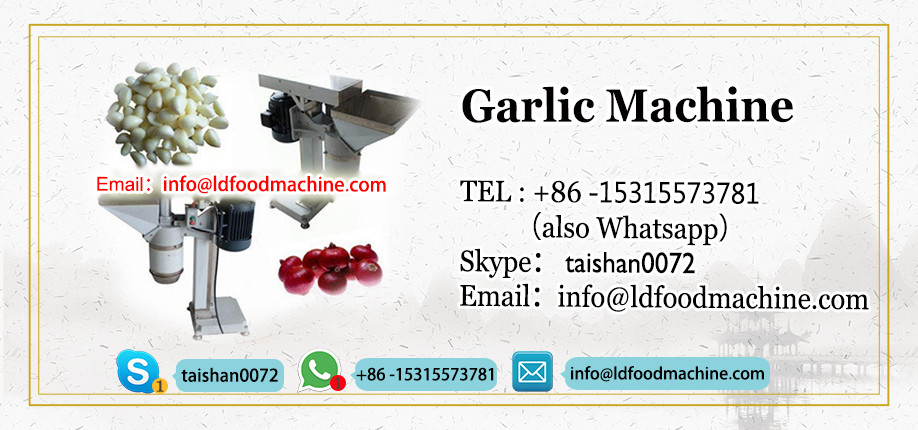 Our customer :
Our factory :
Automatic Dry Garlic Peeling Machine|Garlic Peeler|Garlic Clove Breaking Machine by drying heating box and peeling two parts of the working bucket. The heating drying box is equipped with the hot air circulation function, that is, Garlic Breaking Machine the Keeping the dry state of garlic in a humid climate. Heat drying, cutting material, and peeling, the material Time, the whole process programmable timer, automatic one design. Garlic Breaking Machine Greatly reduce labor costs.Adopts the special peeling principle, skins of garlic clove can be removed without the cutter blade and the friction.So Garlic Breaking Machine can keep the garlic clove complete, fresh and clean.
JHJHK
Automatic Dry Garlic Peeling Machine|Garlic Peeler|Garlic Clove Breaking Machine can finish the drying and peeling at one time.It is practical,electricity-saving,high efficiency and easy to operate and clean.Garlic Breaking Machine adopts pneumatic principle,it can remove automatically the shell of the garlic clove without soaking and at the same time there is no damage at all.The peeling rate can reached 95%.