Product Description
garlic breaking and separating
contact details :
Contact : Ms Lucky
Mobile:0086-13838536862
wechat/whatsapp/viber :0086-13838536862
skype : luckydh88
Introduction of Machine
Garlic breaking machine is mainly used to process garlic. It includes elevator, breaking machine, picking machine and peeling machine. This line is equipping with many advantages, such as high efficiency, labor-saving, no damage with garlic.This machine is very suitable with bulk garlic processing.
I .Function of garlic breaking machine
1.Garlic breaking machine has low failuer rate and it is easy to operate and wash.
2.Garlic breaking machine has these advantages,such as high efficiency,energy saving,and low noise.
3.Garlic breaking machine is a good equipment in garlic processing factory.
Technical parameter of garlic breaking machine :
| | | | | |
| --- | --- | --- | --- | --- |
| Model | Power | Productivity | Dimension | Weight |
| DH-400 | 1.1kw 380V | 400kg/h | 690*580*950mm | 80kg |
| DH-800 | 2.2kw 380V | 800kg/h | 840*940*1320mm | 260kg |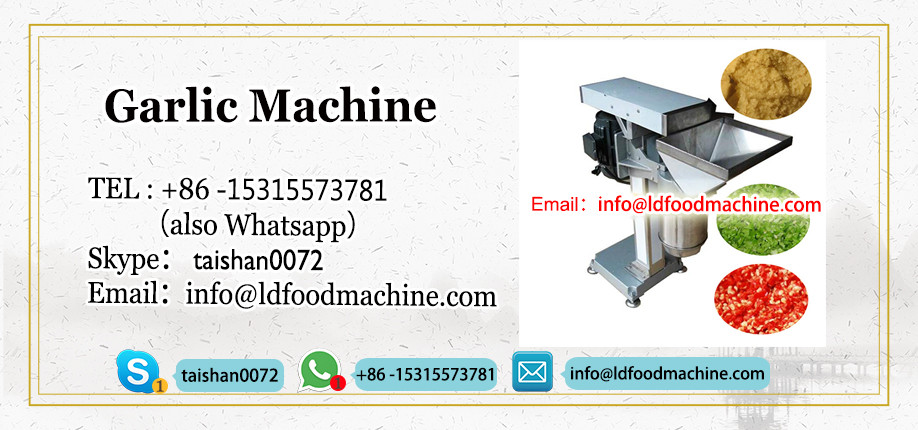 The machine need the motor power supply , well designed, use the speed change
device which can make the roller form the speed discrepancy ,the roller utilize the
speed discrepancy and the special designed structure which form the force of knead ,
the knead force just as simulate the hand power .The machine can break different kind
of garlic by adjust the space between the roller; there are fans in the machine which
can remove the peel and husk.

The machine used the high quality pastern to make the roller which has the performance
of high flexibility, antifriction, stretch-proof steady performance, high effiency, and low
lost rate well designed which need little room, save time, save energy, easy to remind
and low rate of fault.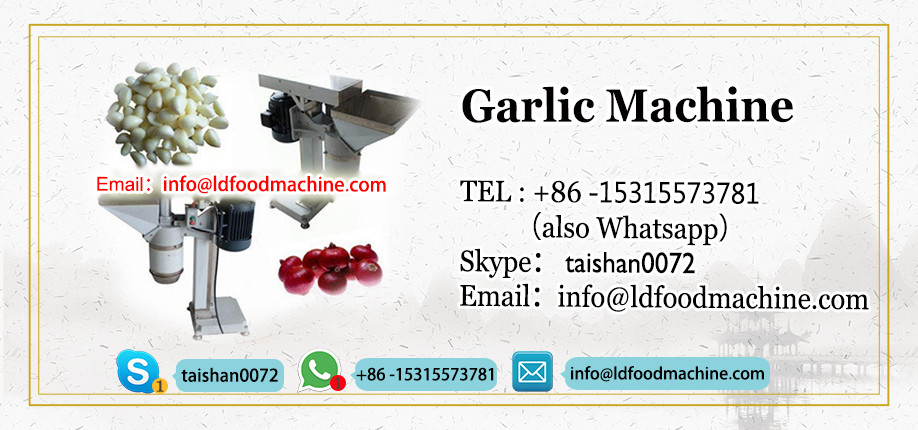 1.It is made of high elastic rubber as disc machine of roller,
2.It uses speed difference kneading principle
3.This device is equipped with high-performance deceleration motor and drive system.
4. During work , roller clearance can be adjusted freely according to the size of the garlic .
5. Three kneading process to make the splitting rate above 95%
6. It is equipped with a fan system at the same time, can remove garlic material.
7. Easy to operate, high output, garlic without damage to garlic.It is the ideal equipment to garlic splitting.
Garlic Usuage :
1. Strong sterilization.
2. Control tumors and cancer.
3. Detoxification clear bowel, prevent stomach disease.
4. Reduce blood sugar, prevent diabetes.
5. Cardiovascular disease prevention.
6. Protect liver.
7. Energetic.
8. Prevent colds.
This machine is used to separate garlic bulbs into cloves. The working
principle is using standard rubber rollers for food product to break the garlic bulb into
clove. It's also applied the exclusive developed pressure adjustable method to ensure
the products for different size of garlic bulb. Easy operation makes the clove without
damage and high separating rate. There's a blower equipped inside the machine which
can blow some garlic skin away while operating. Even a single person is able to operate
this machine
Packaging & Shipping
Pre-sale:
1. Suggest to client suitable raw material, final product capacity.
2. Introduce machine's structure and features in detail, explain the price component.
3. answer client concerned questions.
After-sale:
1. Start production as soon as receiving down payment.
2. Send photos of machine in manufacturing and finished photos to client, for your better learn about the machine's condition.
3. Delivery machine in time, taking photos during loading, so you can "remote monitoring" your goods.
4. Documents and certificate available in time.
5. Manual documents available. Engineer can be sent to client site for installation instruction.
Company Information
stainless steel garlic breaking and separating by drying heating box and peeling two parts of the working bucket. The heating drying box is equipped with the hot air circulation function, that is, Garlic Breaking Machine the Keeping the dry state of garlic in a humid climate. Heat drying, cutting material, and peeling, the material Time, the whole process programmable timer, automatic one design. Garlic Breaking Machine Greatly reduce labor costs.Adopts the special peeling principle, skins of garlic clove can be removed without the cutter blade and the friction.So Garlic Breaking Machine can keep the garlic clove complete, fresh and clean.
JHJHK
stainless steel garlic breaking and separating can finish the drying and peeling at one time.It is practical,electricity-saving,high efficiency and easy to operate and clean.Garlic Breaking Machine adopts pneumatic principle,it can remove automatically the shell of the garlic clove without soaking and at the same time there is no damage at all.The peeling rate can reached 95%.