Product Description
Specifications:
1.low energy consumption
2.high output
3.simple operation
4.low noisy
5.rational design
6.safe to use
7.excellent quality
TPS 120 Machine Product Description:
TPS120 garlic peeler a dry peeling machine of high value (garlic is not going through water washing) The machine adopted the international advanced air compressing technique to peel off naturally, which can guarantee the quality of garlic clove and the highest garlic peeling rate. During the processing, garlic clove is without machine colliding and squeezing, So surface of the garlic clove can not be damaged.The machine is widely used in all kinds of food processing factory, restaurants, hotel and other catering units.
The Machine Introduction :
1. Using specially designed peeling principle, the garlic completely without fiction .Between the blade and the hardness of the role, they are able to ensure that the machine does not damage the surface smooth, no pollution.
2.This machine can finish the drying, peeling at one time, it is practical, low power, small size, high efficiency, maintenance and cleaning easy, low failure rate of features.
3. Equipped with automatic temperature control and auto-conducting device,
garlic and skin automatic separation without any damage.

Features of the Machine :
1. The machine has the function of automatic peeling,low malfunction rate,and easy to be maintained and cleaned.
2. The garlic's skin can be peeled off naturally without damage to the cloves
3. Suitable complete production line or working on single.
TPS 120 automatic garlic breaking and seperating machine(dry way) parameter :
Dimension: 505mm x 505mm x 1450mm
Power of Peeling: 0.1~3kw (including heating power)
Material: Machine body and Cylinder are made of stainless steel
Air Compressor Required: 7.5kw
Air pressure: 9~10KG/CM2.
Capacity: 70~100KG/h
Net Weight: 70KG
Voltage: 380V or 220V.
Our tenet is "quality first, keep enterprising and improving, client paramountcy". Welcome to cooperate and develop with us!
contact :
skype:fengyu861108
Mobile: 0086-18769746779
Zhangqiu Hongdun Trading Co., Ltd.
Address: WILLOW WILLAGE WEST STREETS OFFICE ZHANGQIU CITY,automatic garlic breaking and seperating machine(dry way)
Tel: 00automatic garlic breaking and seperating machine(dry way)83238988
Fax: 00automatic garlic breaking and seperating machine(dry way)83260439
pictures :
1 .
2 .
3 .
4 .
5 .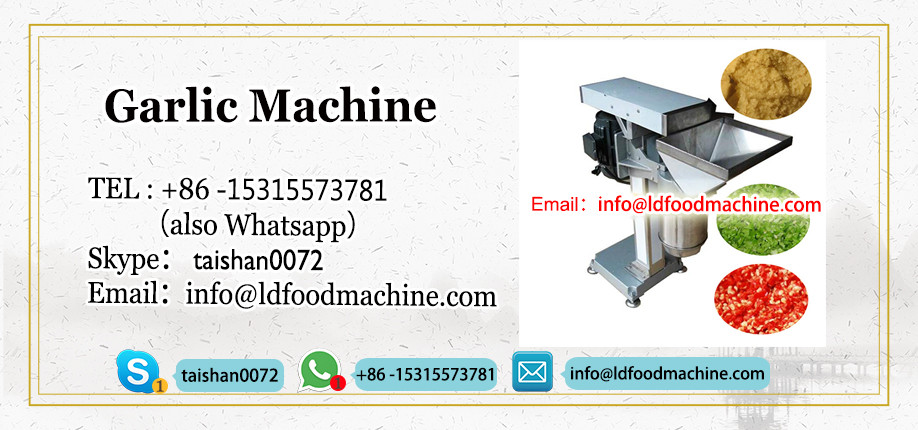 automatic garlic breaking and seperating machine(dry way) by drying heating box and peeling two parts of the working bucket. The heating drying box is equipped with the hot air circulation function, that is, Garlic Breaking Machine the Keeping the dry state of garlic in a humid climate. Heat drying, cutting material, and peeling, the material Time, the whole process programmable timer, automatic one design. Garlic Breaking Machine Greatly reduce labor costs.Adopts the special peeling principle, skins of garlic clove can be removed without the cutter blade and the friction.So Garlic Breaking Machine can keep the garlic clove complete, fresh and clean.
JHJHK
automatic garlic breaking and seperating machine(dry way) can finish the drying and peeling at one time.It is practical,electricity-saving,high efficiency and easy to operate and clean.Garlic Breaking Machine adopts pneumatic principle,it can remove automatically the shell of the garlic clove without soaking and at the same time there is no damage at all.The peeling rate can reached 95%.