Product Description
Stainless Steel Garlic Peeling Machine|Garlic Processing Machine |Garlic Product Line
Garlic Root Cutting Machine(Flat Cutting Model)
The Garlic Root Removing Machine is used for cutting fresh garlic's root.
It has the function of automatic feeding, automatic cutting roots.
The depth of cutting can be adjusted automatically according to the
different size of garlics.After cutting, garlic will be more smooth.
It operates very easy and has high efficiency.
| | | | | | |
| --- | --- | --- | --- | --- | --- |
| Model | Voltage | Power | Capacity | Dimensions | Weight |
| GGQ-02 | 220V | 0.5Kw | 500-700Kg/h | 590*660*1115mm | 50Kg |
Garlic Root Cutting Machine(Concave Cutting Machine)
Model: GG-DQ-2
Dimension: L*W*H 1200*600*1000MM
Voltages: single phase 220V/380V
Cutters: 2 pieces
Capacity: 400-500Kg/H
Air supply: 0.4Mpa 2 cube meter per min.
Material: Stainless steel 304.
Garlic Breaking Machine
Introduction:This machine is used to separate garlic bulbs into cloves.
The working principle is using standard rubber rollers for food product
to break the garlic bulb into clove. It's also applied the exclusive developed
pressure adjustable method to ensure the products for different size of garlic
bulb. Easy operation makes the clove without damage and high separating rate.
There's a blower equipped inside the machine which can blow some garlic skin
away while operating. Even a single person is able to operate this machine:
| | |
| --- | --- |
| Model | GGYF-A |
| Power | 0.8kw,380V/220V |
| Capacity | 1000kg/h |
| Dimension | 900*600*1250mm |
| Breaking Rate | ≥95% |
| Damage Rate | ≤1% |
Garlic Peeling Machine
Model

Capacity

Voltage

Power

Electric heating

Air pressure

Size

GG-

100

80-150

kg/h

220V,

50Hz

1700W

1500W*1

10kg.

65*70*135cm

GG-

200

180-280

kg/h

220V,

50Hz

3200W

1500W*2

10kg

60*90*165cm

GG-

300

280-400

kg/h

220V,

50Hz

4700W

1500W*3

10kg

80*80*155cm
Garlic Paste Machine /Garlic Mincing Machine
Features: it can stir the fresh or bloated capsicum into small pieces or paste.
Meanwhile, it can cut the garlic, ginger, potato, spinach, onion or lotus root
into paste or strips. It's a good choice of flavoring plants and processing
plants because the amount of knives is freely used.Cut the Ginger,potato,spinach ,garlic into paste.
Dimension:900(L)x380(W)x1000(H)
Power:3 Phase, 2HP
output : 500kg/hr
Garlic Slicing Machine
Feature: Ginger slice, shallot slice, garlic slice
Horsepower: 1HP
Capacity:300KG/hr
Weight:50KG
Size:670x360x840mm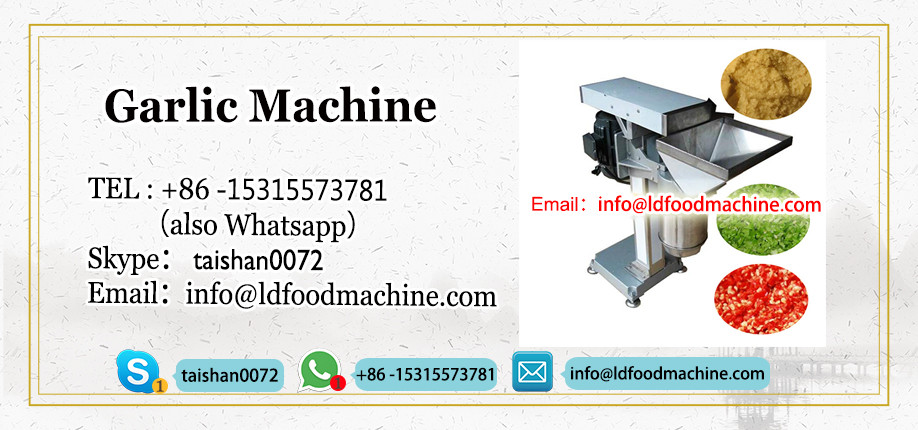 Stainless Steel Garlic Peeling Machine|Garlic Processing Machinery|Garlic Product Line by drying heating box and peeling two parts of the working bucket. The heating drying box is equipped with the hot air circulation function, that is, Garlic Breaking Machine the Keeping the dry state of garlic in a humid climate. Heat drying, cutting material, and peeling, the material Time, the whole process programmable timer, automatic one design. Garlic Breaking Machine Greatly reduce labor costs.Adopts the special peeling principle, skins of garlic clove can be removed without the cutter blade and the friction.So Garlic Breaking Machine can keep the garlic clove complete, fresh and clean.
JHJHK
Stainless Steel Garlic Peeling Machine|Garlic Processing Machinery|Garlic Product Line can finish the drying and peeling at one time.It is practical,electricity-saving,high efficiency and easy to operate and clean.Garlic Breaking Machine adopts pneumatic principle,it can remove automatically the shell of the garlic clove without soaking and at the same time there is no damage at all.The peeling rate can reached 95%.