Product Description
KH Full Automatic Biscuit Production Line for hard and soft biscuit
Biscuit producing process
flour mixing/material conveying-------laminating------Forming--------soft biscuit forming----- Biscuit & waste separating/recycling/conveying to oven ------oil spraying-----baking, baked well from oven----belt-type sugar&salt sprinkling machine
Biscuit can be grouped into hard biscuit, soft biscuit, cookie biscuit, according to the formula, process and different forming method. Hard biscuit production line is generally, composed of a feeding machine(if producing the soda biscuit or chocolate coated biscuit, anther lamination process is needed), a set of dough roller, through the dough rolling and dough sheet, then through the roller cutting machine, rest material recycling device, inlet oven machine, the entire biscuit forming line, For soft biscuit and cookie biscuit production line, only the o\forming machine and inlet oven machine can be the whole forming process, in order to increase the biscuit types and characteristics, customer can allocate the sugar& salt sprinkling machine, egg spraying machine, egg painting machine, calico printing machine, etc. The oven is to make the formed biscuit into delicious food. You can choose different types of bakery oven (Electricity/gas/diesel/thermal oil) for baking different types of products. Dough rolling width is 250mm to 1200mm (if you have special needs, we can customize for you).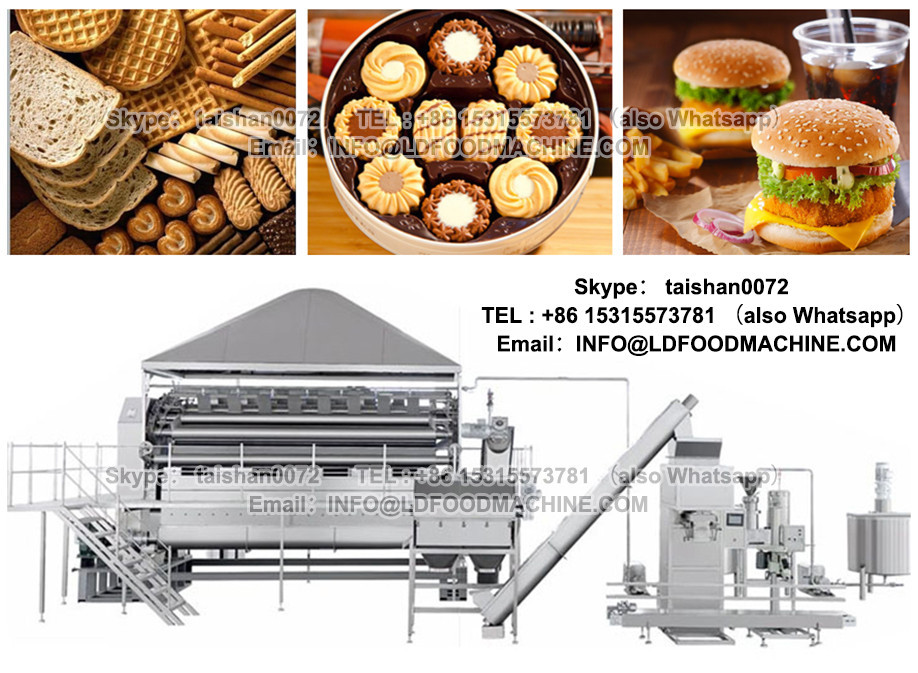 Main parameters
| | | | | | | |
| --- | --- | --- | --- | --- | --- | --- |
| model | KH-BGX250 | KH-BGX400 | KH-BGX600 | KH-BGX800 | KH-BGX1000 | KH-BGX1200 |
| Production capacity | 100KG/h | 250 KG/h | 500 KG/h | 750 KG/h | 1000 KG/h | 1250 KG/h |
| Total length | 29600 | 64500 | 85500 | 92500 | 125000 | 125000 |
| Baking temperature | 190-240°C | 190-240'C | 190-240'C | 190-240'C | 190-240'C | 190-240'C |
| Whole line power | 65KW | 190KW | 300KW | 380KW | 700KW | 830KW |
| Whole line weight | 6000 | 12000 | 20000 | 28000 | 45000 | 45000 |


Company Information
Packaging & Shipping
contact person :taylor zhu
viber & whatsupp & wechat : 0086-18221819059
KH Full Automatic Biscuit Production Line for hard and soft biscuit Completed a series of bread and hamburger productions such as continuous tableting, dough sheet finishing, sheet rolling, pattern making, quantitative cutting, stuffing, and forming an automatic swing plate. The whole process of mass production of bread and hamburgers was realized.
KH Full Automatic Biscuit Production Line for hard and soft biscuit Features:
KH Full Automatic Biscuit Production Line for hard and soft biscuit] uses a number of advanced technologies to integrate photoelectric sensing, electromagnetic induction, human-machine interface, microcomputer programming, new materials, and bionic technologies, with a high degree of automation. Materials used and packaging materials, etc.: All materials in contact with the surface are stainless steel, polypropylene, PU, latex, nylon 1010, etc. that meet food-grade safety requirements. is sealed with stainless steel and polycarbonate plates. Can meet the needs of large-scale industrial production, scale production of a machine can produce drawing bread, hamburgers, French bread and so on.
Jinan Joysun Machinery Co., Ltd. is a modern food machinery and equipment manufacturing enterprise integration R&D, manufacturing, sales, and after-sales services.