Product Description
KFB300 Automatic Soft/Hard Biscuit Production Line
Machine Introduction:
To achieve an ideal effect, the production line can make various products' combination according to users' special requirements such as factory's layout and biscuit's style, shape.
Characteristics: adopts imported electrical components,
frequency control of speed,
efficient energy-saving,
either single or combined controlment.
Soft & Hard Biscuit Samples :
Layout of Biscuit Production Line:
Automatic Soft/Hard Production Line:
Dough Mixing- Biscuit Forming&Cutting- Salt/Sugar Sprinkling-
Biscuit Baking- Oil Spraying- Cooling& Translating- Packing
Whole Biscuit Production Line constituent Parts:
Dough Mixer---Rotary Moudler(soft biscuit forming)---Rotary Cutting(Hard Forming)
---Salt/Sugar sprinkler---Inlet/Outlet Part---Oil Sprayer---Cooling Conveyor---Package machine
Available Advice
1.Different equipments' combination and cooperation based on personal products' choice.
2.This is the whole Autmatic Soft/Hard Biscuit production line.If you just need soft biscuit or hard biscuit , contact with me , apporpable advice is available.
Photos of Soft/Hard Biscuit Production Line:
whole Biscuit Production Line
Dough mixing machine
Salt/sugar Sprinkler & Oil Sprayer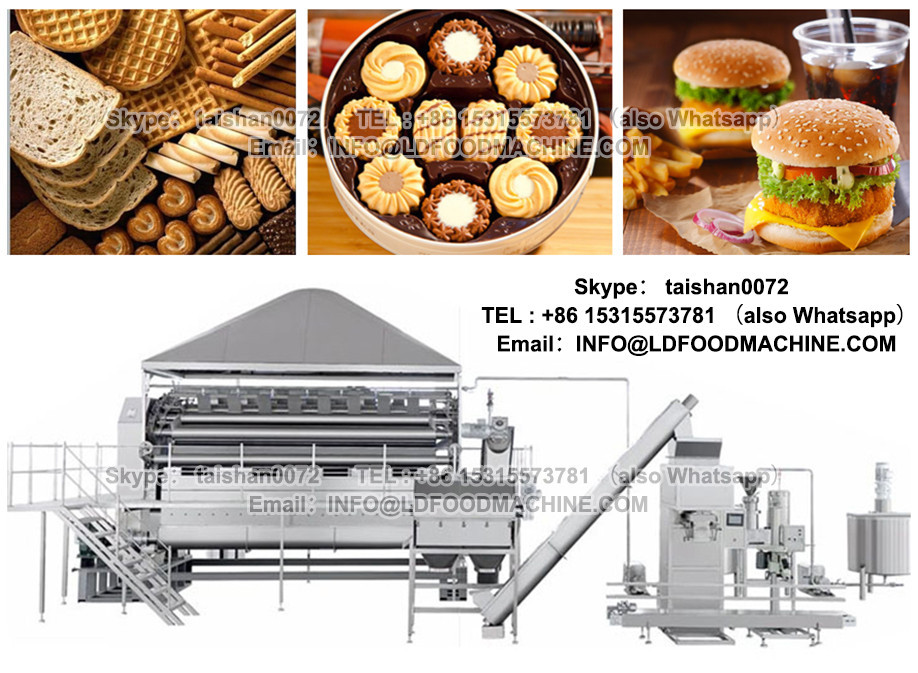 Soft &Hard Forming Machine

Electric/Oil/Gas Tunnel Oven
Cooling conveyor & Biscuit Package
The factory's photos:

Contact us&Get The Lastest price:
Your success is our business, feel free to ask
KFB300 Automatic Soft/Hard Biscuit Production Line is now a general-purpose model DL3000-100 single screw, is mainly used for the production of a variety of pasta, fried foods, rice noodles, pasta, pasta and other products, stable output, simple and convenient operation. 3000 is the length of the screw and 100 is the diameter of the screw.
KFB300 Automatic Soft/Hard Biscuit Production Line consists of feeding system, extrusion system, rotary cutting system, heating system, transmission system and control system. The use of advanced screw extrusion technology, the use of high temperature and high pressure material curing and expansion molding, one-time completion. The host adopts variable frequency speed regulation to ensure the stability of the production process. Product color, variety, appearance, natural and realistic, delicate texture, raw materials are widely used of .
Jinan Joysun Machinery Co., Ltd. is a high-tech enterprise integrating science, industry and trade. is dedicated to the development, development, production and sales of expanded snack food equipment, tissue protein equipment, pasta/pimento equipment, pet food equipment and experimental extruders.
Nowadays, Jinan Joysun Machinery Co., Ltd. have customers both in China and abroad.Foreign customers such as Russian,East Europe,Middle East,South America,North America,East Asia,Southeast Asia, Africa,etc.