Product Description
European Standard biscuit making machines,biscuit line at hardees.cookie production lineMain Equipments Info
Biscuit prduction process procedure:
1. Flour mixer — 2. Roll cut biscuit forming machine — 3.Roll print biscuit forming machine — 4.Tunnel oven — 5.180degree Turning machine — 6.Oil spraying machine — 7.Cooling line — 8.Biscuit stacking machine — 9.Biscuit sandwich machine — 10.Biscuit packing machine
I. Horizontal flour Mixer
Function: Kneading flour machine is stirring machine which crumples up flour powder and water into dough or other materials and is independently used with other machines.
II. RollerRotary Mould Machine
It is the main machine for the biscuit production line. It will convey the mixed / processed dough to the molding machine, then after mixing into a dough, then baking though the oven to get, a loose ,delicious crispy biscuit which is well welcomed by the consumers
III. Roller Rotary Cutter Machine
Function: After putting stirring flour powder into the machine, they are one time shaped into unripe biscuit,all kinds of middle and high grade biscuit and thin biscuit through three stages roller and roller cutting molds.
IV. GAS heating tunnel Oven
1. this machine uses natural gas as the fuel, rapid heating up and energy saving.
2. The oven is controlled by different heating zones, and each of heating zone temperature is adjustable or presetting. Meanwhile, It is displayed by digital form.
3.Through the connection of the structure within the heating zones, allow the oven expanding.
4. Adopt high-qualified thermal materials, good insulation, and high thermal efficiency.
5. Steelwork, ducts and chambers are all painted with anti-high temperature aluminum powder paint which can resist 400℃.
6. Full-automatic PID temperature control and automatic constant temperature.
7. Great control flexibility end prefect safety precautions.
8. It can fit the technological requirements for production of different biscuits.
V.180° Swerve Conveyor
This is the auxiliary equipment for biscuit making process, also widely used for transfer of other food. In order to save the space, the folding device is 180°.The housing is made of rolled steel. Connection board is made of stainless steel, divided into front and back section. Folding angle have right 180°, left 180°, and 90°, etc.

VI.Biscuit Oil Sprayer
The baked hot biscuit will be conveyed to the oil-spraying machine right after the tunnel oven, which is necessary to produce high-quality, better color biscuit.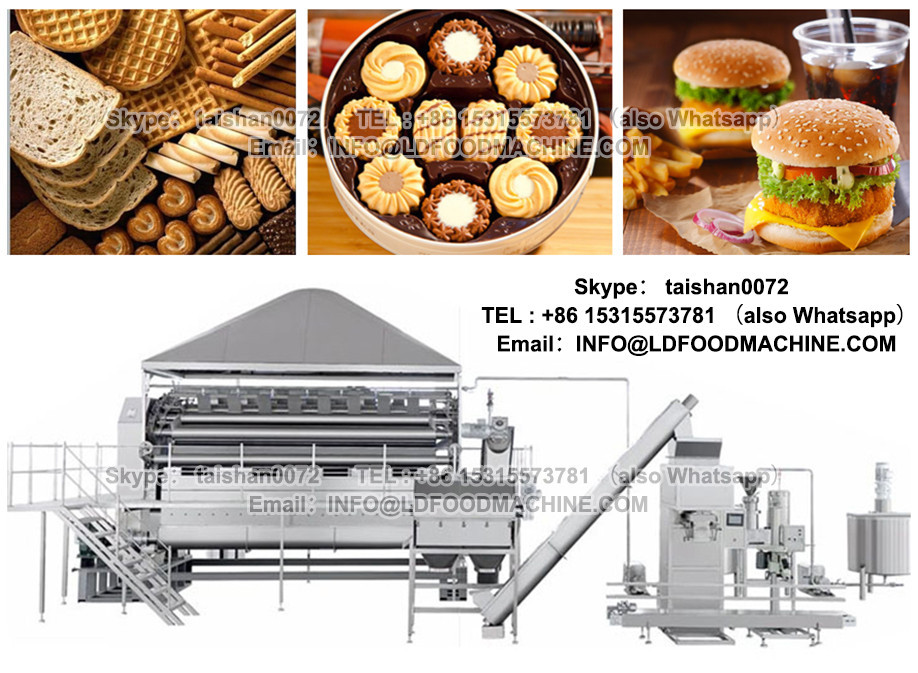 VII. Cooling Conveyor Line (8m)
Function: Oil-spraying finished biscuits are cooled through transmission

VIII. Biscuit Stacking Machine
Biscuit tidy-up machine is used to transfer the biscuit into a rail and pile them up, and then transfer all the way to the biscuit picking machine.
Product Description
1. The whole shell of the production line adopts 304 Stainless Steel in accordance with the health and safety standard.
2. The electricity and transmission components are all used European Standard biscuit making machines,biscuit line at hardees.cookie production line ,Mitsubishi ,touch screen to ciontrol and adopts the Interenational Brand Germany SEW,SKF to make the whole line steadily.
3. In according to the clients ' requirements ,we can make a wide range of size and shape biscuit full automatically.
Technical Parameter
Model

Max Product capacity

conveying belt Width

Power

Total

Length

Baking Temperature

Weight

Voltage

GN-250

100kg/h

250mm

65kw

29600mm

190-240℃

6000

380V50HZ

GN-400

250kg/h

400mm

190kw

64500mm

12000

GN-600

500kg/h

600mm

300kw

85500mm

20000

GN-800

750kg/h

800mm

380kw

92500mm

28000

GN-1000

1000kg/h

1000mm

700kw

125000mm

40000

GN-1200

1250kg/h

1250mm

830kw

125000mm

45000
Product Uses
Suitable for making various kinds of biscuits .

Company Information
• With more than 20 years expertise and experience.
• Embrace flexibility and professionalism.
• No lowest price but always value for money.
• We treat our staffs and suppliers as respectful partners.
• We keep stock of electronic components, touch displays, motors, etc. ready for immediate delivery.
• Provide customized services for special orders according to specifications.
Clients Visiting
Our Services
1. Manules/Videos of machine installation, adjusting, setting, maintenance are available for you.
2. If any problems happend and you can not find out the solutions, Telecom or Online face to face communication available 24 hours;
3. Golden engineers & technician are available send to your countries for services if you agree pay the expenditure;
4. Warranty: 2 years (Electric accessories ) and free life time maintenance (Excluding freight) ;
5. Goldsen has an independent team for after-sale service. any emermancy please call the saleman or our after-sale's manager .
European Standard biscuit making machines,biscuit line at hardees.cookie production line is now a general-purpose model DL3000-100 single screw, is mainly used for the production of a variety of pasta, fried foods, rice noodles, pasta, pasta and other products, stable output, simple and convenient operation. 3000 is the length of the screw and 100 is the diameter of the screw.
European Standard biscuit making machines,biscuit line at hardees.cookie production line consists of feeding system, extrusion system, rotary cutting system, heating system, transmission system and control system. The use of advanced screw extrusion technology, the use of high temperature and high pressure material curing and expansion molding, one-time completion. The host adopts variable frequency speed regulation to ensure the stability of the production process. Product color, variety, appearance, natural and realistic, delicate texture, raw materials are widely used of .
Jinan Joysun Machinery Co., Ltd. is a high-tech enterprise integrating science, industry and trade. is dedicated to the development, development, production and sales of expanded snack food equipment, tissue protein equipment, pasta/pimento equipment, pet food equipment and experimental extruders.
Nowadays, Jinan Joysun Machinery Co., Ltd. have customers both in China and abroad.Foreign customers such as Russian,East Europe,Middle East,South America,North America,East Asia,Southeast Asia, Africa,etc.