Product Description
100% Sale Service CE Certification Soft Biscuit
Production Line/Biscuit Machinery
Functions of product
Full automatic small biscuit macking machine is produce all kinds of soft and hard biscuit.
Special shape of biscuit just change the mould. We also can design the mould for
you as per your details.
Our line is specialized in top grade high quality soda cracker, hard and soft biscuits.
It is full automatic ,save labor ,easy to operation ,high quality ,reasonable price to win
customer reply and reputation.
Different working width 400mm,620mm,800mm,1000mm and 1200mm for different capacity
for your option.
A whole line consist of:
1.Horizontal dough mixer, 250kg/batch, vertical dough mixer 500kg/batch
2.Automatic dough tipper and feeding system
3.Three-roll combination sheeter for feeding and sheeting dough
4.Laminator for overlapping dough to sheeting on gauge rolls, included cream
spreading machine.
5.Gauge rolls
6.Rotary cutting machine for hard biscuit forming
7.Scrap collection and return system
8.Rotary moulder for soft biscuit forming
9.Salt/sugar spreading machine
10.Tunnel oven, electric, indirect gas fried or hybrid gas oven for option, length is
depend on capacity.
11.Oil spraying machine
12.Turning machine 180degree or 90degree design as per the plant length
14.Cooling conveyor
14.Biscuit stacking machine (start wheel stacker or penny stacker)
15.Packing table
product details
Automatic Biscuit Making Machine
Electric component
Chinese motor & gearbox (NSK for your choose)
100% Sale Service CE Certification Soft Biscuit Production Line/Biscuit Machinery PLC, inverter
ZWZ bearing Chinese
AIRTA air-cylinder
Cotton and PU conveyor belt 1.5-1.8mm
Wire mesh belt V type
Plates covered hard chrome, thickness 18mm
Stainless steel thickness 1.5-2mm
1.dough mixer
Using for mixing the dough.
2.Three roll sheeter
It will press the dough twice and make the dough sheet going through the other equipment.

3.Laminating:
It makes the biscuit having clear layered and crispy texture.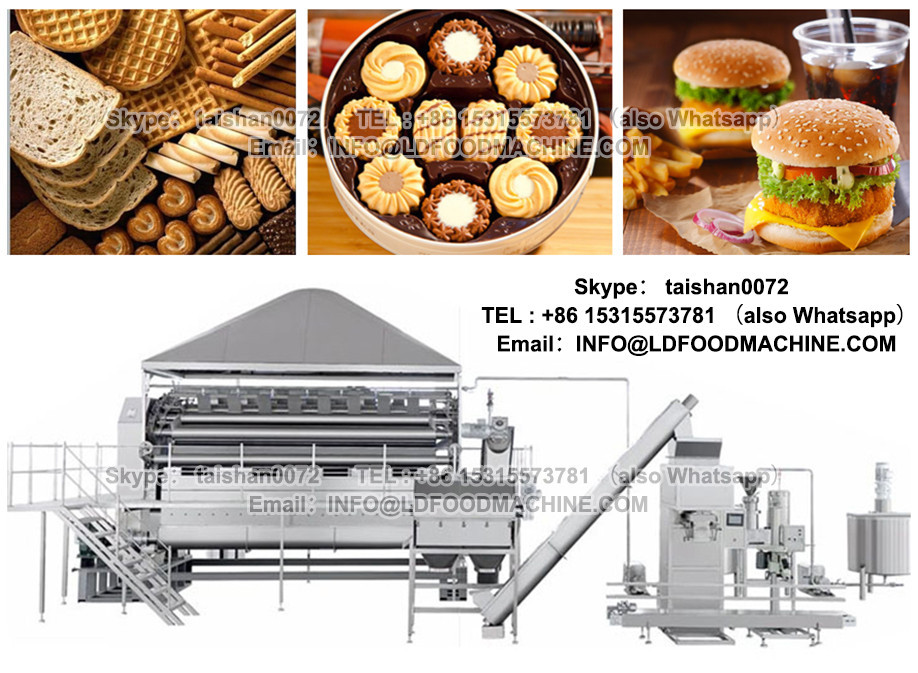 4.Guage roll
The necessary machine for making hard biscuit,using for pressing the dough
sheet continuouslyuntil the thickness of the dough as required.

5.Rotary cutter:
Using to form the biscuit into different shape.Different shape of the biscuit just
need to change the mould.
6.Electric or gas oven:
Two type for option,gas or electric.Using for baking the biscuit.

7.Stacker&Packing table
Using for stacking biscuit.The packing table connect with stacker,it is convenient for packing.
Biscuit Sample
Packaging & Shipping
Our regular packaging is multilayer packing, safe transport, shipping by sea:
Step 1: Mechanical surface coated with preservative solution (to protect stainless steel).
Step 2: The plastic cushion packing machine (prevent bump).
Step 3: Plastic film packaging (to prevent ventilation).
Step 4: Wooden case / frame packaging (easy to transport).
Step 5: Tie the bandage outside of the wooden case (reinforcement overall).
Our Services
1.Guaranteed 1 year , long time maintain , accessories change , not including easy broken part
2.If need , send engineer to installation ,teach how to operation machine and training workers
3.Provide recipe free to customer, produce biscuit
4.Design layout and proposal as per customer factory size
FAQ
1. Q:Which country are you ever exported?
A:Bangladesh , Egypt , Nigeria, Russia, Thailand, South Africa, Mexico,
Macedonia,Venezuela ,Algeria
2.Q: Are you manufacturer?
A: Yes, we are factory specialized in Biscuit making machine production line, and
have group of 18 years experienced engineers ,advanced processing equipments.
3.Q: How do you ship the machine?
A: Usually by sea, but can also according to customer requirements.
4.Q: What is your mini order quantity:
A: 1 set.
5.Q: What information should I provide, if I want a quotation?
A: --the kind of machine you choose, or offer me the kinds of biscuit you will produce.
--your production capacity requirement.
-- provide us your production details, then we recommend to you.
6.Q: Why choose us?
A:(1) Excellent biscuit equipment design and structure
Advance machine design ,appearance more beautiful, improve our machine continuous ,
pursue perfect.
(2)Turnkey project
From raw material to packing ,various option machine to meet different customer require.
(3)Design as per customer require
We will as per customer require ,budget to design proposal or give some suggestion.
(4)Satisfy after sale service
Provide on time and good service ,help customer save problem in time .
7.Q: Is there a variety of language options for your operating system?
A: We use PLC controller system, it has Russian, English, Chinese, Korean, Arabic
and other languages.
Company Information
We also can design the machine according to
your requirements.Welcome to contact us at anytime!
contact us
♥

Looking Forward To Your Specific Enquires.

♥
100% Sale Service CE Certification Soft Biscuit Production Line/Biscuit Machinery Foodstuff Machinery Co. Ltd
Contact Info: Carmen Lee
Skype:Carmen Lee
100% Sale Service CE Certification Soft Biscuit Production Line/Biscuit Machinery 18148750469
Mobile: +0086 181 4875 0469
100% Sale Service CE Certification Soft Biscuit Production Line/Biscuit Machinery is now a general-purpose model DL3000-100 single screw, is mainly used for the production of a variety of pasta, fried foods, rice noodles, pasta, pasta and other products, stable output, simple and convenient operation. 3000 is the length of the screw and 100 is the diameter of the screw.
100% Sale Service CE Certification Soft Biscuit Production Line/Biscuit Machinery consists of feeding system, extrusion system, rotary cutting system, heating system, transmission system and control system. The use of advanced screw extrusion technology, the use of high temperature and high pressure material curing and expansion molding, one-time completion. The host adopts variable frequency speed regulation to ensure the stability of the production process. Product color, variety, appearance, natural and realistic, delicate texture, raw materials are widely used of .
Jinan Joysun Machinery Co., Ltd. is a high-tech enterprise integrating science, industry and trade. is dedicated to the development, development, production and sales of expanded snack food equipment, tissue protein equipment, pasta/pimento equipment, pet food equipment and experimental extruders.
Nowadays, Jinan Joysun Machinery Co., Ltd. have customers both in China and abroad.Foreign customers such as Russian,East Europe,Middle East,South America,North America,East Asia,Southeast Asia, Africa,etc.