Product Description
Automatic Milk Salt Soda Cracker Biscuit Production Line
new design 1000mm biscuit machine is new designed for:
all kinds of Hard, Soda cracker and Soft dough forming biscuit.
The complete hard and soft biscuit line for all hard and soft dough biscuit, included stick biscuit,
print biscuit and filling biscuit.
The biscuit line can be installed one cookies forming machine to make cookies, the cookies forming
by wire cut and deposit,
oven belt use mesh belt or steel band(Sandvik from Sweden).
V type mesh belt 5.2x11x1.2x1.4mm
Z47 mesh belt Spiral diameter 1.4mm
Steel band
200-660kgs Horizontal Dough Mixe
3-Roll Sheeter+Laminator
Laminating
2-Roll Sheeter Combination Forming Line
Separate,Return Scrap Dough
The biscuit line has standard types: 480,620,800,1000,1200 and 1500mm.
Tunnel Oven resource: electric, indirect diesel oil or gas fired, or direct gas fired(DGF) and indirect gas fired combination.
The Oven is best design in CHINA, 99% Chinese biscuit factories are use our oven/biscuit line.
Oven length: 25m-70m, baking capacity from 200kg-1500kg/hour. We suggest oven length minimum 25m,
then the oven can bake top grade quality biscuit.Cover made by Painted steel or 304 Stainless steel:
Salt,sugar Spreader
Enter Stove Machine
Oven,Full Stainless Steel,PLC control
Cooling Conveyor
Performance:Full auto PLC touch screen control;NSK bearing; FESTO air cylinder auto corrective system;SEW gearbox & motor;
Automatic Biscuit Milk Salt Soda Cracker Biscuit Production Line electronic & transducer;Weishaupt burner(Germany);ISO,CE quality standard
High quality with lower price
Practicability-Operability-Economy-Safety
Excellent service
The biscuit line consist of:
Vertical or Horizontal mixer,100-500kgs/batch.
Dough feeding system, included small dough truck, automatic tipper, dough cutting&transport machine,
soft dough conveyor belt. 3-roll combination sheeter;Laminator;
Hard biscuit forming machines, can be installed stick biscuit forming machine,
printing biscuit machine(to make print biscuit), filling biscuit machine(after oven to fill chocolate inside of biscuit),
Rotary moulder for soft biscuit forming;Salt/sugar sprinkler;
Tunnel oven length 25-70m; Oil sprayer with 4m oil filter;90/180degree Curve,
this design considered the length of plant not enough.Cooling conveyor;Stacker;Packing table;
Additional equipments: Biscuit sandwiching machine, or Auto connect to packaging machine, biscuit packaging machine, ., etc.
Welcome to visit our factory! We looking forward to provide an excellent service for you!!
Our Services

Company Information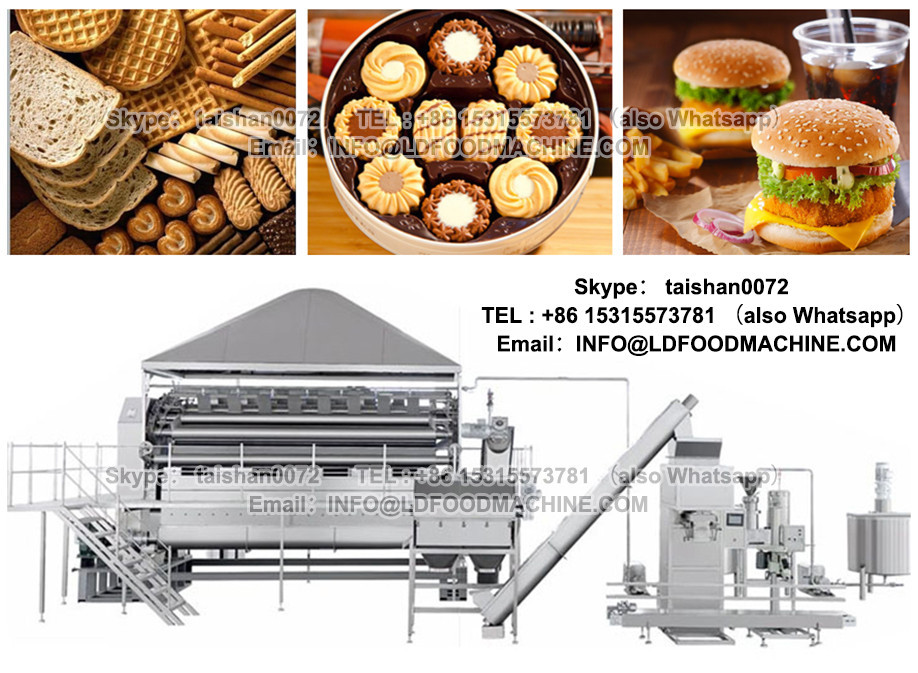 contract:
WhatsApp/Automatic Biscuit Milk Salt Soda Cracker Biscuit Production Line 0086 18316950287
Superior quality with a competitive price!!
Energy saving and manpower saving!!
Excellent services!!
Welcome to visit our factory please contact us at anytime!
As a leader in the food machinery industry ,we adhere to the principle of honest and trustworthiness all the time,and have a good reputation on the international market.Over the years, we explore and research in extrusion technology, so that the screw extrusion technology application areas are more extensive. Our single and double screw device has been used in the production of snack foods, breakfast cereals: corn chips, fried food, bread crumbs, soybean tissue protein, pet food, over 20 different functions and yield of the production line for choice; also can manufacture special designed according to special requirements the user's.Our products sell well both at home and abroad.Such as Gemany,Italy,Holland,Spain,Russia,Canada,USA,Mexico,Columbia,Japan,SouthKorea,Uzbekistan,Egypt,South Africa and so on.Welcome your enquiry.
3333333 professional production 111111.11111111 is a continuous feeding operation. 22222 production can be used for cattle feed processing, sheep feed processing, horse feed processing, rabbit feed processing, poultry and poultry feed processing, is a new type of small household particle machine, can also be used as feed processing plant Special particle machine, no dust, add the mixed powder feed into the hopper when working, no heating, no water, no drying, once formed by extrusion, the surface of the processed particles is smooth, the hardness is moderate, and the internal curing is deep and transparent. Starch gelatinization, protein coagulation and degeneration, improved nutritional value and digestion and absorption capacity,